J.K. Rowling Details Harry Potter's Family History: Three Things We Learned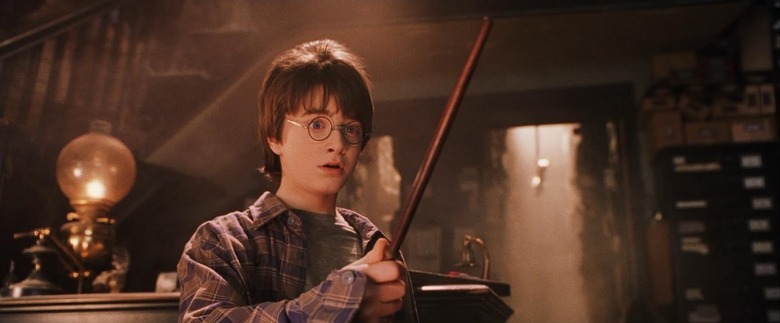 We know quite a bit about Harry Potter at this point — enough to fill, oh, about seven books — but a lot less about his family. For that matter, not even Harry seems to know much about the Potters, since all of them are long dead by the time we meet him in Sorcerer's Stone. Fortunately, author J.K. Rowling has remedied that with a new essay outlining the Potter family history. Find out three things we learned after the jump.
Rowling's full Potter family history essay can be found on Pottermore,
The Potter family dates back to the 12th century
Unlike the Malfoys and the Weasleys, the Potters aren't among the "Sacred Twenty-Eight" list of pureblood wizard families. But in fact, the Potter line actually began all the way back in the 12th century with Linfred of Stinchcombe, an eccentric man known as "the Potterer." Over the years, the name was corrupted to "Potter."
However, the Potters were left off the "Sacred Twenty-Eight" because their name is also a common Muggle name, leading the anonymous wizard behind the list to assume the Potters were not of pureblood stock. The fact that Harry's great-grandfather Henry (also known as Harry), a member of the Wizengamot, condemned the Minister of Magic for refusing to help Muggles during World War I apparently didn't help matters either.
The Potters made their money in potions
Harry didn't have what you'd call a privileged upbringing, but early in Sorcerer's Stone he discovers he's actually inherited quite a large fortune from his deceased family. So where did all that money come from? Turns out: potions.
The aforementioned Linfred made a killing selling the remedies that would become Skele-gro, Pepperup Potion, and other commonly used potions, and passed that money down to his children. Fast forward several generations to Fleamont Potter, son of the aforementioned Henry / Harry, who "quadrupled" the family gold with the invention of Sleekeazy's Hair Potion. When he retired, he sold the company for a huge sum.
Fleamont's money then went to his only son James, who then left it to his only son Harry. And, well, you know the rest.
The Invisibility Cloak came to the Potters through Ignotus Peverell's granddaughter
It's revealed in Deathly Hallows that the Invisibility Cloak was first owned by Ignotus Peverell, and in Sorcerer's Stone Harry inherits it (via Dumbledore) from his father. Now Rowling has revealed how the Cloak got from the Peverells to the Potters. Ignotus' cloak was passed down to his granddaughter Iolanthe Peverell, who married Linfred's eldest son Hardwin.
Iolanthe told Hardwin the cloak must remain a secret, and he agreed. For centuries it was passed to the eldest in each generation, until it eventually made its way to Fleamont, then James, then Harry.