'The Good Dinosaur' Trailer: The Dinos Finally Speak Up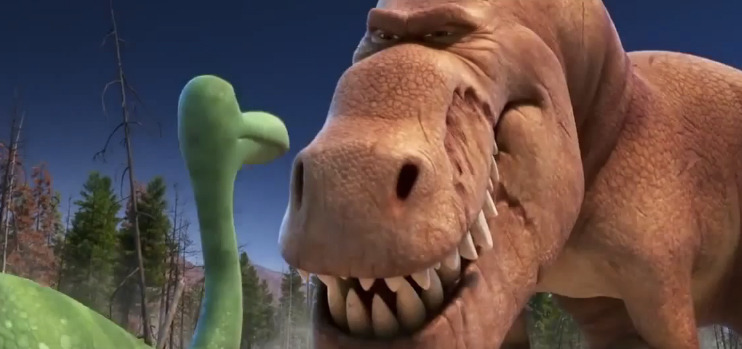 So far we've seen two different trailers for Pixar Animation's second film of 2015, The Good Dinosaur. And while we've seen some stunning animation and have a basic idea of the story about a young apatosaurus named Arlo befriending a feral young boy in the wild, we've only heard one word of dialogue from the movie.
But that changes today in a quick new The Good Dinosaur trailer from overseas. This one has Spanish voiceover and bumpers, but it doesn't make the trailer harder to follow because all the dialogue is in English, and it includes more lines from Raymond Ochoa as Arlo, as well as the first dialogue from Sam Elliott as the gruff, intimidating tyrannosaurus rex named Butch and more.
Here's the international The Good Dinosaur trailer from YouTube:
The new trailer also gives us a little more story details as a terrible storm seems to be the catalyst for Arlo getting separated from his parents, voiced by Jeffrey Wright and Frances McDormand. And that's how he encounters the little boy, who he names Spot, helping him survive in the wild, until they get taken under the tiny arms of a pack of tyrannosaurus rexes.
That one moment where Spot pats Arlo on the leg after the dinosaur says he misses his family was enough to get a lump in my throat, so I'm sure Pixar is going to punch my heart all over again. Plus, the use of the Of Monsters and Men song "Crystals" (the same from the previous theatrical trailer) continues to give a nice vibe to the story.
The rest of the voice cast in the movie includes Steve Zahn, AJ Buckley, Anna Paquin, Marcus Scribner and Jack Bright, and the film is directed by Pixar's Partly Cloudy short director Peter Sohn after Bob Peterson vacated the director's chair.
Here's a new UK poster for The Good Dinosaur as well: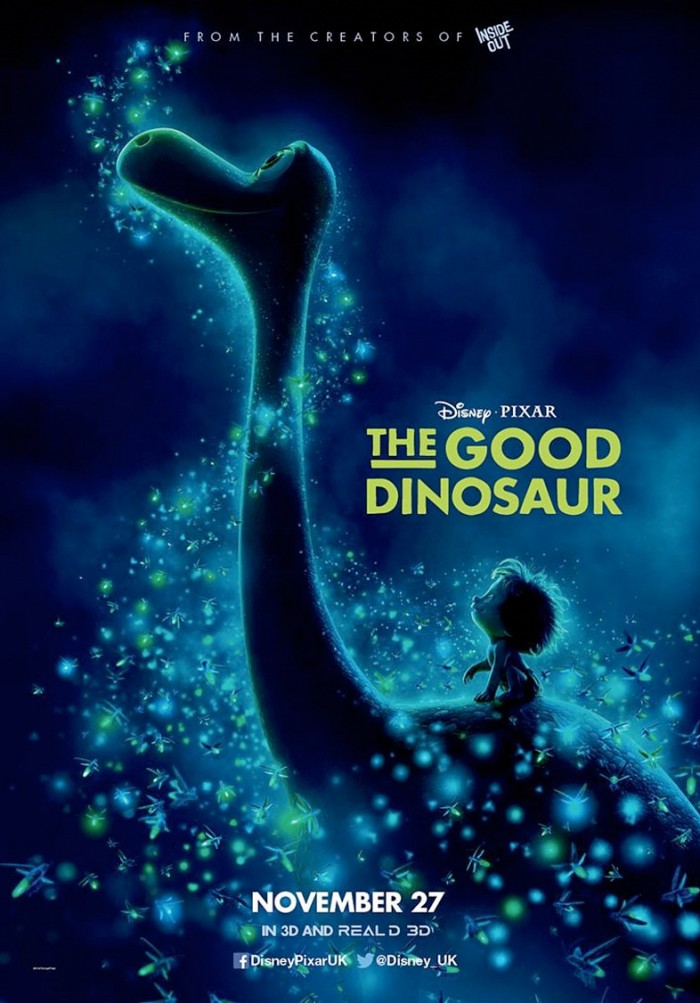 The Good Dinosaur asks the question: What if the asteroid that forever changed life on Earth missed the planet completely and giant dinosaurs never became extinct?  Pixar Animation Studios takes you on an epic journey into the world of dinosaurs where an Apatosaurus named Arlo (voice of Raymond Ochoa) makes an unlikely human friend. While traveling through a harsh and mysterious landscape, Arlo learns the power of confronting his fears and discovers what he is truly capable of.
The Good Dinosaur arrives on November 25th.