Star Wars Bits: Star Wars Costume Exhibit, John Boyega Talks Episode VII, Rogue One Shoots In Iceland

Even as we wait to find out exactly why Episode VII made John Boyega all emotional, production is in full force for Episode VIII and Rogue One. After the jump:
R2-D2 tries to find love in an adorable short film
A Stormtrooper helmet from A New Hope is up for auction
The Star Wars and the Power of Costume exhibit might hit NYC
Are a Clone Wars Legacy story reel and comic coming in 2016?
John Boyega cried when he read the Episode VII script
The debate over whether Luke is the last Jedi continues
A Rogue One actor reports for duty on the Iceland shoot
New reports surface about Daisy Ridley's role in Episode VIII
***
The galaxy can feel like a big, lonely place when you've got no one to share it with. In "Artoo in Love," a short film by Evan Atherton, R2-D2 searches for a soulmate, and finds... well, see for yourself.
Who knew that little droid was such a romantic? "Artoo in Love" is part of the ongoing Sploid Film Festival. Vote for it by liking it on YouTube.
***
If that Slave Leia costume is a bit too rich for your blood, maybe this original Stormtrooper helmet from Star Wars: The Empire Strikes Back will be more up your alley. One of only a few such items known to exist in private hands, it's expected to go for around £60,000 (or $90,000 USD) at the Prop Store's Entertainment Memorabilia Auction in London on September 23.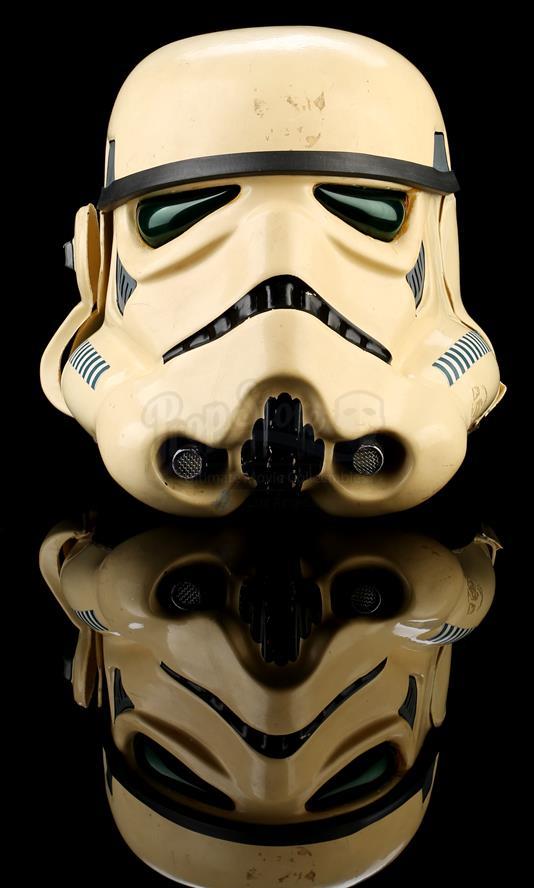 "The stormtrooper is one of the quintessential costumes of the 'Star Wars' films," said Prop Store COO Brandon Alinger. The menacing helmet instantly said so much about the world George Lucas had created. Today it may be one of the most recognized designs in film history. To own an original helmet is perhaps the ultimate 'Star Wars' collectible." Visit the Prop Store website to watch the auction or place bids.
***
Okay, so maybe not all of us can afford a $200,000 Slave Leia costume or a $90,000 Stormtrooper helmet. Happily, it looks like the rest of us will be able to enjoy original Star Wars costumes through the Rebel, Jedi, Princess, Queen: Star Wars and the Power of Costume exhibition. According to Stitch Kingdom, the touring display will be coming to Discovery Times Square in New York City once it ends its debut run at the EMP Museum in Seattle.
The exhibit features over 60 costumes including Darth Vader's iconic outfit, Boba Fett's armor, Luke Skywalker and Obi-Wan Kenobi's Jedi robes, and C-3PO and R2-D2 costumes. Although the Smithsonian Institution has yet to officially announce the show's New York run, it's expected to from November 14, 2015 through September 5, 2016.
***
Take this one with a grain of salt: Rumor has it Star Wars: The Clone Wars Legacy will get a new story reel and a five-issue comic book series in 2016. The reel will include at least two story arcs, featuring Ahsoka Tano in the Coruscant underworld, according to a report on Reddit, and the comic, titled Star Wars: The Invasion of Mandalore will reveal what happened on the planet following the events of Season 5.
Supposedly, the idea is to tie into Ahsoka's reappearance on Star War Rebels. Disney / Lucasfilm has neither confirmed nor denied the rumors at this point, so we'll update you if and when they comment.
***
On the next page, John Boyega talks Episode VII, Daisy Ridley has been spotted working on Episode VIII, and a certain someone has reported for duty on Rogue One's Iceland set.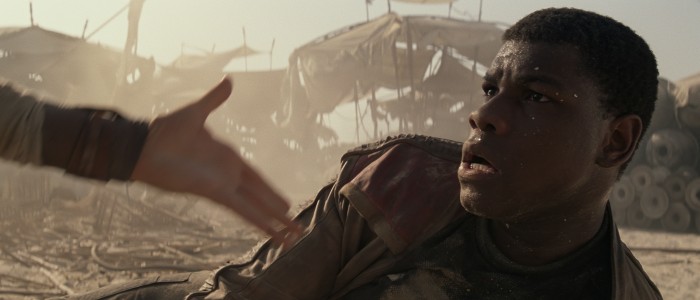 Ahead of his Star Wars debut, John Boyega (along with Ansel Elgort and Jack O'Connell) has landed on the cover of British GQ Style. Inside, Boyega got candid about his Star Wars experience. For starters, he admitted to crying when he read the Episode VII script:
When I read the script I cried, and I'm not really a big crier. I'm more like a frog-in-the-throat kind of guy, who'll try to hold it in and make sure I don't let it all out.
While Boyega didn't spill any spoilers, he did speak in general terms about Finn's personality and character arc:
Finn is dope. His story is so epic. It's a story that's never been seen before, but it also mirrors the stories of Luke Skywalker and Han Solo. And he's quirky and charismatic and funny. For me, he was the best character in the script.
Finally, he revealed that wielding a lightsaber isn't as easy as it looks:
They're heavy, those things, and there's a lot of running involved. I was trained on a high incline treadmill so when it came to it I could sprint around the desert in a leather jacket. They should do a Star Wars weight loss program.
See the stylish cover boy below: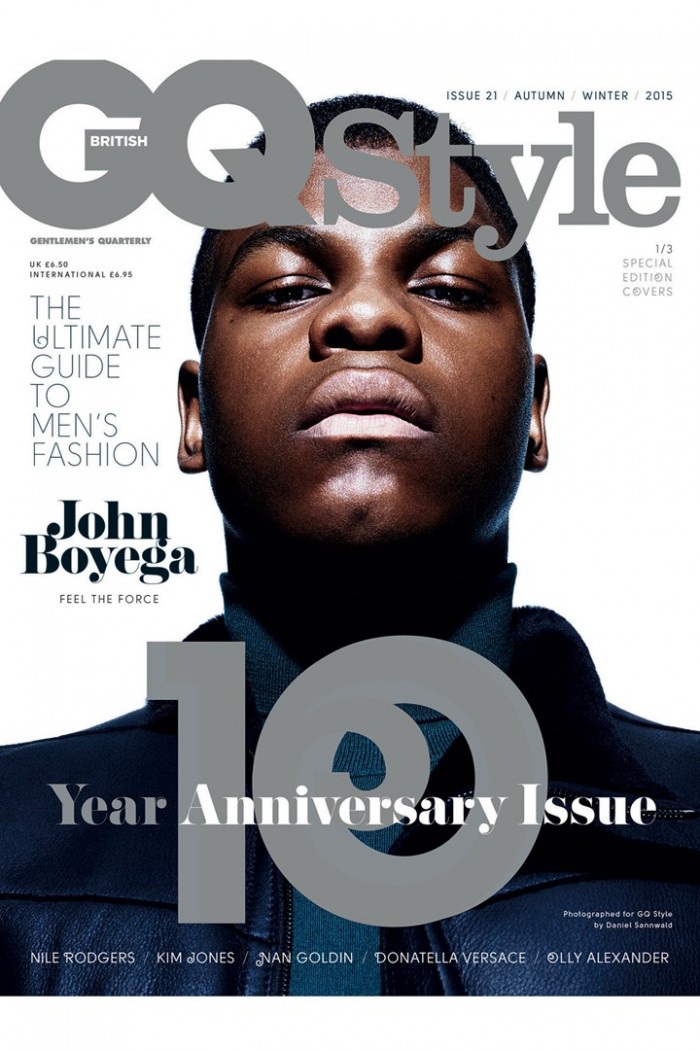 The issue hits newsstands September 24 in the U.K.
***
There's been some debate over whether Luke Skywalker is the last Jedi as of Star Wars: The Force Awakens. A Kylo Ren toy released on Force Friday has him saying "Together we will destroy the Resistance and the last Jedi" — but because the plural of Jedi is also "Jedi," it's not clear how many Jedi he's talking about.
Making Star Wars caught a French written translation from the official French Star Wars Twitter account that uses the singular form of Jedi, which is certainly a point in the "Luke is the last and only Jedi" column. Previously, a Jedi News noted that the Italian translation (from the official Italian Star Wars page) uses the singular form as well.
On the other hand, the German Star Wars Facebook page reportedly uses the plural. So maybe the only real takeaway right now is that all the nations of the world are currently united in having no idea whether or not Luke Skywalker is the sole remaining Jedi.
***
Star Wars: Rogue One is shooting on the Mýrdalssandur beach in Southern Iceland, according to a report from Iceland Magazine — specifically, "by the mountains Hjörleifshöfði and Hafursey, east of the village of Vík." And actor Mads Mikkelsen appears to be reporting for duty, as he's been spotted in Reykjavík. (Think he visited Darth Vader Street?)
Mýrdalssandur is known for its black sand beaches, which should lend the Rogue One shoot an otherworldly feel. Previously, Star Wars: The Force Awakens shot in Iceland at the Eyjafjallajökull glacier. Star Wars: Rogue One arrives December 16, 2016.
***
A new report has surfaced about Daisy Ridley's work on the recent Star Wars Episode VIII shoot on Skellig Michael. An eyewitness told the Irish Mirror:
Daisy was filming a fighting scene from 8am one day in a flat area up a first set of steps. The effects team made some fake rocks. They looked incredible, just like the real thing, those who have never been to the island wouldn't have realised they were fake. One of them was placed where Daisy shot one of the action scenes. She was swinging around. You'd imagine they'll add her lightsabers during the editing...
Additionally, another fight scene was reportedly shot in a monastery about a 15-minute climb away. Star Wars Underworld speculates that the "fight scenes" may actually be training sequences with Rey and Luke Skywalker (Mark Hamill, remember, was definitely around for the shoot). Star Wars Episode VIII opens May 26, 2017.