Sequel Bits: 'Spectre', 'Kong: Skull Island', 'Cloverfield 2', 'Wreck-It Ralph 2', 'Neighbors 2', 'Sex And The City 3'
After the jump:
Don't hold your breath for a Sex and the City 3
See Chloë Moretz, Selena Gomez and more on the Neighbors 2 set
Ouija 2 rounds out its cast with two more actors
Drew Goddard discusses the possibility of a Cloverfield 2
Jack McBrayer claims to know nothing about Wreck-It Ralph 2
Tom Hiddleston promises Kong: Skull Island will answer some questions
The stars of Spectre adorn the cover of Empire Magazine
***
The good news for Sex and the City fans is that Sarah Jessica Parker and Michael Patrick King already have an idea in mind for Sex and the City 3. The bad news, it's not coming together anytime soon. Said Parker on the possibility of a third Sex and the City movie:
There is no decision. It is a not-often-had conversation. I know well and Michael Patrick [King] knows well the story we might tell if we ever tell it, but the real truth, and I'm not being cagey, is we've not discussed a when.
[...] It's such a hard question to answer because everybody reads and projects so much into what I say. There is a story. When and if we tell it remains unknown.
In short, forget the rumors — Sex and the City 3 isn't a thing yet.
***
Shooting is underway in Atlanta on Neighbors 2, reportedly subtitled Sorority Rising, and a new batch of set photos have just hit the web. Chloë Grace Moretz and Selena Gomez join returning stars from the first film including Seth Rogen, Zac Efron, Rose Byrne, Dave Franco, and Lisa Kudrow. Click here to check them out. Nicholas Stoller directs Neighbors 2, which is out May 20, 2016.
***
Two more are settling in for the next game of Ouija. Henry Thomas (E.T. the Extra-Terrestrial) and child actor Lulu Wilson (Deliver Us From Evil) will star in Ouija 2, along with Annalise Basso and Elizabeth Reaser. Mike Flanagan is directing from a screenplay he wrote with Jeff Howard. Plot details are being kept under wraps. Ouija 2 will open October 21, 2016.
***
On the next page, Drew Goddard talks Cloverfield 2, Jack McBrayer talks Wreck-It Ralph 2, Tom Hiddleston talks Kong: Skull Island, and Daniel Craig and Christoph Waltz promote Spectre.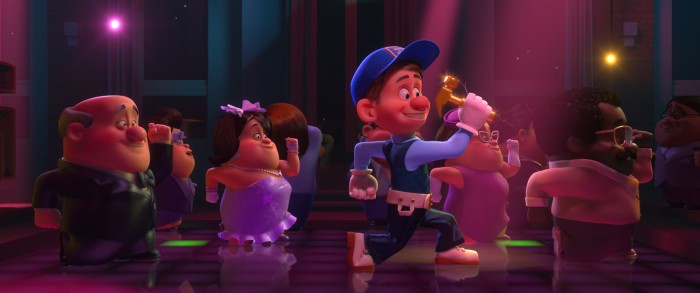 Although there's been a lot of speculation about the possibility of a Cloverfield 2, so far we haven't heard of any confirmed plans. Speaking with MTV, screenwriter Drew Goddard explained the holdup:
I don't know that that's going to happen. We'd all like it to. I think [director] Matt [Reeves] and [producer] J.J. [Abrams] and I all feel like we don't want to do it just to do it. You know? It's more do we have an idea that we're passionate about. Because not everything needs to be a franchise.
[...] The first one had such a, it never felt like we were making a movie, it felt like we were in our garage getting away with one. And I think we want to get back to that, and if we don't then we're just not going to.
[...] I think it's important that we want it to feel special, whatever it is. We don't just want to do the same old thing.
Besides, it's not like any of these guys are hurting for work at the moment. Goddard wrote The Martian, out in theaters next month, Reeves is in pre-production on War of the Planet of the Apes, and we all know exactly what Abrams has been up to.
***
Talk of a Wreck-It Ralph sequel has picked up over the past year, but if anything official has been said, no one's informed Jack McBrayer. The actor, who voiced Fix-It Felix, claimed to know nothing during a chat with Screen Rant. "You know, I honestly don't know a great deal, which I'm not just saying to deflect, but if you hear anything, give me a call?"
For that matter, he doesn't even know if Felix will be part of the story. "I don't know, but how awkward would this be right now if he wasn't?" he said. But should Wreck-It Ralph 2 decide it wants to bring back Fix-It Felix, McBrayer's definitely in. "Daddy's got bills to pay," he laughed. "But also I love doing them."
***
Kong: Skull Island will be based on established King Kong mythology, and as such, promises star Tom Hiddleston, it'll answer some lingering questions left over from earlier films. Such as this one posed by Coming Soon: "Why would the islanders build this giant wall to keep King Kong in, but build a GIANT, KING KONG-SIZED DOOR for him to get out of?"
Hiddleston's response:
There will be an answer to that question, yeah. Yes. [Director] Jordan Vogt-Roberts has a really interesting take on the whole thing, and it's really new and original. It doffs its cap to the mythology but also takes it into a new place which I hope you will find exciting.
Kong: Skull Island will arrive March 10, 2017.
***
James Bond and his new nemesis from Spectre cover this month's issue of Empire Magazine. Take a look.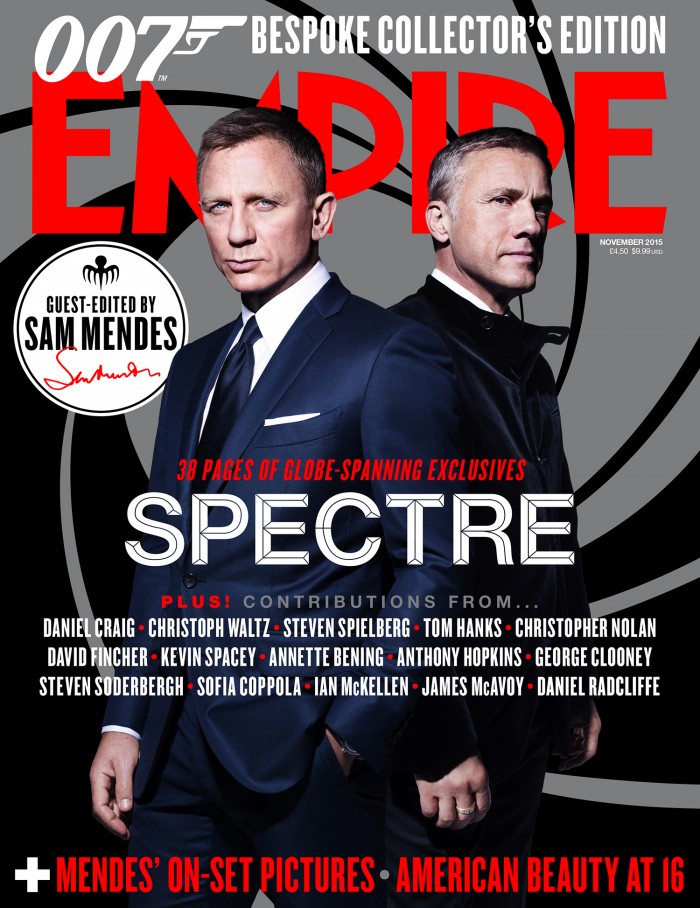 Am I the only one who thought for a second that they were holding hands?
Subscribers received a collectible cover inspired by the Día de los Muertos festival in Mexico City, which serves as a key setting in the movie. The same image was reportedly given out as a poster to Spectre cast and crew members.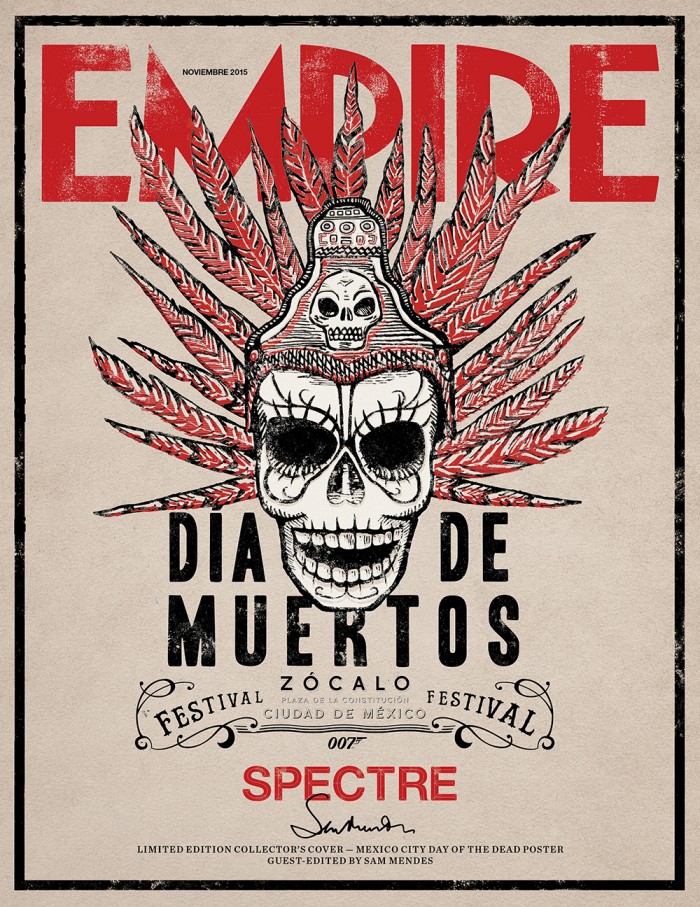 Spectre director Sam Mendes serves as Empire's guest editor for the month of November. His issue hits newsstands September 24 in the U.K. Spectre opens October 26 in the U.K. and November 6 in the U.S.