Full Cast For 'Resident Evil: The Final Chapter' Revealed As Shooting Begins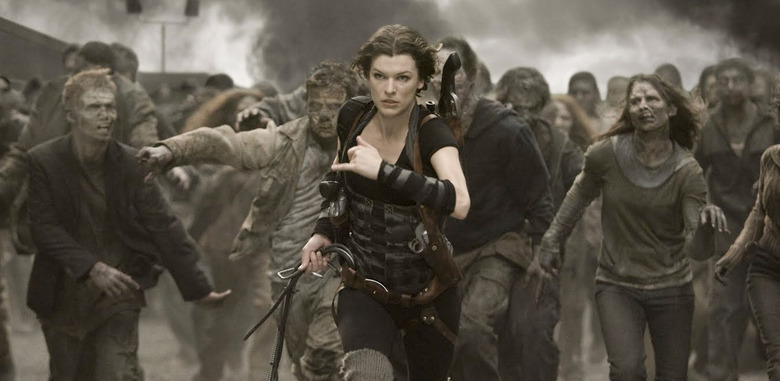 Principal photography on Resident Evil: The Final Chapter is now underway in South Africa, and as we confirmed previously by way of returning cast member Ali Larter, this will be the final installment of the ongoing Resident Evil film franchise (though that doesn't preclude a reboot from happening years from now).
And with shooting commencing across the globe, Screen Gems has announced the full cast for the film that will again be directed by Paul W.S. Anderson, who also wrote the screenplay for the video game sequel. We already know Milla Jovovich is back in the lead role as Alice (and we've seen a photo of her getting to work on set), but there's a few other returning cast members too.
The rest of the Resident Evil The Final Chapter cast will include Iain Glen (Resident Evil: Extinction) as Dr. Alexander Isaacs, Shawn Roberts (Resident Evil: Afterlife) as Albert Wesker, Ruby Rose (Orange is the New Black) as Abigail, Eoin Macken (The Night Shift) as Doc, William Levy as Christian, Fraser James (Law & Order: UK) as Michael and Japanese model Rola as Cobalt.
It's crazy to think that the video game film franchise has gone on this long, spanning to six movies, pulling in over $1 billion worldwide, but not unlike the Fast & Furious films, the film series does have a loyal fanbase, even if what Paul W.S. Anderson has done with the franchise has been underwhelming for the most part.
Even though this marks the end of the film franchise, don't forget that there's supposed to be a TV series adaptation in the works, which sounds like a much better fit for the video game story anyway. But we've yet to hear any progress on that front, so it may not happen anytime soon. Otherwise, here's the official synopsis for the forthcoming final Resident Evil movie:
Picking up immediately after the events in 'Resident Evil: Retribution,' humanity is on its last legs after Alice is betrayed by Wesker in Washington D.C. As the only survivor of what was meant to be humanity's final stand against the undead hordes, Alice must return to where the nightmare began – Raccoon City, where the Umbrella Corporation is gathering its forces for a final strike against the only remaining survivors of the apocalypse.
In a race against time Alice will join forces with old friends, and an unlikely ally, in an action packed battle with undead hordes and new mutant monsters. Between losing her superhuman abilities and Umbrella's impending attack, this will be Alice's most difficult adventure as she fights to save humanity, which is on the brink of oblivion.
Resident Evil: The Final Chapter arrives on January 27th, 2017.