Bryan Singer Boards '20,000 Leagues Under The Sea'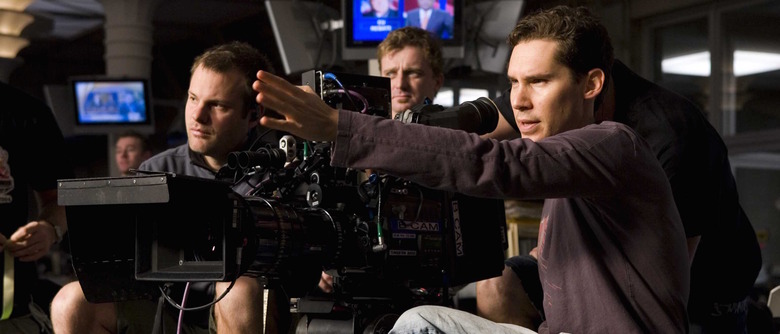 Now that Bryan Singer is done grappling with ancient godlike mutants for the time being, he's ready to dip his toe into another epic sci-fi universe. The X-Men director has announced his next project will be 20,000 Leagues Under the Sea, an adaptation of the classic novel by Jules Verne. Get all the details on the Bryan Singer 20000 Leagues movie after the jump. 
Like pretty much all Bryan Singer-related news lately, the original source on this one is Singer's own Instagram.
As you can see above, Rick Sordelet and Dan Studney scripted 20,000 Leagues Under the Sea and Singer helped provide the story. Studney was one of several writers who worked on Singer's Jack the Giant Slayer. Sordelet's IMDb profile indicates he's a stunt coordinator.
First published in serialized form between 1869 and 1870, Verne's 20,000 Leagues Under the Sea chronicles the fantastical underwater adventures of the submarine Nautilus, led by the enigmatic Captain Nemo. It's inspired multiple films over the years including Disney's Oscar-winning 1954 adaptation starring Kirk Douglas.
More recently, both Fox and Disney have been trying to mount retellings of the tale. Disney got close to moving forward with director David Fincher, but pulled the plug in 2013 after years of on-again, off-again development. Fox's version was to be produced by Ridley and Tony Scott, and was once eyeing Timur Bekmambetov to direct.
It's unclear whether Singer's should be considered a third competing 20,000 Leagues project, or whether his is just the latest incarnation of one of the existing efforts. If it's the latter, it seems more likely Singer would work with Fox given his close relationship to the studio after four X-Men films.
Speaking of which, Singer made sure to stress that his involvement with 20,000 Leagues doesn't mean he's leaving the X-Men universe behind. That may suggest he'll be back in the director's chair for another X-Men movie, or it might just mean he doesn't want to upset fans before his next one opens. X-Men: Apocalypse arrives May 27, 2016.