Wes Ball Confirmed To Direct 'Maze Runner: The Death Cure'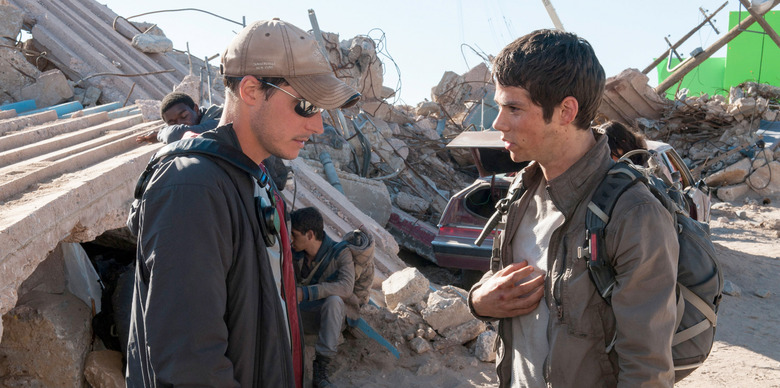 We may receive a commission on purchases made from links.
As Maze Runner: The Scorch Trials lands in theaters this weekend, Fox is racing ahead with plans for the next installment of their hit YA franchise. Wes Ball has been set to direct Maze Runner: The Death Cure, after steering the first two films in the series. More about the Death Cure Wes Ball news after the jump. 
Ball confirmed his return in a chat with Variety. "Ultimately our goal is to create an awesome three-movie trilogy," he said. "Not many people have done that and now I have the opportunity to do that. I am directing the third film and we've already been busy preparing and working on the final conclusion of this saga."
Maze Runner: The Death Cure will shoot in December for release on February 17, 2017. Ball's first Maze Runner movie was a hit, debuting with $32 million and going on to gross $340 million worldwide. The Scorch Trials could do even better, as it's reportedly tracking for a $35 million opening weekend.
In a break from the precedent set by Harry Potter, the Maze Runner series will not split the final book in James Dashner's trilogy into multiple films; The Death Cure will be the third and last Maze Runner movie. (Dashner did write some prequels, but as of now Fox hasn't announced plans to adapt them.) Ball said he always intended to "do justice" to the source material with a beginning, middle, and end.
He continued:
We are setting up a lot of things that aren't necessarily apparent in the second movie, but it will pay off big time in the third movie. So that has been my approach and I'm glad that I can finish the series. I'm lucky and thankful that they asked me to direct all three films. At first I wasn't sure if I was going to do it or not, but honestly, it was the cast that I wanted to work with again. They are such great people.
Maze Runner: The Scorch Trials brings back Dylan O'Brien as Thomas, Kaya Scodelario as Teresa, Thomas Brodie-Sangster as Newt, and Ki-Hong Lee as Minho. Also starring are Rosa Salazar, Patricia Clarkson, and Aidan Gillen.
Here's the book jacket synopsis for Maze Runner: The Death Cure, which contains some vague spoilers:
It's the end of the line.
WICKED has taken everything from Thomas: his life, his memories, and now his only friends—the Gladers. But it's finally over. The trials are complete, after one final test.
Will anyone survive?
What WICKED doesn't know is that Thomas remembers far more than they think. And it's enough to prove that he can't believe a word of what they say.
The truth will be terrifying.
Thomas beat the Maze. He survived the Scorch. He'll risk anything to save his friends. But the truth might be what ends it all.
The time for lies is over.