Release Dates: 'London Has Fallen' Moves To Spring, 'Legend' To November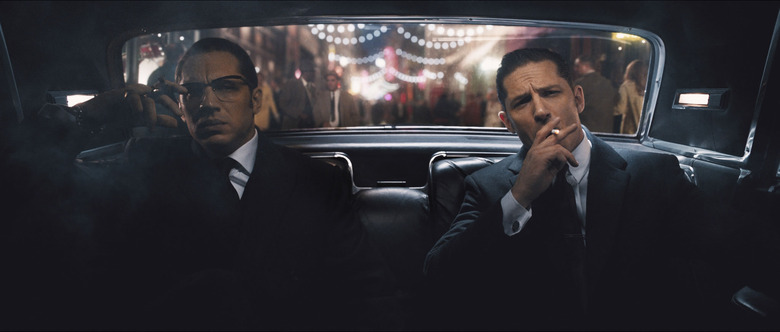 Two upcoming pics are doing the release date shuffle. Focus Features has moved London Has Fallen from January 2016 to spring, while Tom Hardy's Legend has been pushed back several weeks to late November. Get the new London Has Fallen and Legend release date details after the jump. 
Deadline broke news of London Has Fallen's new date. Focus Features, which originally had the film slated for October 2, 2015 and then January 22, 2016, has moved it again to the more promising date of March 4, 2016. That puts it closer to the same weekend that the first film, Olympus Has Fallen, opened in 2013.Babak Najafi directs the action sequel, which sends Secret Service agent Mike Banning (Gerard Butler) and President Benjamin Asher (Aaron Eckhart) to London for the funeral of the British prime minister. When the event is targeted by terrorists, Banning teams with an MI-6 agent (Charlotte Riley) to foil the plot. Morgan Freeman also returns from Olympus Has Fallen.
The shift gives London Has Fallen more time to complete its VFX, and also reflects its strong performance in research screenings. In its new March 4 slot, London Has Fallen will compete with Sacha Baron Cohen's Grimsby, Disney's Zootopia, Tim Burton's Miss Peregrine's Home for Peculiar Children, and John Hillcoat's Triple Nine.
Meanwhile, Universal has decided to delay Legend by seven weeks, from October 2 to November 20. The crime drama will open in New York and Los Angeles before rolling out to additional U.S. markets on November 25 and December 11. On November 20, it'll be up against Todd Haynes' Carol in limited release and The Hunger Games: Mockingjay – Part 2 and The Secret in their Eyes in wide release.
Legend stars Hardy in a dual role as identical twins Reggie and Ronnie Kray, two of the most notorious gangsters in British history. They came to rule London's underworld in the 1960s. Emily Browning plays Reggie's wife, and Taron Egerton, Paul Bettany, Christopher Eccleston, and David Thewlis also star. Brian Helgeland directed.Legend got mixed reviews at its Toronto International Film Festival debut (not that that you'd know it from this hilariously deceptive poster), which partially accounts for the change. TheWrap notes it may have also wanted to get some more distance from Johnny Depp's Black Mass, another fact-based gangster biopic opening this weekend.