Comedian Pete Holmes To Lead Judd Apatow's HBO Comedy Pilot 'Crashing'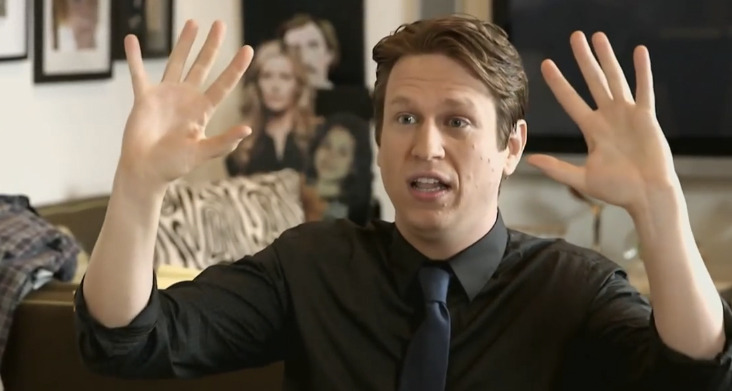 Comedy director Judd Apatow already has firm footing at HBO as the executive producer of the network's hit show Girls from writer, director and star Lena Dunham, and now he's hoping to add another show to the cable giant's comedy line-up.
Comedian Pete Holmes, former star of his own TBS late night show, will star in a semi-autobiographical series called Crashing, playing a version of himself. If you're not acquainted with the comedy of Pete Holmes, I suggest educating yourself immediately.
Find out more about the Judd Apatow Pete Holmes HBO show after the jump!
THR reports Crashing will see Holmes playing a sweet, wholesome comedian who stays on the couches of his New York's finest comedians after his wife leaves him. He'll also be executive producing the show which starts production in November.
If you've listened to the podcast You Made it Weird with Pete Holmes, you know that there's plenty in the comedian's life that is ripe for a TV series. If you haven't listened to that podcast and you love hearing comedians talk about the art of making people laugh along with their approach to life, romance and religion, every single episode is fascinating and funny. Here's hoping some of Pete's anecdotes and trademark stories make it into the HBO series.
This is quite the strange turn of events since a sketch that appeared on The Pete Holmes Show actually featured the comedian (who also does a great series of Batman sketches) pitching the story of his divorce to Apatow as an idea for a movie, after pitching ideas about frogs and bears becoming magicians:
Apatow says in the sketch that the true story of Holmes' real-life divorce doesn't sound funny but tragic and sad, but it sounds like there's plenty of comedy to mine for an HBO show. Speaking of Apatow's involvement, unlike Girls, the Knocked Up and Funny People director will actually be at the helm of the pilot for Crashing, marking the first time he's directed a pilot for a TV show.
HBO knows how to put together some stellar comedies, and having a comedy master like Judd Apatow aboard this series with one of my favorite working comedians has me positively thrilled to see how it turns out. As of now HBO has just ordered a pilot, but hopefully it gets a series order so we can see what these two can do together.