First Teaser For 'With Bob And David,' Which Reunites 'Mr. Show' Creators In November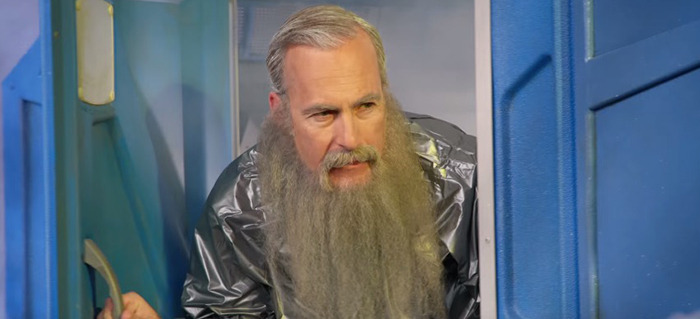 Mr. Show With Bob and David was a terrific sketch comedy show that flew slightly under the radar when it originally aired from 1995 to 1998, thanks to the fact that it was on HBO well before the "peak TV" era had begun, before everyone knew all about new HBO shows months in advance of their premiere. The show starred David Cross and Bob Odenkirk in a mixture of live on stage bits and pre-taped sketches,
Now Bob and David are back together, with many of those cast members returning and some new people to spice things up. Their new show, W/ Bob & David (that's how it is spelled in the teaser, anyway) is on Netflix, and has just been announced for a November 13 premiere. The first teaser for the series is out now, and you can watch it below. With Bob and David teaser.
(This teaser is not quite safe for work, by the way.)
The Netflix announcement reads:
Bob Odenkirk and David Cross are back for more inspired and absurd sketch comedy in W/ BOB & DAVID, the new Netflix original series, premiering Friday, November 13. In the series, Bob and David reunite – along with Paul F. Tompkins, Jill Talley, Jay Johnston, John Ennis, Brian Posehn and more – in four all-new 30-minute episodes.
Mr. Show  featured a great cast of new talent that has since gone on to various forms of stardom. (There was Sarah Silverman, Paul F. Tompkins, Jack Black, Tom Kenny, Mary Lynn Rajskub, Brian Posehn, Jerry Minor, Scott Aukerman, and Dino Stamatopoulos.) As the press release text makes clear, several of those cast members are appearing in the new series, with Brian Posehn being an obvious inclusion given this footage.
This short new series will feature some of the same structure as the old Mr. Show setup, with live stage segments segueing into pre-taped bits. The live stage stuff was shot in a few different sessions in Los Angeles earlier this year, and friends who attended some of those tapings had great reactions.
I like that this teaser goes more goofy than anything else. When a show returns after almost twenty years, especially when that show's creators have gone on to much bigger things, it's easy for expectations to grow to outsized proportions. This teaser is a reminder that the comedy of Mr. Show was often super-weird and goofy, and suggests the new series will continue that tone. I think that's great. I don't need a masterpiece of new comedy; I just hope this is as funny and strange and unexpected as the comedy of Mr. Show.