Apple CEO Tim Cook Hates "Opportunistic" Steve Jobs Movies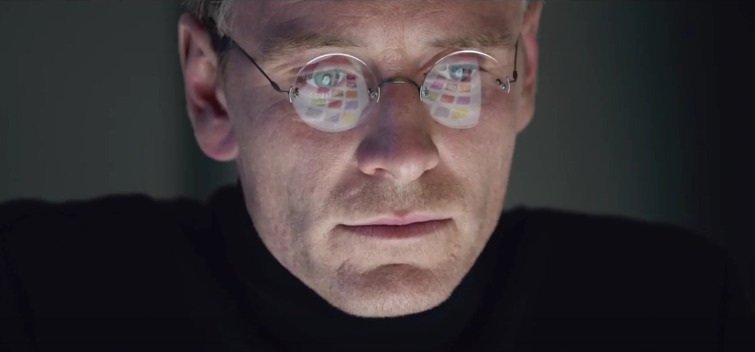 If it feels like there's been a good amount of movies about Steve Jobs since the technology innovator passed away in 2011, that's because there have been.
iSteve from Funny or Die was first out of the gate in 2013, aiming more for satire and comedy than an accurate portrayal of the Apple co-founder, and then Jobs followed shortly thereafter with Ashton Kutcher in the lead, and it didn't really do the man justice.
Flash forward to 2015 and we have the documentary The Man in the Machine (available now on VOD and in select theaters) and also Danny Boyle and Aaron Sorkin's forthcoming biopic Steve Jobs starring Michael Fassbender, which has gotten a lot of positive early buzz.
So what does someone who actually knew the real Steve Jobs think of all these movies? While Jobs' former right-hand man Steve Wozniak has recently praised Steve Jobs in particular, when current Apple CEO Tim Cook talks Steve Jobs movies with Stephen Colbert, he seems more annoyed than anything.
Tim Cook appeared on The Late Show with Stephen Colbert last night, marking the CEO's first ever late night talk show appearance, and he was asked about his thoughts on the films that have shined a light on the life of Steve Jobs (the movie talk begins around the 4:12 mark):
If you don't have time to watch the interview, here's what Cook said:
"I haven't seen them, but the Steve I knew was an amazing human being. He's someone that you wanted to do your best work [for]. He invented things that I think other people could not. He solved problems other people could not. He had this uncanny ability to see around the corner and to describe a future, not an evolutionary future but a revolutionary future, and he was a joy to work with. I love him dearly and I miss him everyday.
I think that a lot of people are trying to be opportunistic, and I hate this; it's not a great part of our world."
Sensing perhaps a touchy subject for Cook, Colbert decided to quickly veer away from the talk of Steve Jobs movies and head back to Apple as a company. Hate is a pretty strong word, but when someone you worked with for so long has all these movies showing the man you respected in a sometimes unfavorable light and revealing some of his darker family secrets, that can surely be frustrating.
While "opportunistic" could be an accurate description as to why studios were so interested to make movies about Steve Jobs not long after he passed away, I'm not sure that there's anytime a movie like this could be made where it wouldn't be considered as such. Apple isn't going anywhere anytime soon, and the legacy of Steve Jobs will last for decades because of that, making a high profile movie about the co-founder always a point of interest.
Any film about an iconic public figure could be considered opportunistic, but it's up to audiences to decide if they're interested in a particular story. And in the case of Steve Jobs, the new film from Danny Boyle and Aaron Sorkin, this looks like quite the compelling drama. Tim Cook's attitude about any Steve Jobs movies that doesn't paint him simply as the genius, co-worker and friend he knew isn't surprising, but I wish he wasn't so quick to dismiss them having not seen the movies.