'In The Heart Of The Sea' Trailer: A Whale Attack Is Only One Of Chris Hemsworth's Problems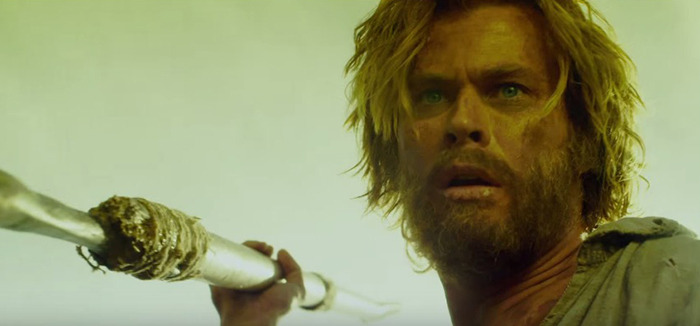 Ron Howard's new movie In the Heart of the Sea takes its major inspiration from the story of the whaling ship Essex, which ran afoul of a sperm whale in 1820, much to the dismay of its crew. The story was among the inspirations that led Herman Melville's creation of Moby Dick, and now Chris Hemsworth and Tom Holland lead the cast portraying the embattled seamen. A new In the Heart of the Sea trailer helps to show that this story is more than just a tale of a single encounter at sea; check it out below.    
One of the primary accounts of this encounter came from Owen Chase, who was first made on the Essex. That's Chris Hemsworth's character; Benjamin Walker plays the outmatched Captain; Cillian Murphy is second mate Matthew Joy; Tom Holland is young seaman Tom Nickerson; and Ben Whishaw plays Herman Melville, who learns of the story in part from the older version of Nickerson, played by Brendan Gleeson.
This trailer suggests that the initial whale attack is only one of the many problems these men face. Even a cursory glance at accounts of the actual events following the attack on the Essex show that there's some real horror ahead, but we'll leave off specifics for those who just want to see the movie.
In the Heart of the Sea opens on December 11. Trailer via Warner Bros.
Howard directed from a screenplay by Charles Leavitt ("Blood Diamond"), story by Charles Leavitt and Rick Jaffa & Amanda Silver ("Rise of the Planet of the Apes"), based on the book In the Heart of the Sea: The Tragedy of the Whaleship Essex by Nathaniel Philbrick, winner of the 2000 National Book Award for Nonfiction.
In the winter of 1820, the New England whaling ship Essex was assaulted by something no one could believe: a whale of mammoth size and will, and an almost human sense of vengeance. The real-life maritime disaster would inspire Herman Melville's Moby-Dick. But that told only half the story. "In the Heart of the Sea" reveals the encounter's harrowing aftermath, as the ship's surviving crew is pushed to their limits and forced to do the unthinkable to stay alive. Braving storms, starvation, panic and despair, the men will call into question their deepest beliefs, from the value of their lives to the morality of their trade, as their captain searches for direction on the open sea and his first mate still seeks to bring the great whale down.