'Freeheld' Trailer: New Miley Cyrus Ballad Drives The Gay Rights Drama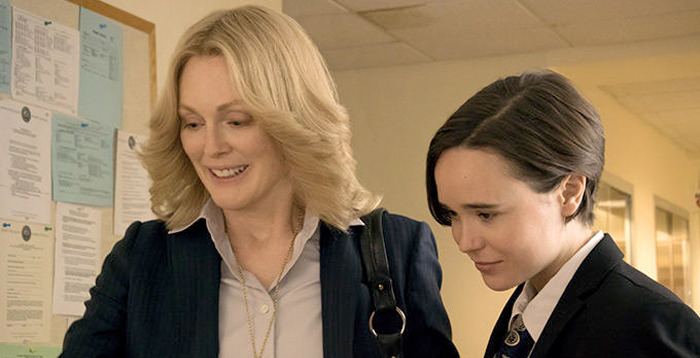 Film can be at the forefront of social movements with stories reflecting the changes and progress in society . This year is no different with the transgender drama About Ray starring Elle Fanning (which The Weinstein Company abruptly delayed this week) and the recently debuted gay rights drama Freeheld starring Julianne Moore and Ellen Page.
Based on the documentary of the same name, the drama follows a New Jersey couple, Laurel and Stacie (Moore and Page) who are forced to fight for their legal rights. Laurel is diagnosed with cancer and has to battle county officials in order to make sure her pension will end up in the hands of her partner Stacie.
Hot on the heels of a debut at the Toronto International Film Festival, a new Freeheld trailer has arrived, driven by a new ballad by chart-topping singer Miley Cyrus.
Here's the new Freeheld trailer from Lionsgate:
On one level, the film feels fairly relevant and topical due to the recent Supreme Court decision legalizing gay marriage, but the reviews from TIFF haven't been too kind to the movie, saying that it feels dated, bland and self-satisfied, trying too hard to make teachable moments and thus becoming much less powerful than the documentary on which it's based.
The Guardian gave the movie one star and said:
"Julianne Moore gives her all as a dying New Jersey detective battling to leave her pension to her partner, played by Ellen Page, but it's not enough to save Peter Sollett's fact-based drama from feeling vapid."
Meanwhile, Indiewire wasn't much more kind in their review:
"Released months after the nationwide legalization of same-sex marriage, 'Freeheld' is simultaneously timely and out of touch. While 'Philadelphia' was engineered to explain the AIDS crisis to less sympathetic viewers, 'Freeheld' has the vibe of an activist statement that missed its moment."
And Variety wasn't impressed either:
"Despite a credible and moving love story driven by strong performances from Julianne Moore and Ellen Page, director Peter Sollett's film is an oppressively worthy and self-satisfied inspirational vehicle that views its story primarily as a series of teachable moments, all but congratulating viewers for their moral and ideological superiority to roughly half the people onscreen."
Well, that sounds disappointing for such a timely, relevant drama from Nick & Norah's Infinite Playlist director Peter Sollett. However, this may still be one of those movies you want to see for yourself. Even if the reviews are right, maybe the ballad from Miley Cyrus will still end up getting the movie some awards attention for Best Original Song.
If you still want to see more of Freeheld to figure out if it'll be worth seeing, check out the previous trailer right here.
Based on the Oscar-winning short documentary and adapted by the writer of Philadelphia, Freeheld is the true love story of Laurel Hester (Julianne Moore) and Stacie Andree (Ellen Page) and their fight for justice. A decorated New Jersey police detective, Laurel is diagnosed with cancer and wants to leave her hard earned pension to her domestic partner, Stacie. However the county officials, Freeholders, conspire to prevent Laurel from doing this. Hard-nosed detective Dane Wells (Michael Shannon), and activist Steven Goldstein (Steve Carell), unite in Laurel and Stacie's defense, rallying police officers and ordinary citizens to support their struggle for equality.
Freeheld arrives in theaters October 2.