Charlie Kaufman's 'Anomalisa' Set For Winter Release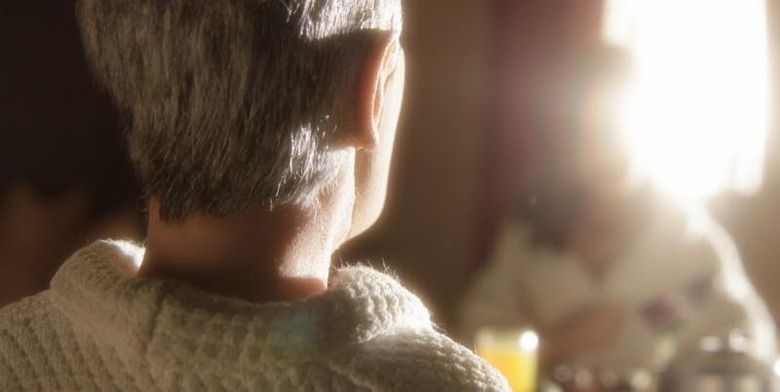 Your holiday season just got a little bit weirder. Paramount Pictures has set Charlie Kaufman and Duke Johnson's stop-motion feature Anomalisa for a winter release, following a buzzy world premiere at the Telluride Film Festival. Jennifer Jason Leigh, David Thewlis, and Tom Noonan provide voices. Get the Anomalisa release date details after the jump.
THR reports Paramount has just scooped up Anomalisa in a mid-seven-figure deal, and set it for an Oscar-qualifying limited release starting December 30 in New York and Los Angeles. We can probably assume it'll roll out to other U.S. markets sometime in January. Anomalisa centers on a lonely motivational speaker (Thewlis) who connects with a mysterious woman (Leigh).
It's cause for celebration anytime Kaufman has a new film out, and it's been an especially long time since his last one. It's not for lack of trying on his part. He was working on a movie musical, Frank or Francis, that fell apart at the last minute, and then on an FX pilot, How or Why, that got turned down. So we haven't actually seen a completed project from him since 2008's Synecdoche, New York.
While Anomalisa represents Kaufman's first foray into stop-motion animation, Johnson's credits include the short film Before Orel and that stop-motion Christmas episode of Community. Anomalisa began its winding path to the big screen three years ago with a Kickstarter campaign, which raised over $400,000.
Here's the official synopsis for Anomalisa:
Michael Stone, husband, father and respected author of "How May I Help You Help Them?," is a man crippled by the mundanity of his life. On a business trip to Cincinnati, where he's scheduled to speak at a convention of customer service professionals, he checks into the Fregoli Hotel. There, he is amazed to discover a possible escape from his desperation in the form of an unassuming Akron baked goods sales rep, Lisa, who may or may not be the love of his life. A beautifully tender and absurdly humorous dreamscape, from the brilliant minds of Charlie Kaufman (SYNECDOCHE, NEW YORK ) and Duke Johnson ("Community" episode, Abed's Uncontrollable Christmas), this stop-motion animation wonder features the vocal cast of Jennifer Jason Leigh, Tom Noonan and David Thewlis and a stirring strings-based score by Carter Burwell.  The darkly comedic and surreal stop-motion journey of a man's long night of the soul, ANOMALISA confirms Charlie Kaufman's place amongst the most important of American filmmakers, and announces Duke Johnson as a major creative force.