'Point Break' Trailer: An Ordeal Honoring The Forces Of Nature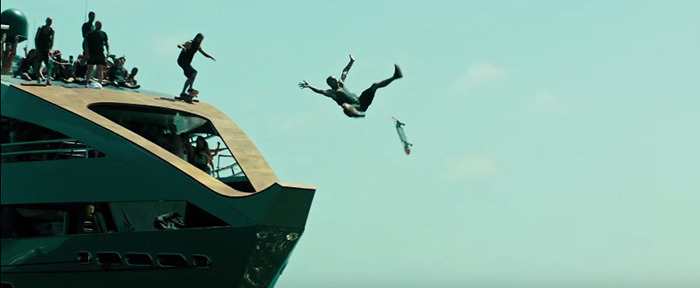 The new Point Break trailer reveals a wrinkle in the film's plot: the criminals being tracked by young FBI agent Johnny Utah (Luke Bracey) may be using a search for enlightenment to as an excuse for their Robin Hood-like crimes. So all the extreme sports stuff in this new movie, which takes the scope of the action way beyond surfing (but also includes insane surfing) is part of a grand quest. Whether or not skateboarding off the bow of a yacht (as seen above) is part of that, I'm not sure.
Point Break also stars Édgar Ramírez as the new version of Bodhi, and also features Ray Winstone, Teresa Palmer, and Delroy Lindo. Check out the new trailer below.
This looks completely silly, but since the original film is also completely silly (despite being enshrined at the center of Hot Fuzz) that's not really a big deal. All I want out of this is big, ridiculous sports (or sport-like events) that are performed and captured with some attention to the feats done by the film's stunt team. And it looks like Point Break might be able to deliver.
Sure, Bracey is hardly as charismatic as young Keanu Reeves, and this Bodhi looks a bit more smug than Patrick Swayze's portrayal. But as long as the physical displays of craziness are on point those might be minor complaints. And you're going to need something to watch at Christmas anyway after you've seen Star Wars eight times and The Hateful Eight isn't yet open in your town.
Point Break opens on December 25. Trailer via Warner Bros.
In the fast-paced, high-adrenaline "Point Break," a young FBI agent, Johnny Utah (Luke Bracey), infiltrates a cunning team of thrill-seeking elite athletes – led by the charismatic Bodhi (Édgar Ramírez). The athletes are suspected of carrying out a spate of crimes in extremely unusual ways. Deep undercover, and with his life in imminent danger, Utah strives to prove they are the architects of this string of inconceivable crimes. The film is replete with the most daring athleticism ever seen in a motion picture. These action adventure feats are performed by elite athletes representing the world's best in class in big-wave surfing, wingsuit flying, sheer-face snowboarding, free rock climbing, and high-speed motorcycling.