Star Wars Bits: Star Wars Launch Bay, Rogue One Set Pics, Episode VIII Casting, Tasu Leech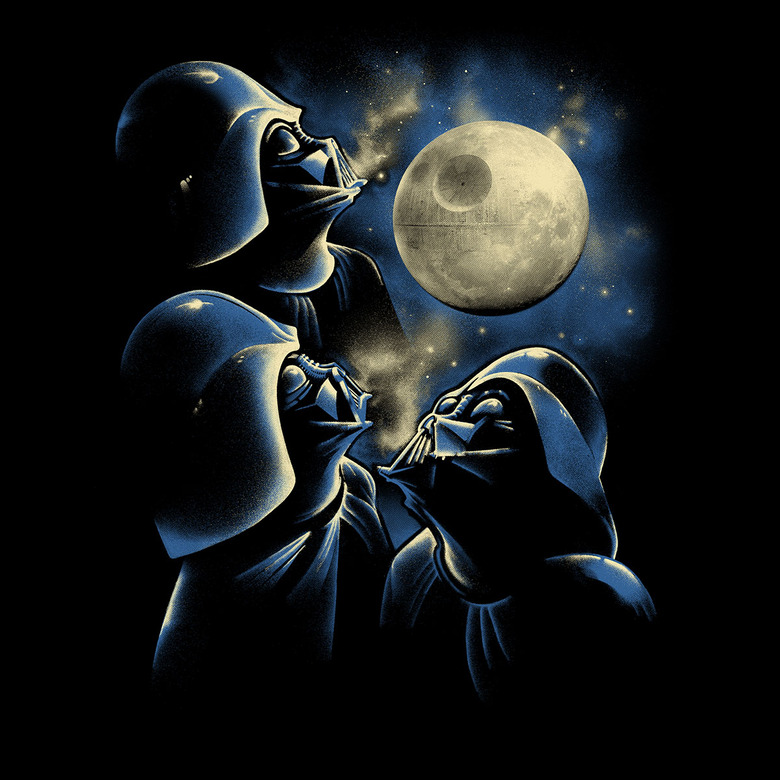 In today's edition of Star Wars Bits:
Preparations are underway for Star Wars Launch Bay at Disney World
Star Wars Weekends and Disney Star Wars characters may be on their way out
Watch an adorable video of BB-8's big day rolling around Disneyland
Take a peek at the Star Wars and Darth Vader annuals coming from Marvel Comics
Will the Star Wars books and comics become required reading for the movies?
New Force Awakens merch offers a new look at characters like Tasu Leech
Jimmy Vee has been spotted on the set of Star Wars: Episode VIII
The first set photos from Star Wars: Rogue One have hit the web
(Header image: "Three Sith Moon" by 6amcrisis; buy the shirt here.)
***
The old Magic of Disney Animation building at Disney's Hollywood Studios has gone gray, in preparation for its conversion into the Star Wars Launch Bay. See the ongoing makeover below via The Disney Blog:
(For comparison, the old Magic of Disney Animation looked like this.)
Meanwhile, a sign gives us a better idea of when the attraction will actually open doors. Star Wars Launch Bay is expected to debut before Star Wars: The Force Awakens lands in theaters, which further narrows the window to the first half of December.
It's official! @WDWNT pic.twitter.com/F4kvxWg1by

— The Geodesic Sphere (@disneylexicon) September 14, 2015
Star Wars Launch Bay is billed as an "interactive experience" featuring special exhibits, meet-and-greets, and previews of upcoming Star Wars movies, and so on. It will open this year at both Disney World and Disneyland.
***
There's going to be a lot more Star Wars at Disney Parks in the next few years, from the aforementioned Star Wars Launch Bay to an updated Star Tours to a brand-new Star Wars Land extension. At the same time, however, it appears some of the existing Star Wars offerings are on their way out.
Walt Disney World News Today reports a rumor that Star Wars Weekends are being retired, meaning this past summer's event was the last one. The parks will continue to host a seasonal celebration around May the 4th each year, but they won't be full-fledged Star Wars Weekends.
In addition, they've heard that we'll no longer see Mickey Mouse and his friends dressed as Star Wars characters on merchandise or logos, or at live appearances. WDWT says it's part of a strategy to "re-position the brand" as something more serious, in preparation for all the Star Wars movies to come.
***
BB-8 visits the big, strange world of Disneyland in this completely adorable video from Keith Lapinig. Bet he didn't know we have a Jedi Training Academy right here on Earth.
Darth Maul looks none too pleased to see BB-8, but it looks like he's made plenty of other friends including Belle, Cinderella, and Snow White.
***
Click through for photos from the Rogue One set, covers for the Star Wars and Darth Vader annuals, a new look at The Force Awakens' Tasu Leech, and more.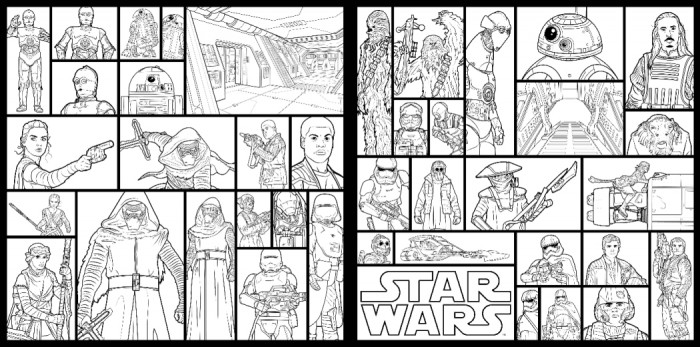 Here's yet another reason to look forward to winter. Below we have the covers of the first-ever Star Wars and Darth Vader annuals, out this December.
From writer Kieron Gillen and artist Angel Unzueta, Star Wars Annual #1 follows a Rebel spy named Haarkon Dak who "has been undercover in the Imperial bureaucracy for years — and may be the only chance that Rebel-sympathetic senators have to survive."
Darth Vader Annual #1, from Gillen and artist Lenil Yu, "finds Darth Vader heading to the planet Shu-Torin, where the Sith Lord seeks to destroy an uprising against the Empire."
***
One of the exciting things about the Star Wars universe right now is that all the ancillary releases (novels, comics, games, etc.) are considered canon. But The Force Awakens is still expected to work as a standalone. You could walk in without having picked up a single book, and probably follow along just fine.
The Hollywood Reporter wonders how long that'll last, theorizing that the next step will be to make those releases "required reading" for fans who want to follow the movies:
From a business standpoint, it's a no-brainer: it drives traffic to the spin-off products, and makes the brand more cohesive: everything is Star Wars, as important as everything else and all necessary for the fans to keep up. But from an audience or creative standpoint, things get slightly more complicated. For one thing, there's the effort necessary to ensure that all of pieces in different media actually fit together as intended — more difficult than it might seem, given the difference in production time for a movie compared with a TV show or comic book — but, more importantly, there's the question of when the audience might decide that it's too expensive, costly or simply too much effort to keep up with a favorite story.
***
The tie-in merchandise has been a goldmine of information on Star Wars: The Force Awakens. Yakface (via Star Wars 7 News) has posted a bunch of 3.75" toy card shots for characters including General Hux, Goss Toowers, and PZ-4CO.
Even more intriguing is this Japanese Star Wars coloring book for adults (via Making Star Wars). The black-and-white cover offers a first look at Tasu Leech, down there in the bottom right corner. He's believed to be a Kangjiklub gang leader played by Yayan Ruhian.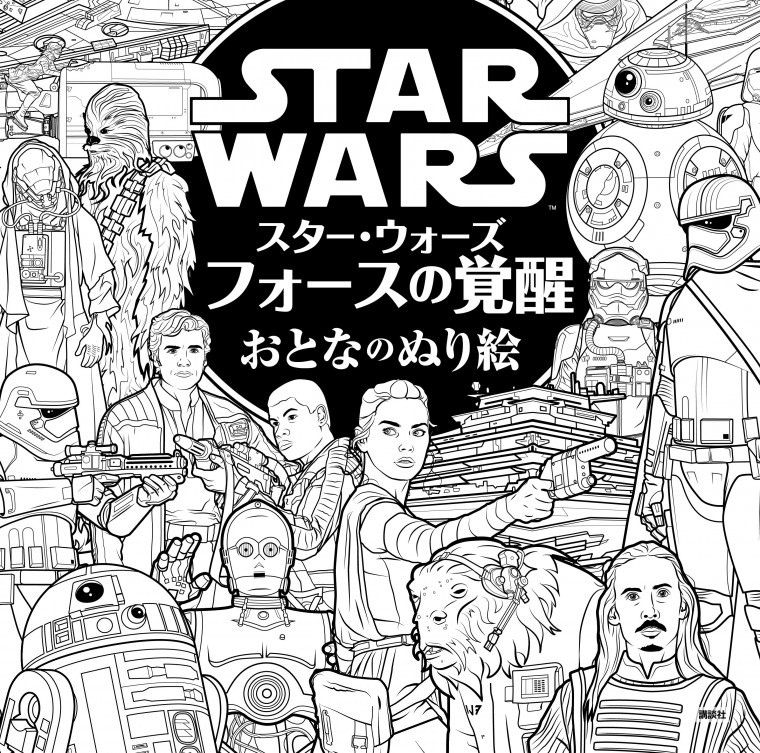 You can also briefly see Tasu Leech (well, his minifig) in action in this Lego commercial:
We'll have to wait and see exactly how he fits into this movie, but from here it doesn't look like he's too friendly with our heroes.
***
On the last page, news from the sets of Rogue One and Episode VIII. Potential spoilers ahead.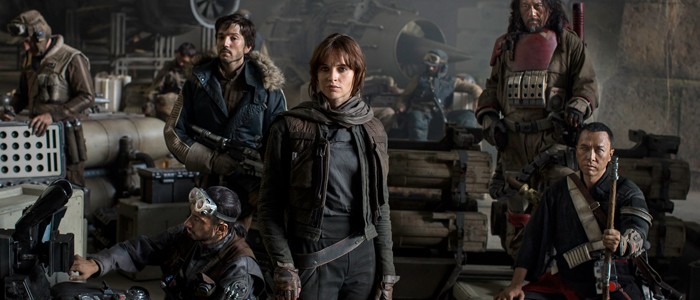 Potential spoilers for Rouge One ahead.
Shooting is underway on Rogue One, or Star Wars: Rogue One, or Star Wars Anthology: Rogue One, or Rogue One: A Star Wars Story, or whatever configuration of the phrases "Star Wars" and "Rogue One" is in fashion this week. Naturally, that means the first set photos from London have hit the web.
TMZ has posted a nice big batch of pictures, which you can see here. Among other things, you can see the cast in costume (including Felicity Jones, or maybe her stunt double), a downed X-Wing, and a bunch of dead Stormtroopers scattered about. Word is the story follows a band of Resistance fighters out to steal plans for the Death Star. The film arrives December 16, 2016.
***
Potential spoilers for Episode VIII ahead.
As Star Wars Episode VIII continues shooting on Skellig Michael, Jimmy Vee has reportedly arrived on set (via Making Star Wars). He's rumored to be replacing Kenny Baker, who's played R2-D2 in all six films to date and reprises the role in this winter's Star Wars: The Force Awakens. Vee's credits include Doctor Who and the upcoming Pan.