Jon Favreau Answers Your 'The Jungle Book' Questions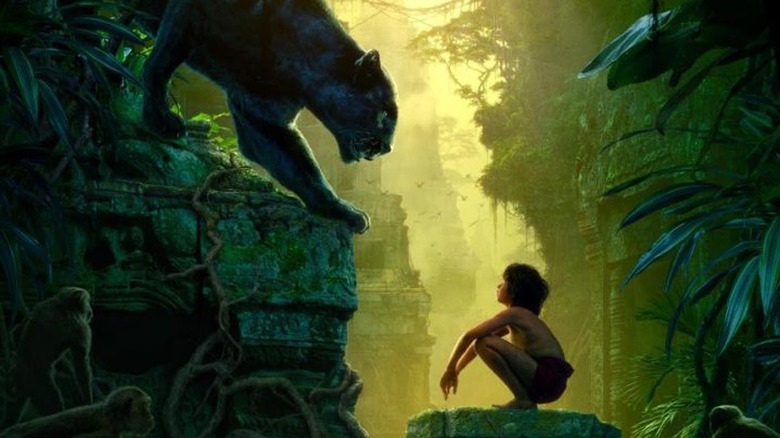 The trailer for Jon Favreau's reimagining of The Jungle Book hit the web today (watch The Jungle Book trailer now if you haven't already), and the filmmaker has taken to twitter to answer some of the fans questions. Since not everyone is following Favreau's tweets, I thought I'd round-up the interesting answers and present them to you in a more digestible format (a blog post).
Also I tweeted this, but I wanted to bring this to everyone's attention here on the site: After watching The Jungle Book trailer, consider this: 99% of the animals and environments you see in that trailer were created with CG. The film was all shot in a studio in downtown Los Angeles. Mowgli, the human boy, is the only live-action character, and aside from the ground he stood on, most of the environment around him was created digitally. Judging from the early footage in the trailer, I'm impressed. Hit the jump to read Favreau answer some Jungle Book questions and talk bout how he created the film and more.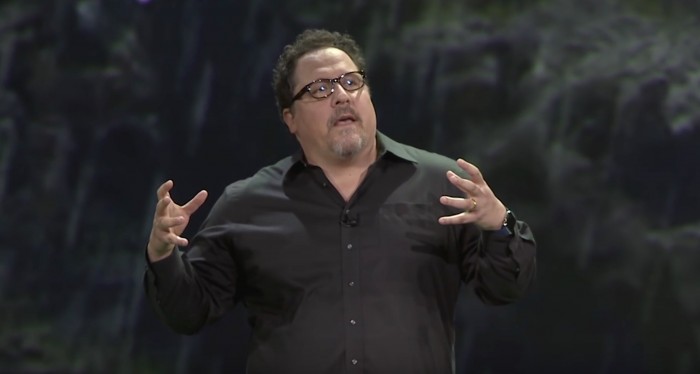 ?Jungle Book Questions From September 15th Twitter Q&A
@SolnSD: Which one word would you best describe this Movie? #AskJungleBookJon Favreau: Ambitious!@Warmustbeend123: Jon, how much singing is in the movie of the original JB songs how & much will Bill Murray sing Bare Neccisites? #AskJungleBookJon Favreau: We wanted to include enough music to satisfy people who grew up w 67 film but not make it a musical or betray action tone.@falcongunner33 what was you camera of choice to create these stunning shots? I can't wait to see the film! #askjunglebookJon Favreau: @falcongunner33 Arri Alexa digital camera and the Pace system & Simulcam (developed for Avatar) to capture the 3D.
@sunrarevival How did you manage to retain the realistically of the animals whilst making them talking characters? Thanks
#AskJungleBookJon Favreau: We used behavior & mouth movements of real animals, not humans. Anim reference was drawn from performances and mocap of actors@TedLamy: Are we able to see it in 3-D IMAX? #AskJungleBookJon Favreau: Yes! Movie was captured native in 3D. We are working on an extended dynamic range version to eliminate darkening from 3D glasses@melloyellow48 Why did you want to do this movie #AskJungleBookJon Favreau: Disney was passionate about JB & 67 film is one of my oldest memories. New tech offers a way to tell the story in a fresh way@OhMyDisney What are you most excited for fans to see in the new film? #AskJungleBookJon Favreau: The craftsmanship of the artists. The singing and music are pretty cool too. #askjunglebook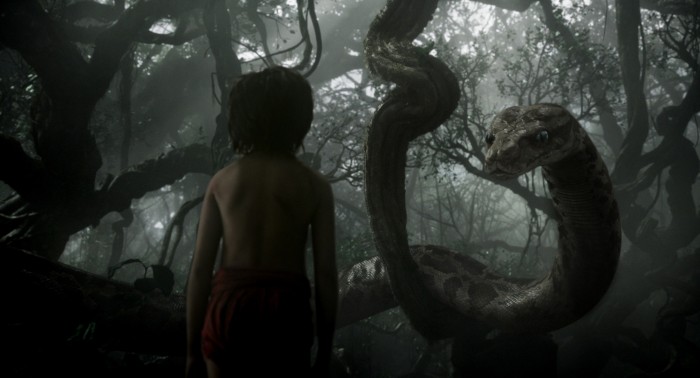 @MyersFTW Will this adaptation have a darker tone than the animation or will it be fun and adventurous? #AskJungleBookJon Favreau: The photo real approach definitely amps up the adventure beyond the 67 version, but we wanted to maintain the fun.@Bannerofff Would you say the movie has an over all dark tone? #AskJungleBook @Jon_FavreauJon Favreau: No. You'll see as more footage comes out that the tone is a mix btwn the original animated version and a modern action/adventure@DavidMacey1 what was it like working with Bill Murray? #askjunglebookJon Favreau: A dream come true!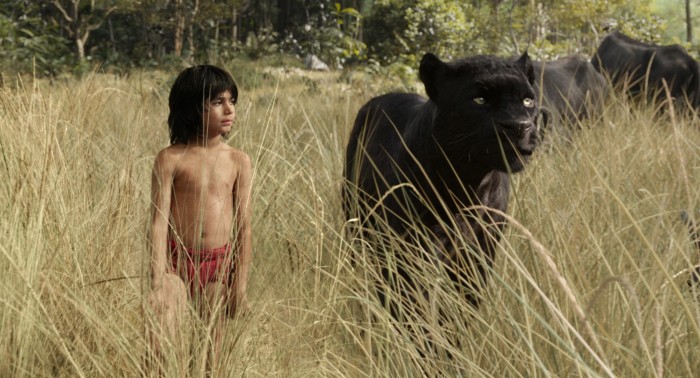 @MonkeyBoy1138 How many of the locations were real, and how many are cgi? They're looking pretty authentic.Jon Favreau: None are real. All are CGI. The whole movie was shot in downtown LA. ... Mowgli floating down the river on Baloo's belly singing was difficult to recreate with real physics. Lots of R&D@sammyzkay95 what skills did you learn from your other directorial projects that helped you make @TheJungleBook? #askjunglebookJon Favreau: Iron Man gave me the most experience in the tech/animation aspect, but Elf taught me a lot of lessons in VFX.@NiKlSu who was the hardest character to cast? #askjunglebookJon Favreau: Mowgli@ConnorMcGinty Did the voice actors record together or separately? #askjunglebookJon Favreau: We tried to record them together as much as possible. #askjunglebook@ScarlettJBrasil How was recording with the other actors, especially Scarlett Johansson?Jon Favreau: She's the best! she has such a great voice with so much character. #askjunglebookOfficial information about The Jungle Book:
Genre: Live-Action/Action-Adventure
Rating: TBD
U.S. Release Date: April 15, 2016
Cast: Bill Murray, Ben Kingsley, Idris Elba, Lupita Nyong'o, Scarlett Johansson, Giancarlo Esposito, Neel Sethi and Christopher Walken,
Director: Jon Favreau
Producers: Jon Favreau, Brigham Taylor
Screenplay by: Justin Marks
Directed by Jon Favreau ("Iron Man"), based on Rudyard Kipling's timeless stories and inspired by Disney's classic animated film, "The Jungle Book" is an all-new live-action epic adventure about Mowgli (newcomer Neel Sethi), a man-cub who's been raised by a family of wolves. But Mowgli finds he is no longer welcome in the jungle when fearsome tiger Shere Khan (voice of Idris Elba), who bears the scars of Man, promises to eliminate what he sees as a threat. Urged to abandon the only home he's ever known, Mowgli embarks on a captivating journey of self-discovery, guided by panther-turned-stern mentor Bagheera (voice of Ben Kingsley), and the free-spirited bear Baloo (voice of Bill Murray). Along the way, Mowgli encounters jungle creatures who don't exactly have his best interests at heart, including Kaa (voice of Scarlett Johansson), a python whose seductive voice and gaze hypnotizes the man-cub, and the smooth-talking King Louie (voice of Christopher Walken), who tries to coerce Mowgli into giving up the secret to the elusive and deadly red flower: fire.
The all-star cast also includes Lupita Nyong'o as the voice of the fiercely protective mother wolf Raksha, and Giancarlo Esposito as the voice of wolf pack's alpha male Akela. "The Jungle Book" seamlessly blends live-action with photorealistic CGI animals and environments, using up-to-the-minute technology and storytelling techniques to immerse audiences in an enchanting and lush world. The wild adventure swings into theaters in 3D on April 15, 2016.