'The Divergent Series: Allegiant' Trailer: Tris Gets A New Haircut, Meets Jeff Daniels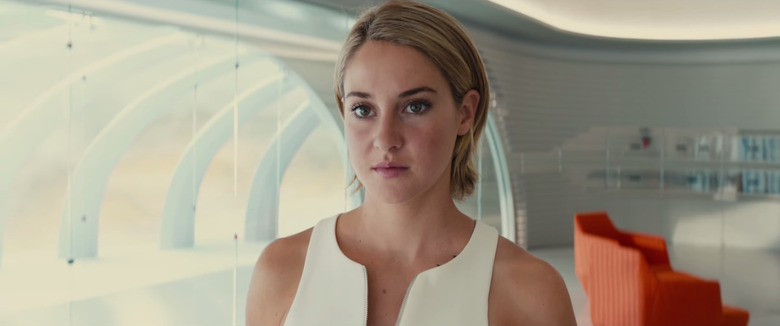 As next Maze Runner and Hunger Games films prepare for their fall bows, studio marketing teams are starting to pave the way for next year's crop of YA action franchises. Following the new 5th Wave trailer earlier today comes the first trailer for The Divergent Series: Allegiant, starring Shailene Woodley as plucky heroine Tris.
Following the events of this year's Insurgent, Tris and her friends are ready to find out what lies beyond the walls of their secluded society. The answer might surprise you, but probably won't if you read the headline. Watch the first The Divergent Series: Allegiant trailer after the jump.
Summit unveiled The Divergent Series: Allegiant trailer on YouTube.
The first 47 seconds of the Allegiant trailer are spent summarizing the story so far, and it's not until the second half that we start to get new footage. Tris sports a new hairstyle (which is thankfully much cuter than the last one), Four shows off his action chops, and the world outside Chicago reveals itself to be a ruined wasteland. But the big twist is the reveal of Jeff Daniels, who plays new character David. Looks like Tris may have found an even bigger foe than Kate Winslet's Jeanine.
The Divergent Series: Allegiant lands in theaters March 18, 2016. Ansel Elgort, Miles Teller, Zoë Kravitz, Naomi Watts and Maggie Q also star. Robert Schwentke directs.
The third installment of the blockbuster Divergent series franchise, ALLEGIANT takes Tris [Shailene Woodley] and Four [Theo James] into a new world, far more dangerous than ever before.
After the earth-shattering revelations of INSURGENT, Tris must escape with Four and go beyond the wall enclosing Chicago. For the first time ever, they will leave the only city and family they have ever known in order to find a peaceful solution for their embroiled city. Once outside, old discoveries are quickly rendered meaningless with the revelation of shocking new truths. Tris and Four must quickly decide who they can trust as a ruthless battle ignites beyond the walls of Chicago which threatens all of humanity. In order to survive, Tris will be forced to make impossible choices about courage, allegiance, sacrifice and love.