Michael J. Fox Returns As Marty McFly In 'LEGO Dimensions' Trailer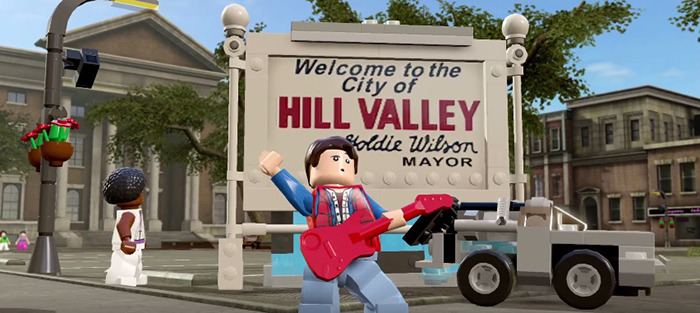 It used to be that licensed games had little to no hope of securing voice actors that were familiar to players. But that has changed dramatically over the years, to the point where it isn't surprising to see film and TV actors lending their voices to games. But the game Lego Dimensions is still crazy — it's voice cast is like a jumble of actors who are all hanging out after the stories in a shelf full of DVDs come to life.
This wild ensemble features Christopher Lloyd and Michael J. Fox as their Back to the Future characters; Peter Capaldi and many other Doctor Who actors as their respective characters; the cast of The Lego Movie, with Chris Pratt doing double duty as Owen from Jurassic World; and even a video game crossover, as Ellen McLain shows up as GLaDOS from Portal.
Oh, and Gary Oldman voices the bad guy. What a weird world we live in now. Check out the Lego Dimensions trailer below.
Here's a bunch of marketing copy:
LEGO Dimensions fuses 14 fan-favorite universes from film, television and games together with the principal actors voicing their characters from almost every property to lend authenticity to the game's epic story. Check out some of the famous voice talent in LEGO Dimensions:
Michael J. Fox and Christopher Lloyd who played Marty McFly and Doc Brown, respectively, in the Back to the Future films have rerecorded and reprised their roles in LEGO Dimensions.
From The LEGO Movie, Chris Pratt returns as Emmet, Elizabeth Banks as Wyldstyle, Alison Brie as UniKitty and Charlie Day as Benny, among other actors from the film.
Chris Pratt is Owen Grady and Irrfan Khan is Simon Masrani from Jurassic World, along with other members of the film's original cast.
Peter Capaldi is the Twelfth Doctor, Jenna Coleman is Clara Oswald, Michelle Gomez is Missy from Doctor Who, and many other original actors from the long running British science fiction television series have also returned to voice their characters in the game as well.
From the world of DC Comics, Troy Baker is Batman and Tara Strong is Harley Quinn.
Stephen Merchant is Wheatley and Ellen McLain is GLaDOS from the Portal video game series.
And as part of the original LEGO Dimensions story, Joel McHale is X-PO, the game's robot guide, and Gary Oldman is Lord Vortech, the evil mastermind who seeks to control the LEGO Multiverse.
LEGO Dimensions will include many other famous voice actors in addition to those featured in the video. Members of the original cast of Ghostbusters, The Lord of the Rings, The Simpsons and Scooby-Doo will also be reprising their roles for the game!Launching September 27, 2015, LEGO Dimensions will be available for Xbox One, the all-in one games and entertainment system from Microsoft and the Xbox 360 games and entertainment system from Microsoft, PlayStation4 and PlayStation3 computer entertainment systems and the Wii U system from Nintendo.