Nickelodeon Launching 90s Programming Block In October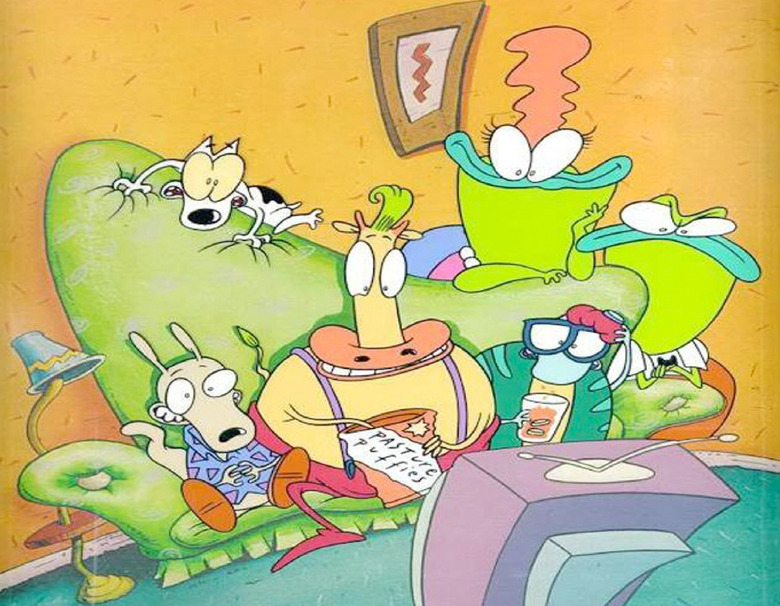 Nickelodeon clearly knows that there's money to be made from the nostalgia of their beloved programming from the 90s when the kids-geared network was just taking off. The channel has been said to be thinking of ways to revive certain popular 90s cartoons such as Rugrats and Hey Arnold! and Paramount Pictures is supposedly developing some kind of live-action/animated hybrid movie that could bring a bunch of Nicktoons together.
And now news has surfaced that there will be a new programming block of Nickelodeon 90s shows called The Splat coming to the channel in October, bringing back tons of the shows that children of the 90s fell in love with and still treasure to this day.
BuzzFeed was the first to notice the hype for The Splat on YouTube with this video:
There's also a whole slew of social media accounts already set up for The Splat in preparation for the programming block's debut sometime in October, as seen on the official website that's touting the hashtag #TheSplatIsComing. That sounds more like a cheesy horror movie from the 1950s or even something a little more inappropriate, but we'll let it slide.
The Splat was being promoted like crazy at 90s Fest in Brooklyn over the weekend, with icons of the decade such as Pauly Shore and Coolio doing very Nickelodeon things, such as getting slimed and hanging out with giant Rugrats:
As of now, very little information about The Splat has been made available, so we don't know for sure which series will be airing on this block. But since the above video highlights Rocko's Modern Life, Aaahh! Real Monsters, Ren & Stimpy, Hey Arnold!, Rugrats, Rocket Power, CatDog, The Wild Thornberrys and The Angry Beavers, it's probably a safe bet that all those shows will be included. Sadly Doug might be left out since he belongs to ABC now.
Does that mean that this programming block will only feature Nicktoons from the 90s? That's not clear at this time, but Nickelodeon has plenty of live-action 90s shows that would fit it in The Splat, such as Salute Your Shorts, The Secret World of Alex Mack, All That, Kenan & Kel, Hey Dude!, Are You Afraid of the Dark? and more. We'll likely hear more about the official line-up of shows on The Splat as October gets closer.
Supposedly The Splat will air on Nickelodeon from 10pm-6am, but that hasn't been confirmed yet. If that's true, you might have to set your DVR in order to catch your favorite shows from the 90s, since they'll mostly be on while you're supposed to be sleeping. But you could just stay up all night probably: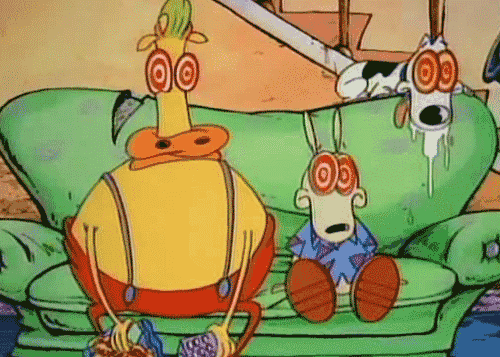 Honestly, as someone who grew up on cartoons like this and still finds Doug, Rocko's Modern Life and Rugrats fun to watch, a programming block on Nickelodeon is just what kids of the 90s need to satisfy their nostalgic desires. It would be nice if this was all Nickelodeon decided to do with their 90s shows instead of reviving them in some capacity or bringing them together in a movie, but somehow I just don't think that's going to happen.