'Spectre' Could Be Longest Bond Movie Ever; Regal Unveils $100 Unlimited 'Spectre' Ticket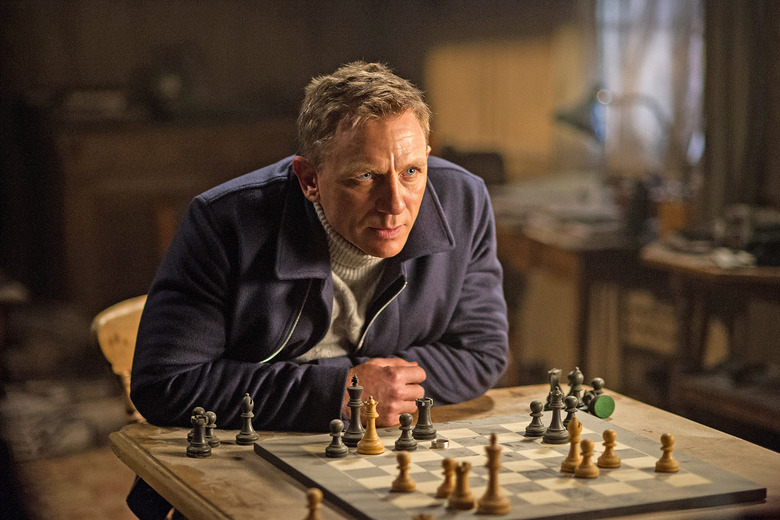 Not only are we being treated to a new Bond movie this fall, we may be getting more Bond than ever before. Spectre has a reported running time approaching three hours, making it the lengthiest 007 installment to date.
But if that's still not enough Bond for you, you're in luck. Regal Cinemas has announced a limited-edition Spectre Ultimate Ticket, which for will let you watch the film (almost) as many times as you wish. More details on the Spectre running time and the Spectre unlimited ticket after the jump. 
The Spectre running time was posted by three major U.K. cinema chains (via Digital Spy). Odeon lists the film at 160 minutes, Empire at 155 minutes, and Vue at 150 minutes. In any case, it hits two-and-a-half-hour mark, and may start to approach the three-hour one. Keep in mind the final cut isn't locked in just yet, so it's still possible the running time could change in post-production.
If these numbers prove accurate, however, the upcoming 24th Bond film will be the longest one. The current record holder is Casino Royale at 144 minutes, followed by Skyfall, Spectre director Sam Mendes' previous Bond adventure, at 143 minutes. Say what you will about Quantum of Solace, but at 108 minutes it's the only Daniel Craig Bond movie that's managed to keep his shenanigans to under two hours.
And yet, there are bound to be fans who still won't feel they've gotten their fill of Bond after a measly 160ish minutes. For those folks, Regal has unveiled a Regal Ultimate Ticket for Spectre. The $100 pass allows one admission to Spectre each day for the film's entire run in Regal cinemas. (Or through June 6, 2016, anyway.)
Plus, the ticket itself makes a nice souvenir. It's a black anodized steel card laser-etched with the Spectre symbol and personalized with the holder's name. See it below: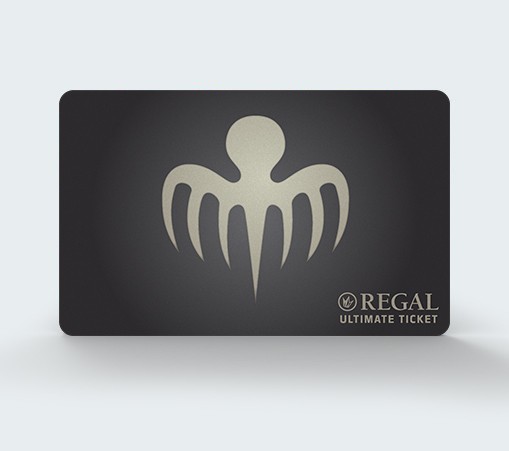 There are some drawbacks — you can't use the Spectre unlimited ticket to purchase a seat online, for one thing. And you can't get around the cost by sharing your pass with friends, as photo ID will be required to redeem your admission. Still, if you're planning to watch Spectre a bunch of times, it's not a terrible deal.
Assuming an average ticket price of $8.61, you'd need to watch Spectre about 12 times to break even. With an estimated running time of 160 minutes, 12 viewings comes out to 1,920 minutes, or 32 hours, of Spectre. Which, if you bought the $100 Spectre pass, comes out to about $3.13 per hour. Where else are you going to get an hour's worth of entertainment for around the price of a Happy Meal?
If that's sold you, you won't want to waste time snapping yours up. The Spectre unlimited ticket is limited to 1,000 units. Once you place your order, you'll receive your card in about four to six weeks. Hit Regal Cinemas' official website for more details.
Spectre arrives November 6.
A cryptic message from the past sends James Bond (Daniel Craig) on a rogue mission to Mexico City and eventually Rome, where he meets Lucia Sciarra (Monica Bellucci), the beautiful and forbidden widow of an infamous criminal. Bond infiltrates a secret meeting and uncovers the existence of the sinister organisation known as SPECTRE.
Meanwhile back in London, Max Denbigh (Andrew Scott), the new head of the Centre for National Security, questions Bond's actions and challenges the relevance of MI6, led by M (Ralph Fiennes). Bond covertly enlists Moneypenny (Naomie Harris) and Q (Ben Whishaw) to help him seek out Madeleine Swann (Léa Seydoux), the daughter of his old nemesis Mr White (Jesper Christensen), who may hold the clue to untangling the web of SPECTRE. As the daughter of an assassin, she understands Bond in a way most others cannot.
As Bond ventures towards the heart of SPECTRE, he learns of a chilling connection between himself and the enemy he seeks, played by Christoph Waltz.