'The 5th Wave' Trailer: Chloë Grace Moretz Battles Aliens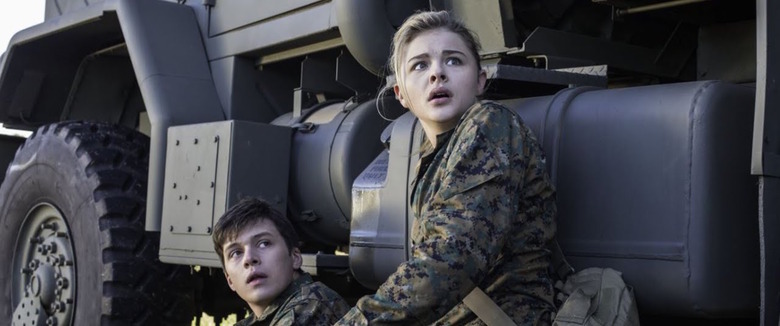 If aliens were going to invade Earth, you could do worse than pin your hopes on Chloë Grace Moretz. The former Hit-Girl leads The 5th Wave as Cassie, a teen girl trying to survive in a world that's been torn apart by alien attacks — four waves of them, in fact, with a fifth one on the way. When her brother is taken (Zackary Arthur) is taken away, she sets out to save him.
The 5th Wave is, like all studio movies starring actors in their late teens to early 20s seem to be these days, adapted from a bestselling YA trilogy, this time by Rick Yancey. Nick Robinson stars as Cassie's classmate Ben, and Alex Roe is a handsome stranger named Evan. Watch The 5th Wave trailer after the jump.
Sony unleashed The 5th Wave trailer on YouTube.
Well, it's a far sight better than that last trailer. It feels less generic, even if it looks like we can add Divergent's co-ed fight training sessions to the list of elements in The 5th Wave that feel lifted from other movies. The world is coming into clearer focus, and the characters are starting to show flashes of personality.
The 5th Wave arrives January 15, 2016, which is not a date that tends to inspire much confidence. On the bright side, if The 5th Wave is any good at all, it should have no trouble standing out among all the January dreck. Ron Livingston, Maggie Siff, Liev Schreiber, Maika Monroe, Tony Revolori, and Maria Bello also star.
In the new film The 5th Wave, four waves of increasingly deadly attacks have left most of Earth decimated. Against a backdrop of fear and distrust, Cassie (Chloë Grace Moretz) is on the run, desperately trying to save her younger brother. As she prepares for the inevitable and lethal 5th wave, Cassie teams up with a young man who may become her final hope – if she can only trust him.