'Colonia' Trailer: Emma Watson Infiltrates An Evil Cult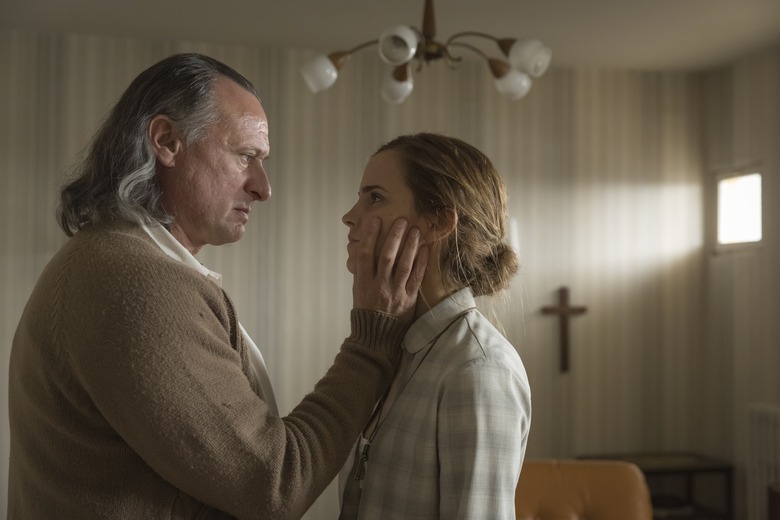 The situation looks dire for Daniel Brühl in the first trailer for Colonia, which sees his character abducted by General Augusto Pinochet's secret police in 1973 Chile and sent into a sinister cult called the Colonia Dignidad.
Fortunately, he just so happens to be dating a woman played by Emma Watson, and we all know Watson's not one to give up in the face of evil. In an effort to rescue her boyfriend, Watson's Lena infiltrates the cult, led by the intimidating Paul Schäfer (Michael Nyqvist). Florian Gallenberger directs. Watch the Colonia trailer after the jump. 
Watson unveiled the first Colonia trailer on Facebook.
The Colonia trailer looks intense, and the genderbent twist on the usual "girl gets kidnapped, guy saves girl" storyline is intriguing. Watson taps back into her inner Hermione Granger as a woman who'll stare down danger to save the ones she loves, while Nyqvist looks suitably malicious as Schäfer. The fact that it's based on real events — Colonia Dignidad really did serve as a torture camp under Schäfer during Pinochet's rule — makes it seem all the more chilling.
But you may want to temper your expectations. Reviews are just starting to trickle in after last night's world premiere of Colonia at the Toronto International Film Festival, and sadly they're not so great. Actually, let's not mince words — they're terrible. Screen Daily sniffs that "the victims of notorious Chilean torture camp Colonia Dignidad suffered more than enough without Colonia adding insult to injury," while THR describes it as "a dictatorship of poor filmmaking."
It's possible the consensus will mellow out a bit once more outlets have weighed in, but with reactions that harsh it's hard to imagine the film bouncing back to great critical acclaim. On the bright side, Watson and Brühl are being spared the worst of the criticism. THR concedes that the pair "do what they can with what's on offer." And both have other, buzzier projects coming up, so they should come out unscathed even if Colonia never recovers.
Colonia does not yet have a U.S. release date.