Frances McDormand Leads 'In Bruges' Director Martin McDonagh's New Movie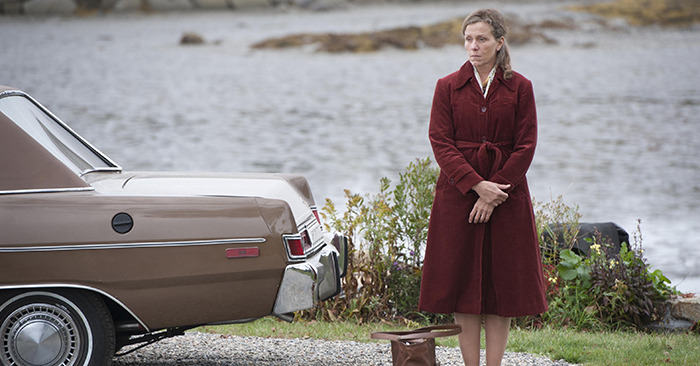 Playwright Martin McDonagh (The Pillowman, A Behanding in Spokane) actively moved into filmmaking with the short Six Shooter in 2005, and then gave Colin Farrell one of his best roles in the bleak comedy In Bruges.
He's also had the film Seven Psychopaths, and is promoting a new play called Hangman, which gave the writer/director the opportunity to mention an upcoming film project which just brought Frances McDormand into the fold. The movie is called Three Billboards Outside Ebbing, Missouri, and the subject is one that seems like a direct response to escalating clashes between police and civilians in American cities in the last year.
McDonagh describes the script to The Guardian:
It's about a 50-year-old woman whose daughter is murdered and she goes to war with the police in her home town, because she thinks they are more interested in torturing black people than getting justice.
In fact, the script is not new — McDonagh has been talking about it since at least the promo campaign for Seven Psychopaths, which took place in 2012. So while this new picture seems like it could have been created in response to the violent clashes in Ferguson or Baltimore, it was originally inspired by older tensions — we'll see if the script has changed in the last year, or if recent events just make it seem even more relevant.
Interestingly, McDonagh seems to have taken some of the criticism of Seven Psychopaths in stride, and commented to The Guardian that the movie is "maybe a bit too meta." And he continues to talk about working as a film director in part as a way to protect his scripts. McDonagh is a life-long film fan, and always wanted to write movies.
He told The Playlist in 2012,
...the amount of control for a playwright is almost infinite, so you have that control over the finished product. But in film, you're the lowest form of life. So that was half of the job of directing, was not letting someone else come in and f*** it up. And then the other half is to learn how the hell you actually do it, which is another kettle of fish.
That last comment is interesting given his latest note about Seven Psychopaths — indeed, part of learning the nuts and bolts of directing is learning how not to mess up your own material, or how to enhance it once it moves from the page to screen.
Now he tells The Guardian that even In Bruges, as quick and sharp as that movie ended up being, was a battle.
In Bruges was relentless and exhausting. I had to deal with them [Focus Films, the production company] trying to change anything they could change. And Focus are supposed to be supportive, indie-filmmaker-friendly people. Scumbags. It was constant war, but they never won.
We don't know what company is behind Three Billboards, but with McDormand on board hopefully we'll soon hear a lot more about the film.