Jennifer Lawrence May Reunite With Francis Lawrence For 'Red Sparrow'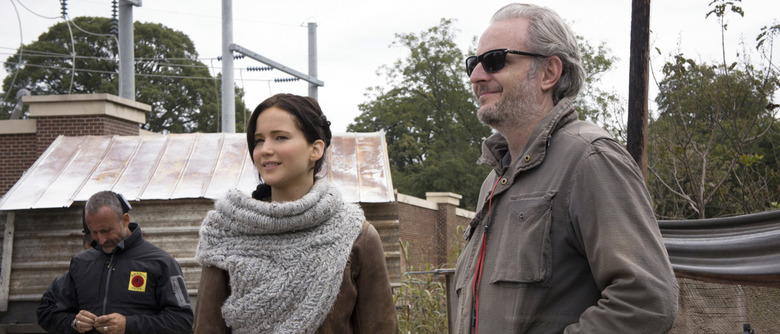 The Hunger Games franchise ends with Mockingjay – Part 2 this fall, but director Francis Lawrence and star Jennifer Lawrence's professional relationship may continue. As Francis Lawrence nears a deal to direct Red Sparrow — a spy thriller that previously caught the eye of David Fincher and Darren Aronofsky — Jennifer Lawrence is reportedly circling the lead.
Get all the details on the potential Jennifer Lawrence Red Sparrow project after the jump. 
According to Deadline, who broke the news, Red Sparrow is being developed with Jennifer Lawrence in mind. However, they caution, a deal hasn't been made yet and might not be for a while yet. Justin Haythe is rewriting the script by Eric Warren Singer (American Hustle). It's based on the book by Jason Matthews, for which the synopsis reads as follows:
In present-day Russia, ruled by blue-eyed, unblinking President Vladimir Putin, Russian intelligence officer Dominika Egorova struggles to survive in the post-Soviet intelligence jungle. Ordered against her will to become a "Sparrow," a trained seductress, Dominika is assigned to operate against Nathaniel Nash, a young CIA officer who handles the Agency's most important Russian mole.
Spies have long relied on the "honey trap," whereby vulnerable men and women are intimately compromised. Dominika learns these techniques of "sexpionage" in Russia's secret "Sparrow School," hidden outside of Moscow. As the action careens between Russia, Finland, Greece, Italy, and the United States, Dominika and Nate soon collide in a duel of wills, tradecraft, and—inevitably—forbidden passion that threatens not just their lives but those of others as well. As secret allegiances are made and broken, Dominika and Nate's game reaches a deadly crossroads. Soon one of them begins a dangerous double existence in a life-and-death operation that consumes intelligence agencies from Moscow to Washington, DC.
Jennifer Lawrence isn't hurting for options after the Hunger Games. She's already lined up The Rosie Project, which has Richard Linklater in talks to direct; the sci-fi drama Passengers opposite Chris Pratt; and It's What I Do, a biopic of war photographer Lynsey Addario. In fact, this isn't even her first potential reunion with Lawrence – there were reports in January they could re-team for the James Cameron-produced The Dive.