Documentary Trailer Goes Behind The Scenes Of Katy Perry's Huge Super Bowl Halftime Show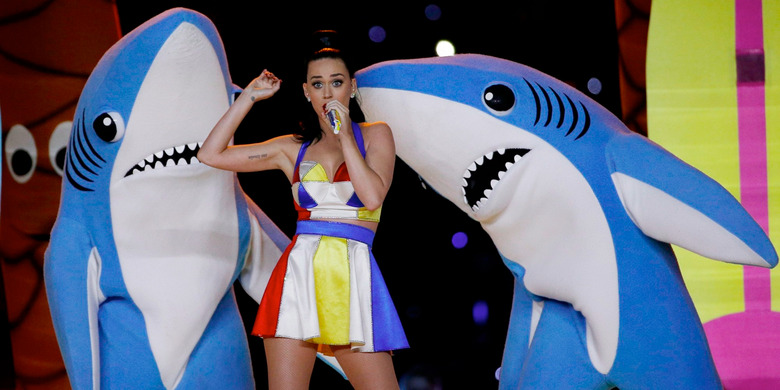 The Super Bowl Halftime Show has become an event unto itself in addition to the big game. Millions of people will tune in just to watch the mid-game spectacle that has seen performers such as Prince, The Rolling Stones, Michael Jackson, Madonna, Justin Timberlake, Beyonce and many more. And now you can find out what it takes to pull it off.
A new documentary is on the way called Katy Perry: Making Of The Pepsi Super Bowl Halftime Show, and as you've probably guessed, it goes behind the scenes of this year's Super Bowl halftime show featuring the chart-topping pop superstar. The halftime show made headlines, not just because of the instantly internet famous dancing sharks, but also because it's now the most-watched Super Bowl halftime show ever.
Watch the Katy Perry Super Bowl Halftime Show documentary trailer below!
Here's the trailer for the documentary from YouTube:
The documentary dives into the planning of the halftime show that was put together in six months, all for 118.5 million viewers to watch a performance that lasts just over 12 minutes. From the dance rehearsals to the technical glitches during the show, this gives us an unprecedented look at what goes into planning something this big.
Even if you think all concert documentaries are the same, there's something about following a Super Bowl halftime show that makes this even more fascinating to see planned. After all, this is all for a live performance that won't just be seen by the people in the stadium, so the producers have to account for so much more than if this were just another concert.
What's also fascinating is watching an international pop superstar like Katy Perry prepare for this huge show, getting as nervous as anyone would be in that situation. Don't forget that Lenny Kravitz and Missy Elliot were around for the show too, so we'll probably get to see them involved in the process as well. Here's hoping we also get a glimpse at Katy Perry's relationship with the infamous dancing sharks as well.
John Hirsch directed the documentary, shooting more than 100 hours of footage during the making of the halftime show, and the film just premiered this weekend at the La Costa Film Festival. No word on when Mandalay Sports Media and the NFL might make this documentary available for the rest of us, but we'll be sure to keep you posted.