'Hardcore' Trailer: Sharlto Copley Stars In The Insane First-Person Action Movie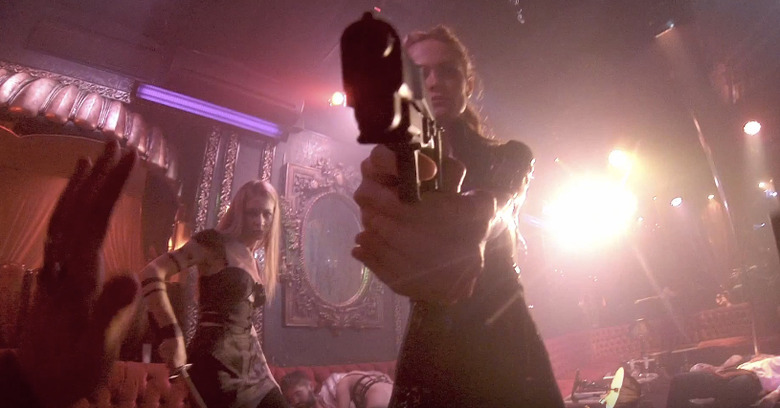 The Toronto International Film Festival is in full swing, and with it comes teases of some of the movies playing at the Canadian film showcase. Today we have a NSFW glimpse of a sci-fi action movie called Hardcore, which was shot entirely from a first-person perspective, not unlike a live-action video game.
Executive produced by Timur Bekmambetov (Wanted) and written/directed by Russian filmmaker Ilya Naishuller, the first Hardcore trailer has arrived before the film's premiere, and this looks like an absolutely insane movie, complete with telekinesis, naked girls, tons of gunfire, explosions and a lot of crazy fun.
Here's the trailer for Hardcore from Biting Elbows:
We've highlighted Hardcore before, and even saw a bit of footage from the first-person POV movie last fall. Ilya Naishuller's work may be familiar to you if you saw the two viral shorts Insane Office Escape and the sequel Insane Office Escape 2, both shot from a first-person perspective, too.
In this trailer, we get a nice set-up of the story, and it really does feel like you're playing a video game. Specifically, I was reminded of Portal in the opening sequence, but then it just turns into a sort of first-person Grand Theft Auto experience.
Sharlto Copley (District 9) seems to be playing multiple characters, but what's interesting is that unlike a movie such as Cloverfield, the main character is in a way made to be the viewer. In the synopsis, the main character is billed as "you," putting you right in the action (though the character's name is Henry, as said in the trailer). But other actors include Danila Kozlovsky and Haley Bennett as your dead wife, who is suddenly alive in front of your eyes and has just brought you back to life. Yeah, this sounds pretty crazy.
Hardcore is playing at TIFF this weekend, but there's no word on when we might see the film hit theaters in the United States, so you'll just have to wait patiently until we get any release information. If you want to know more about the movie, here's the official synopsis:
You remember nothing. Mainly because you've just been brought back from the dead by your wife (Haley Bennett). She tells you that your name is Henry and congratulations, you're now a cyborg. 5 minutes later, your wife has been kidnapped and you should probably go get her back. Who's got her? His name's Akan (Danila Kozlovsky), he's just a psychotic megalomaniac with telekinetic powers, and a never-ending army of mercenaries. You're also in an unfamiliar city of Moscow, Russia and everyone wants you dead. Everyone, except for a mysterious British fellow called Jimmy (Sharlto Copley). He might be on your side. Good luck Henry. You're very much likely to need it...