Zoe Saldana Joins Graphic Novel Adaptation 'I Kill Giants'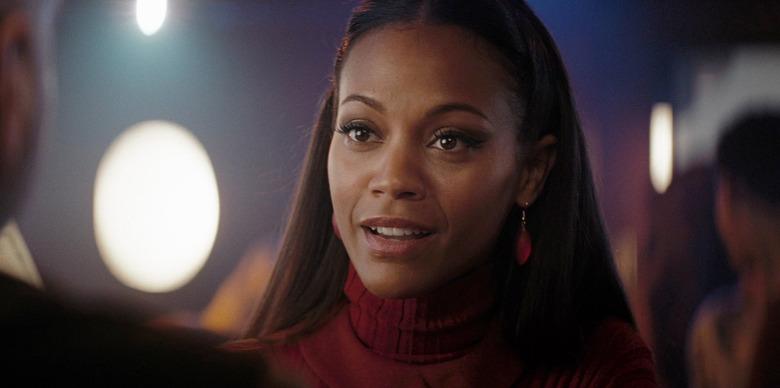 We may receive a commission on purchases made from links.
Right now Zoe Saldana is the star of three successful film franchises. She plays Uhura in the rebooted Star Trek film series, Gamora in Guardians of the Galaxy and Neytiri in Avatar, all with upcoming sequels in the next few years. So her casting in an upcoming graphic novel adaptation should be a welcome addition.
A new report has Zoe Saldana joining I Kill Giants, an adaptation of Joe Kelly's graphic novel of the same name that is being produced by Chris Columbus, the director who kicked off the Harry Potter franchise with the first two films.
If you're not familiar with I Kill Giants, here's how it's described by Booklist (via Amazon):
Barbara Thorson, bullied and friendless, will not back down. She is smart, angry, won't follow the rules, won't let anyone close, and sees things no one else does. In short, she is a very disturbed girl, and the power of I Kill Giants is its ability to convey the reality of a frightened little girl's pain along with the wonder of her apparent fantasies. Kelly's portrayal of the material is nothing short of literary, echoing the similarly combined elements in Roald Dahl's Mathilda (1988), just as the giants that Barbara describes to her tentative new friend Sophia recall Quentin Blake's illustrations in The BFG (1982). Nimura's line work also retains the jittery quality of the British illustrator's style, creating a world of sharp tension. As Barbara begins to let people in, her insistence that the giants are coming threatens these intensely longed-for relationships. Whether or not they exist, the metaphor of giants to symbolize the vast terrors of a person's inner life has never been better realized.
Starring as Barbara will be Madison Wolfe, probably best known for playing Woody Harrelson's daughter in the first season of True Detective, and who will be seen in awards contenders such as Joy and Trumbo this winter. The young actress won the role against around 500 girls who auditioned as part of a nationwide search.
Saldana will have a key role as Barbara's school psychologist Mrs. Mollé, helping the young girl face both internal and external threats, forming an inspiring bond with her in the process.
Directing the film will be Anders Walter, making his feature directorial debut after being at the helm of a short film called Helium, which won Best Live-Action Short at the 2014 Academy Awards. If you want to get a sense of his filmmaking style you can check out Helium right here:
The graphic novel was adapted for the screen by the source material's own author, Joe Kelly, so this should be quite the loyal adaptation. With a young actress in the lead, some unique fantasy elements in play, and promising filmmaking talent involved, this has the potential to be a wonderful film that kids and adults alike will enjoy.