'The Martian' Early Buzz: Ridley Scott And Matt Damon Fly High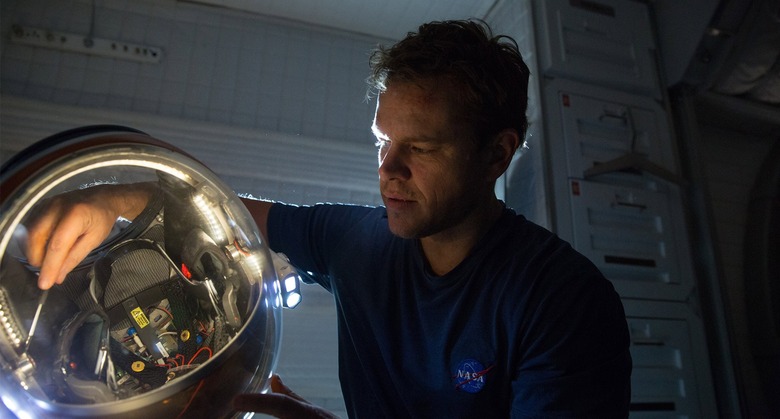 Ridley Scott's last foray into outer space wasn't so well received, and it's got his fans feeling ambivalent about his next planned outing on the spaceship Prometheus. But in between, Scott returned to space for The Martian, a much more grounded sort of sci-fi adventure.
The early trailers have looked very promising, as has that cast – but then, you could've said the same thing about any of his last few misses. Now that The Martian has finally made its world premiere at TIFF, the first reactions to the movie itself are rolling in. Get The Martian early buzz after the jump.
Matt Damon leads Scott's adaptation of the novel by Andy Weir, about an astronaut whose crew leaves him for dead on Mars after a dust storm hits. In fact, he's still very much alive — but the odds of him staying that way are stacked against him. Help is potentially years away, and he's only equipped with enough food and shelter to last him a few weeks.
Reactions from The Martian seem to range, roughly, from "really liked it" to "truly loved it." There are a few recurring themes here. Damon's lead performance is getting a lot of praise, as is the film's overall pro-science bent. And there seems to be more humor than you might expect from an outer-space survival epic directed by Scott. On the whole, it sounds like a solid win for Scott after a string of less beloved releases.
THE MARTIAN (A): Matt Damon is at his best in a wildly entertaining story that's nerdy, riveting, funny & surprisingly emotional #TIFF15

— Erik Davis (@ErikDavis) September 11, 2015
THE MARTIAN just leaped into my top 3 favorite movies of 2015 so far. So many great things about this one. Little long but worth it #TIFF15

— Erik Davis (@ErikDavis) September 11, 2015
THE MARTIAN is a blast. Feels like a throwback to 90s space jams like Apollo 13 & Armageddon (in a good way). Gonna be big hit. #TIFF15

— Kevin Polowy (@djkevlar) September 11, 2015
Loved THE MARTIAN. Going to be a big hit for Fox and Ridley Scott. Great script and performances. Worth seeing in 3D.

— Steven Weintraub (@colliderfrosty) September 11, 2015
Just saw The Martian this morning. Loved it. It's inspirational, a story about proving the impossible is possible. Now I want to go to Mars.

— Alex B. (@firstshowing) September 11, 2015
Dear Ridley Scott,
More like this, please.
Thanks,
Drew

— DrewMcWeeny (@DrewMcWeeny) September 11, 2015
#TheMartian is Ridley Scott's best film at least in this decade. And so much better than #Interstellar! #TIFF15

— Patrick Heidmann (@patrickheidmann) September 11, 2015
I give THE MARTIAN five out of five potatoes. #TIFF15

— Linda Holmes thisislindaholmes.com (@lindaholmes) September 11, 2015
THE MARTIAN is a lot of fun. Slight and a bit silly, but supremely entertaining. Damon is pitch perfect casting. #TIFF15

— Adam Chitwood (@adamchitwood) September 11, 2015
THE MARTIAN: Solid pro-science fun, but a movie extolling risk-taking shouldn't be this blandly up-the-middle. #TIFF15

— Sam Adams (@SamuelAAdams) September 11, 2015
What The Martian presupposes is, all astronauts are hot redheads or lovable goofballs. Also, "Mindy Park" is a white chick.

— Vince Mancini (@VinceMancini) September 11, 2015
Of course, now that we've heard all this great buzz it's a slight disappointment to realize the rest of us still have weeks to wait until we can see the movie. So in the meantime, here are a couple of clips to tide you over. One shows the Ares 3 crew (including Jessica Chastain, Michael Peña, Sebastian Stan, Kate Mara, and Aksel Hennie) at the moment that changed Mark Watley's life; the other shows NASA (including Jeff Daniels, Donald Glover, Kristen Wiig, Chiwetel Ejiofor, and Sean Bean) strategizing from down on Earth.
The Martian lands in theaters October 2, 2015.