'The Program' Trailer: Ben Foster Actually Doped To Play Lance Armstrong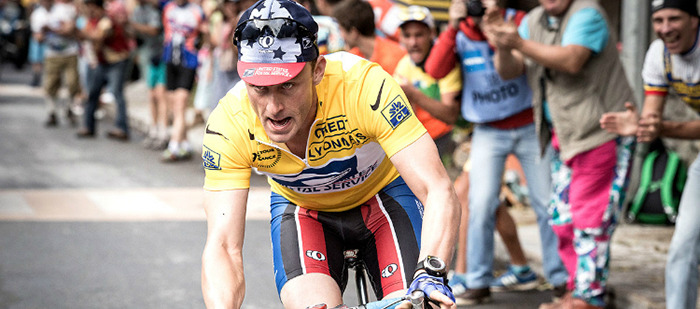 Ben Foster made an interesting revelation while promoting The Program. In the film, he plays former cycling champ Lance Armstrong, whose titles were stripped after confirmation that he used performance-enhancing drugs. To play the role, Foster went so method that he actually used performance-enhancing drugs to prep for the role.
Read what Foster had to say about that approach to the Lance Armstrong movie and what it did for him, and check out new trailer for The Program, after the break. 
Speaking to The Guardian, Foster explained,
I don't want to talk about the names of the drugs I took... Even discussing it feels tricky because it isn't something I'd recommend to fellow actors. These are very serious chemicals and they affect your body in real ways. For my own investigation it was important for me privately to understand it. And they work.
But that wasn't necessarily a good thing for him personally,
There's a fallout. Doping affects your mind. It doesn't make you feel high. There are behaviours when you've got those chemicals running through your body that serve you on the bike but which, when you're not ... I've only just recovered physically. I'm only now getting my levels back.
Will we be able to see those effects in the film, or is actually doping for the role going absurdly far to find realism in the part?
I can see the temptation, but things like this make me think of the story of Laurence Olivier chastising Dustin Hoffman for his excessive method techniques on the set of Marathon Man. That story isn't actually quite true — it's usually presented with the wrong context – but the idea of Olivier saying "dear boy, have you ever tried acting?" is something that comes to mind here.
Here's the trailer.
Trailer via StudioCanal UK. The Program will debut later this weekend in Toronto, and then it hits UK theaters on October 16 and opens in other countries outside the US over the next two months. There's no US date yet, but that might change after the TIFF premiere.
From Academy Award® nominated director Stephen Frears (The Queen, Philomena) and producers Working Title (The Theory Of Everything, Everest, Tinker Tailor Soldier Spy), comes the true story of the meteoric rise and fall of one of the most celebrated and controversial men in recent history, Lance Armstrong.
Based on the award winning book "Seven Deadly Sins" by David Walsh, and featuring a stellar cast including Ben Foster, Chris O'Dowd, Guillaume Canet (Tell No One) and Jesse Plemons (Breaking Bad), this tense and suspenseful thriller looks at how one of the greatest deceptions in the modern era was uncovered while Armstrong convinced the world he was a hero, winning the Tour de France seven times.