'Where To Invade Next' Early Buzz: Michael Moore Returns With Another Crowdpleaser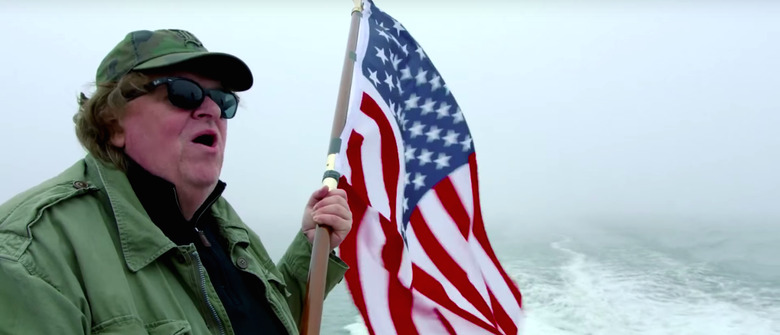 It's been six years since Michael Moore put out a new documentary, and longer than that since he reached the height of his power with Fahrenheit 9/11 and Bowling for Columbine. But he's back on screen now with Where to Invade Next, which appears to be a surprisingly sunny look at social programs and policies in other countries. The film had its world premiere at the Toronto Film Festival this week, and the first reactions have started rolling in. Get the Where to Invade Next early buzz after the jump.
Moore has always been a polarizing filmmaker, and it doesn't sound like that's changed a lot with Where to Invade Next. Those who love him will continue to do so; those who hate him likely won't change their minds after watching this movie. At the same time, the film is sort of a change of pace — Moore referred to Where to Invade Next as "Mike's Happy Movie" for its surprisingly optimistic outlook. As long as you're not in the anti-Moore camp, it sounds like he's got another crowdpleaser on his hands. Here are a few sample reactions.
This is a happier Moore, he's interviewing mostly people he agrees with – and there are a lot of funny moments – but that doesn't mean his bite is gone. Moore's bite is front and center (yes, to the point of being grating at times) but no matter his delivery, a lot of what's in Where To Invade Next is too important to ignore.
This may be drive-by tourism on a highly selective, flattering and downright gluttonous scale, but there's something undeniably sharp and buoyant about Moore's globe-trotting, grass-is-greener approach that compels indulgence and attention. It may not win over his detractors, who are and remain legion, but with careful election-season targeting by a shrewd distributor, he might just have his biggest crowdpleaser since "Fahrenheit 9/11," at home as well as abroad.
Deborah Young at The Hollywood Reporter:
Fans accustomed to his harsh critiques of health care, the educational system and gun control in the U.S. may be a little surprised, but not disappointed, at this almost happy film full of lol moments. Instead of ranting over the conspicuous social failings he sees in the U.S.A., he humorously finds solutions to its ills by "invading" various countries and bringing back the victor's spoils, which are simply other people's good ideas. Funny and always on-topic without going overboard, it's an engaging film that could broaden Moore's fan base.
In the end Where To Invade Next lectures America on its failings and suggests a way forward. It is a more stimulating, thought-provoking and entertaining call to arms than anything we are likely to hear from an aspiring President over the next year.
Noel Murray at The Playlist (B):
Moore may be too rosy—or too disingenuous—but he conjures an attractive fantasy with this documentary, visiting a series of wonderlands where everyone is well-rested, well-fed, and well-educated. And the way he picks the prettiest locations as the backdrops for his interviews? Well, there's no better way to describe those choices than "cinematic." Which means maybe there's some real artistry behind Moore's button-pushing after all.
Watching Moore in front of the camera, his age and gentler mannerisms on constant view, one gets the sense that his approach lacks the immediacy of his "Fahrenheit 9/11" days. In an era of rampant mainstream satire, where John Oliver's long-form televised diatribes magnify sociopolitical failures every week, Moore's cheeky approach registers somewhat thin.
Henry Barnes at The Guardian (3/5):
Six years in the making, Where to Invade Next is a romantic film, equally affecting and annoying in its simplicity. It's the work of an idealist who has let a bit of his anger subside and allowed his bite to loosen with it.
Moore's Where to Invade Next does not yet have a release date, but it's reportedly attracting lots of attention from buyers at TIFF, so look for an announcement soon.