Nicole Kidman Joins Season 2 Of Jane Campion's 'Top Of The Lake'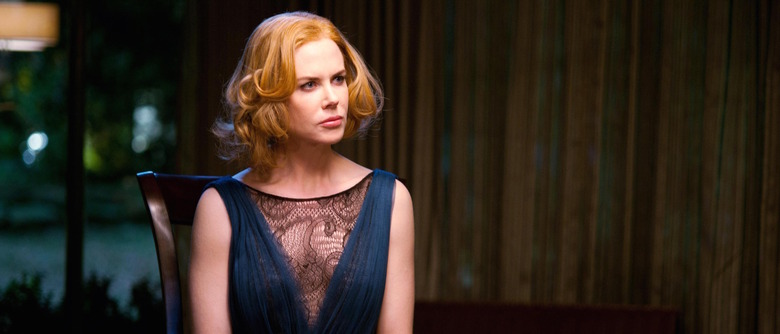 Season 2 of Jane Campion and Gerard Lee's Top of the Lake is slowly but surely coming together, and now it's made a high-profile new addition. Nicole Kidman has signed on to star in the crime drama, joining returning star Elisabeth Moss. More on the Nicole Kidman Top of the Lake casting after the jump. 
The Daily Mail reported the news. Kidman declined to give details about her role, but revealed it was a role specifically written for her by Campion. She added that she likes playing "odd people, who live odd lives," so consider that a tiny clue if you'd like.
Kidman previously starred in Campion's The Portrait of a Lady, released in 1996. The two then reunited off-camera for Campion's 2003 thriller In the Cut, which Kidman produced. Initially, Kidman had also planned to star, but was replaced by Meg Ryan when she had to drop out.
Top of the Lake Season 2 will be shot and set in Sydney, where Detective Robin Griffin (Moss) is working a new case. Campion and Lee plan to script the entire second season, just as they did for the first. Campion will also co-direct, as she did in Season 1 with Garth Davis, but her co-director has yet to be named.
The first season, which centered around the disappearance of a pregnant 12-year-old girl in Robin's remote New Zealand hometown, debuted at the 2013 Sundance Film Festival to widespread acclaim before hitting the Sundance Channel. It was nominated for eight Emmys in the U.S. and won one, for cinematography.
Kidman previously forayed into the small screen for the HBO movie Hemingway and Gellhorn, for which she was nominated for an Emmy, and has plans to star in the HBO limited series Big Little Lies with Reese Witherspoon. On the movie side, she has Secret in Their Eyes with Chiwetel Ejiofor and Julia Roberts due out later this year.
Top of the Lake Season 2 enters pre-production in December, so hopefully we'll see it sometime in 2016.