Star Wars Bits: Star Wars Land Construction, Shattered Empire #2 Preview, TFA Star Destroyer, Apple TV And More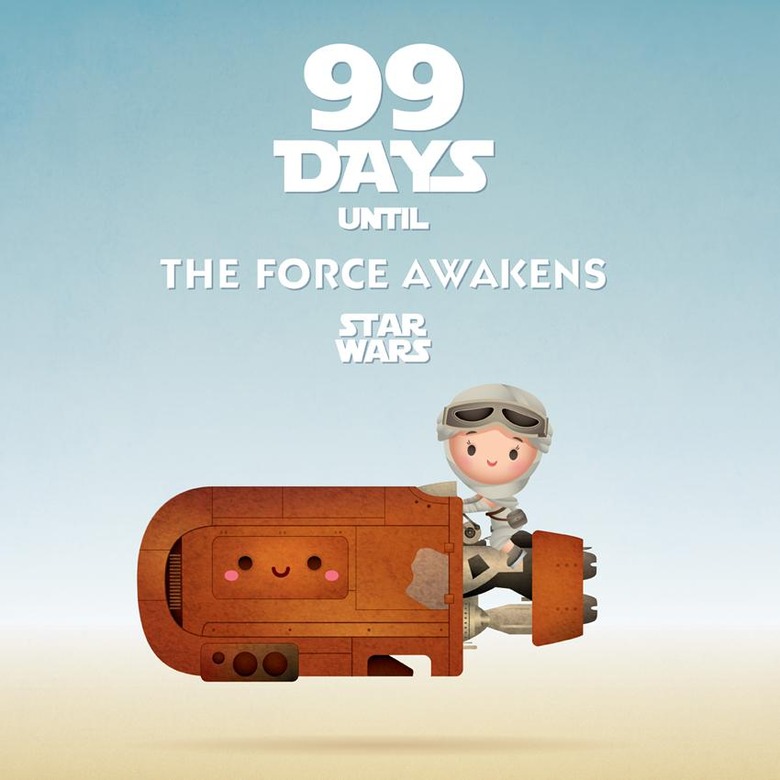 Coming off of Force Friday, this week has been relatively light in terms of Star Wars news. I do have a bunch of Star Wars tidbits for you today. Here is what we'll talk about in today's Star Wars Bits:
Get a high resolution look at the new Star Destroyer from Star Wars: the Force Awakens.
When will Star Wars Land begin construction?
More information about Jakku from Star Wars: Aftermath.
See a few pages from Star Wars: Shattered Empire Issue 2.
Star Wars is coming to the new Apple TV.
A new Star Wars Battlefront image reveals a new game mode called "Drop Zone"
Star Wars: Shattered Empire writer Greg Rucka talks about his intentions with the characters at the core of the comic book mini series.
Disney and Funko's new bi-monthly subscription box for Star Wars fans called Smuggler's Bounty
See previews from a new book called Star Wars: Absolutely Everything You Need to Know.
Star Wars Uprising is now available for your mobile devices.
Find out how you can bid (for charity) on a Star Wars: the Force Awakens teaser poster signed by the entire cast.
A $28,500 limited edition Star Wars watch from Devon?
A video of some lovable kittens playing with Sphero's BB-8
The header image: it is now 98 days until Star Wars: The Force Awakens hits theaters. Yes, we're a day late — The image was tweeted yesterday by artist Jerrod Maruyama.
All that and more in today's edition of Star Wars Bits. Hit the jump to hyperspace!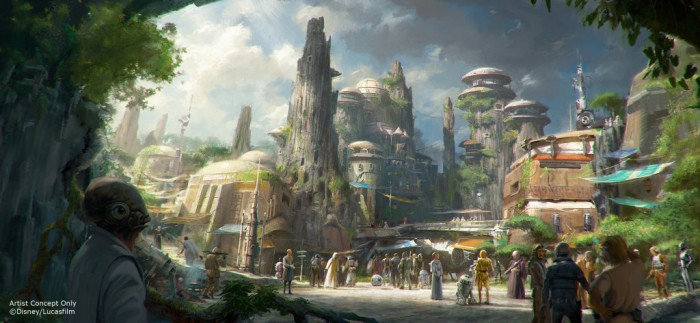 Walt Disney Co. Chief Operating Officer Thomas Staggs announced today that the company will break ground on their announced Star Wars-themed lands at Disneyland in Anaheim and Disney's Hollywood Studios in Orlando in 2016. So when will the new lands open? We still have no idea. Here is what I previously wrote in my post about all your Star Wars Land Questions Answered:
Cars Land (which was smaller) took 5 years from announcement to opening, and as we pointed above, is a similar size of construction.  Universal Orlando's The Wizarding World of Harry Potter's 20 acre Diagon Alley expansion took just over two years to complete, which is an amazing timetable. I've heard the difference between Universal and Disney construction is that Disney tends to employ 9 to 5 construction workers where Universal has construction crews working 24/7. This is why Universal completes their work in at a rate of speed almost three times that of Disney. I'm sure this is a lot more costly, and Disney could take this avenue if they were in a rush to open Star Wars land, but there is no indication that will happen.
So if construction begins in mid 2016 in Disneyland, I would expect a 2020 opening date.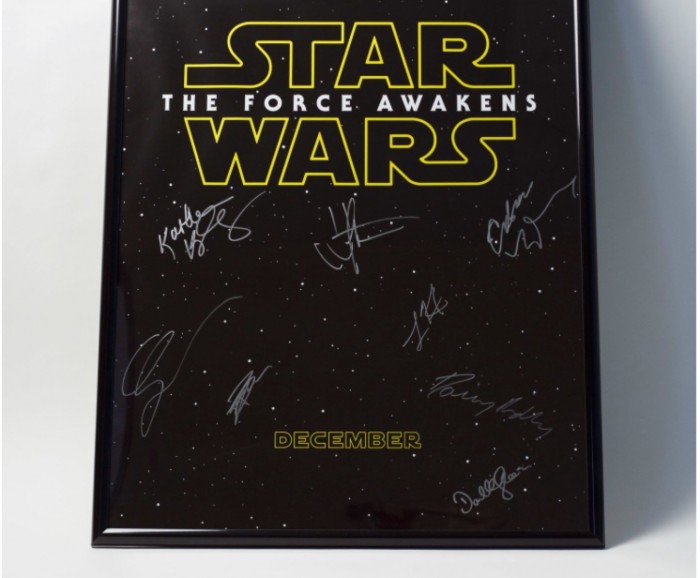 A Cause For Entertainment is having an auction to benefit the fight against breast cancer. The auction contains a bunch of JJ Abrams items, including some Star Wars: The Force Awakens goodies, like a Star Wars: The Force Awakens teaser poster signed by JJ Abrams, Kathleen Kennedy, Lawrence Kasdan, Daisy Ridley, John Boyega,Adam Driver, Gwendoline Christie, and Dohmnall Gleeson.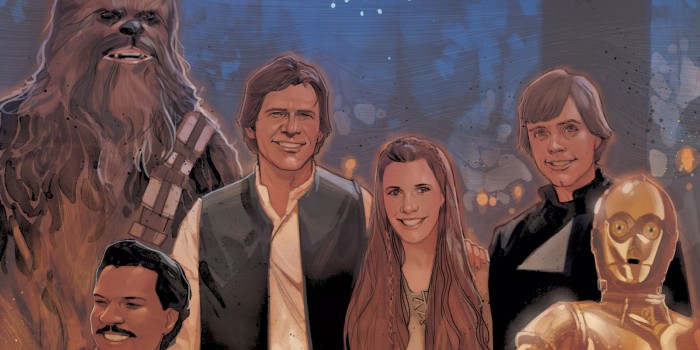 IGN has an interview with Star Wars: Shattered Empire writer Greg Rucka. Here is an excerpt talking about the characters at the core of this story:
I wanted to show the individual in the Alliance following the victory. I needed to have a point-of-view character that was somebody you'd look at and understand this is a veteran. This is somebody who's been fighting for the last four years or so. And now these two people in particular find themselves at this point that at first blush is this wonderful turning point. Then as things progress it becomes less and less clear what the way forward is. And the A-Wing fighter was always my favorite fighter from the movies [Laughs], so I wanted to use A-Wings. But Kes and Shara's relationship, in many ways, is built thematically on a lot of what I think Star Wars has always worked on thematically. This is a couple that has been together for a long time, and they have made it through a very bumpy ride. Now they find themselves at this turning point, and I wanted to show how each of them have to face it and how each of them sort of react to it. Each of them also gives us a window into what some of the principal canon characters have been doing, because that was really crucial to me. We couldn't just go, "This is what the universe looks like post-Jedi. We needed to see in at least glimpses and moments what was going on with those characters that we had followed through the movies. They had to be there in some way. These aren't Luke and Leia and Han and Chewie and Lando's stories — that's not what these are — but they are stories that had to reflect on them. They are present. These characters are present. I felt that if we did not see them — especially after saying, "This is what it looks like post-the victory at Endor" — then part of it would be, "Well, what were these people doing? Where are our heroes?" That was very important to me, that we got to see them.
Head over to IGN to read more.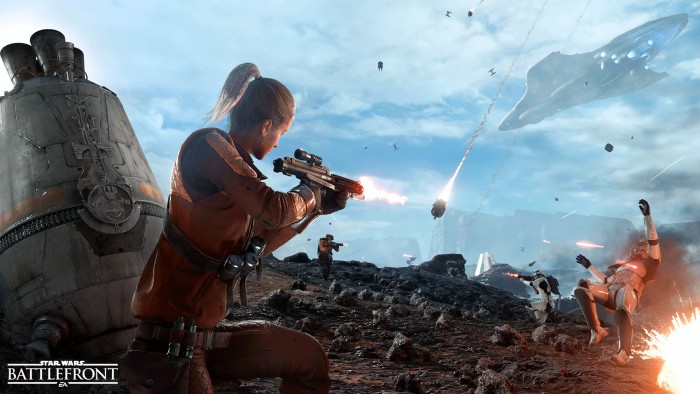 Electronic Arts and DICE have revealed another new image from the upcoming Star Wars Battlefront video game that showcases a new game mode called "Drop Zone." In "Drop Zone," players will be forced into tight areas of maps in 8 vs. 8 match ups forcing them to take control of drop pods that are set to land on the surface:
"This goes hand in hand with our design philosophy behind many of the game modes in Star Wars Battlefront," Lead Level Designer Dennis Brännvall says. "We're promoting the idea of a fast, action-packed game where you need to be mobile and think on your feet. Camping doesn't really pay off...Playing Drop Zone on the Swamp Crash Site on Endor is a personal favorite. The map has a couple of nice choke points but is overall very free-flowing and hectic, as enemies can attack from anywhere on that level. The fight takes place around a crashed GR-75 transport ship with containers from the craft strewn across the landscape, and there's one section with a waterfall overlooked by an Ewok village, where you have to jump down into the pool below in order to claim the pod, hoping no one's hiding in the trees above waiting to pick you off."
Here's a video of some lovable kittens playing with Sphero's BB-8 toy, just because...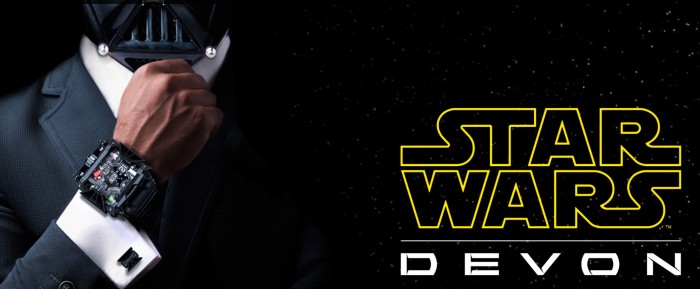 Devon has released a new Empire-themed timepiece. Here is some info from Gizmodo:
If you're unfamiliar with Devon, the watchmaker has made a name for itself with a unique tread-based system where numbers on rotating belts that appear to float in mid-air are used to display the time. It's a neat trick, realized with some genuinely complex but intriguing watchmaking.
Here are some close-up images of the Star Wars Devon watch:
The limited edition Star Wars watch is being produced sold for a whopping $28,500 each and will be limited to only 500. And you thought the Apple Watch was expensive. This is definitely too rich for my blood.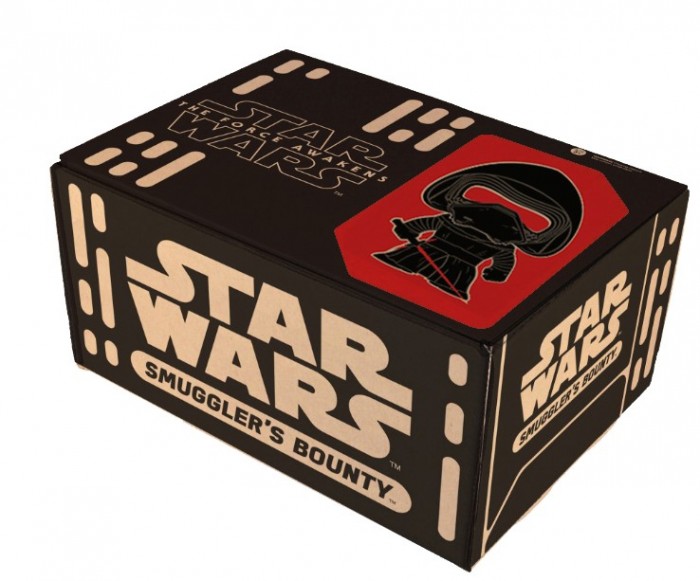 Disney and Funko have announced a new bi-monthly subscription box for Star Wars fans called Smuggler's Bounty:
For $25 every other month, members will receive a box full of Star Wars-themed Funko items that focus on a different part of the Star Wars universe. The debut box — themed The Force Awakens — will ship this November and contain two exclusive Pop! vinyl bobbleheads from the upcoming film Star Wars: The Force Awakens, as well as a host of other surprises perfect for fans on both sides of the Force. The first box's design, previewed below, features the villainous Kylo Ren (in Pop! form) and Death Star-esque vertical lines for a First Order-approved look. Boxes will ship every two months, and there are two member levels available: a monthly plan, and an annual plan that includes a mystery reward.
You can sign up today at smugglersbounty.com for the premiere box. Very tempting the path to the darkside is. Speaking of which, Star Wars and Marvel both now have fun subscription boxes, why doesn't the overarching Disney brand have their own subscription box? I'd subscribe.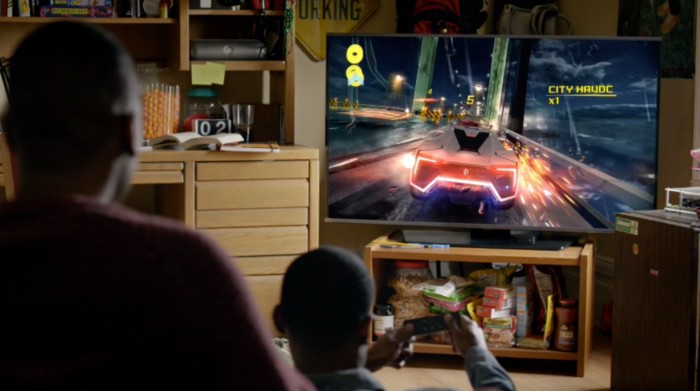 Yesterday Apple announced their upcoming Apple Television device. The new device will have video game capabilities and not just for mobile games. It was revealed that Disney Infinity 3.0 will be released for the device, which means you'll be able to play the Star Wars levels and characters on the new gizmo.
The Disney Infinity 3.0 starter pack will include the Anakin Skywalker and Ahsoka Tano figures, the  Star Wars: Twilight of the Republic playset, a wireless Disney Infinity 3.0bluetooth base and an MFi (made for iPhone/iPad/iPod) controller designed specifically for the game and Apple TV.
Not many details have been released but it appears Disney will be releasing a bluetooth Disney Infinity figure dock for the device, which is better than the ones released for the video game consoles because it doesn't need to be plugged in to the system (which I'm sure has caused a share of accidents).
StarWars.com has a preview of a new book called Star Wars: Absolutely Everything You Need to Know.
Our book focuses on the characters, creatures, locations, and ships of Star Wars, but along the way, we cover everything in-between. We delve deep into the obscure facts and trivia of Star Wars, all displayed within a jungle-gym of fun and often humorous text, photos, diagrams, hidden gems, Easter Eggs, and oddities. If you love numerical trivia, foreign language phrasebooks, comparative charts of alien livestock, lists of obscure Ewok paraphernalia, perusing the edible delights you might find inside a Hutt's tummy, digging for hidden lifeforms inside a clone's nostril, or just amazing your friends with endless trivia to both delight and overwhelm, then this is the book for you!
Check out some images embedded above and head to the article to read more.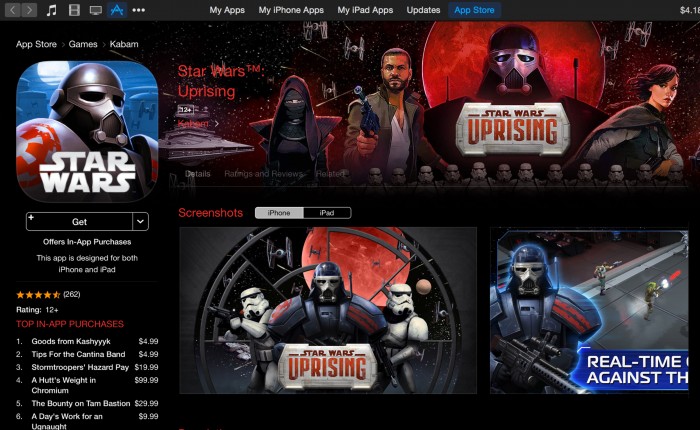 The mobile game Star Wars Uprising has been released this week, and features canonized stories from the 30 year gap between Return of the Jedi and the upcoming Star Wars: The Force Awakens. We previously featured a trailer for the game this summer. I tried playing it last night and just got too annoying with the point and move structure of the game to keep going.
Warning: the next page contains images and information about the upcoming film Star Wars: The Force Awakens. I don't really consider any of it spoilers, but you have been warned in case you want to stay away.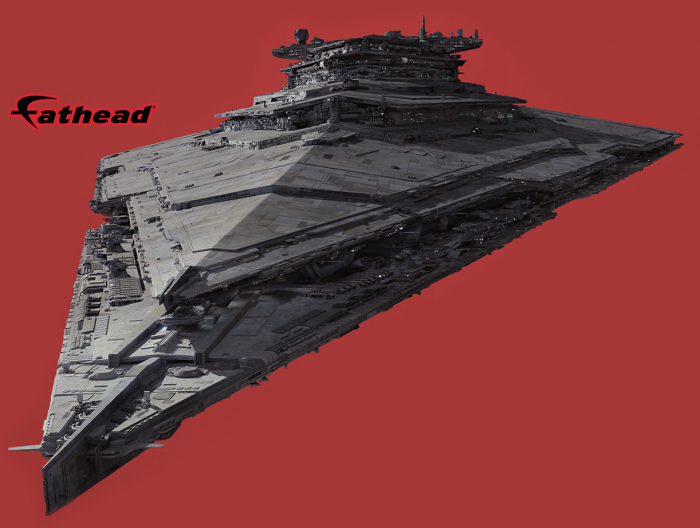 Fathead has released a bunch of new wall graphics for Star Wars: the Force Awakens, giving us a better look at the film's Star Destroyer, which we previously found out is named the Finalizer.

We've already written our thoughts about the Journey to The Force Awakens novel Star Wars: Aftermath, including some of the canon changing details. Drew at Hitfix has put together a list of 11 things he learned about the Star Wars: The Force Awakens world from the prequel book. Here is an excerpt:
Jakku is the ass end of nowhere and horrible all over: From the one sequence in the book that takes place in Jakku, the desert planet we've been seeing in the trailers for "The Force Awakens," it's apparent that this place makes Tatooine seems to be as crawling with activity as Coruscant by comparison. If you're stuck on Jakku, you really are as far from the center of things as you can possibly be, which is going to make it even stranger when a tiny droid named BB-8 comes rolling out of the wastelands with a familiar lightsaber that sets him and a whole new group of characters on a big adventure...
IGN also premiered a small preview of Star Wars: Shattered Empire Issue 2, which comes out in October 2015. See the images above. Nothing huge to take away from these action focused images.