LOL: 'Key And Peele' Reveals Ray Parker Jr. Songs For 'Face/Off' And 'Fifty Shades Of Grey'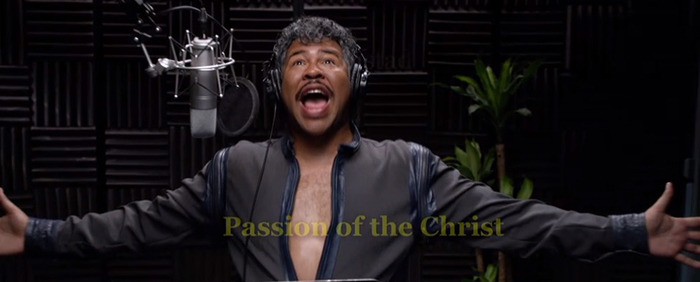 Key and Peele is gone; take a moment to reflect on the show's passing. The show's lead duo, Keegan-Michael Key and Jordan Peele, pulled the old Police move, quitting the show while it was on top and in so doing allowing the five-season series to go out on a high note. The last two episodes aired last night, with quite a few memorable sketches.
One that is right in our wheelhouse is a terrific gag about Ray Parker Jr theme songs. Jordan Peele plays the man behind the hit Ghostbusters theme song, running through a whole batch of themes Parker wrote in secret, previously shared only with "the highest level of industry decision-makers." No one ever bit on these tunes, because the literal theme song approach really doesn't work for, say, 12 Years a Slave. Now, however, we can all enjoy them.
Clip via Comedy Central.
You can't call Ray Parker Jr. a one-hit wonder; he was making music in the '70s, a full decade before Ghostbusters. He played with Stevie Wonder and Barry White; he had his own successful group; and he did session work for any number of great acts including Bill Withers, Diana Ross, and Tina Turner. He had hit singles, both as a writer and a performer.
But then there's Ghostbusters, and that song is in a totally different league. It's the sort of surprising, massive, never-to-be-duplicated success that any musician probably thinks they want, but which can be the thing that overshadows everything else in your career. It's probably a blessing that relatively few people now know what Parker looks like; I can imagine that just walking a block in a big city could mean hearing Ghostbusters quotes a dozen times.
In the case of Ray Parker Jr. there's a complication, too, in the form of a lawsuit that alleges he took the melody from a Huey Lewis and the News song. That was settled out of court, but that settlement ended up with Parker having to pay at least a lump sum to Lewis. Imagine that — the song that will forever be the thing attached to your name and you don't even own it free and clear.
So this sketch is perfect because it looks both at the way artists can be desperate to replicate their greatest success, and the way they can be pigeonholed into nothing more than that one success. (Not to mention the hilarious practice of writing theme songs that literally describe the plot of a film.) Peele totally nails the delivery, and this sketch kills me.