'American Horror Story: Hotel' Trailer Invites You In To Meet The Residents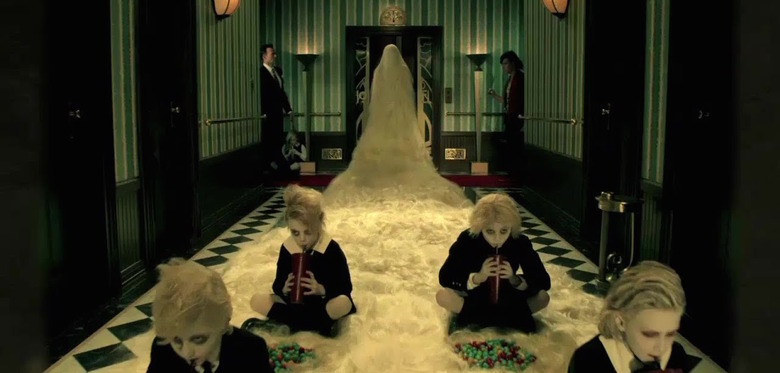 For all its shortcomings as an actual show, American Horror Story does know how to put out a killer ad campaign. The new American Horror Story: Hotel teaser introduces its cast in typically eerie fashion, roving down nightmarish hallways and and checking in with the setting's even more nightmarish past. Watch the new American Horror Story Hotel trailer after the jump.
FX debuted the American Horror Story Hotel trailer on YouTube. The song is "Bury Me" by Brodinski.
It makes sense that FX would want to play up Lady Gaga's involvement, seeing as she's the most high-profile addition to the cast this season. Going by this promo, though, you'd think the show was called American Horror Story: Lady Gaga.
Besides Gaga, who doesn't show her face until the very end, there's a lot more to take in here. There's Wes Bentley and Chloë Sevigny as a married couple; a poor, so far anonymous soul whom we can only refer to as Stuck in a Mattress Guy; Sarah Paulson and Kathy Bates giving evil glares; and Angela Bassett with a dude on a leash.
But we're not done! There's also Matt Bomer looking smug; Evan Peters looking like a total creep in the 1930s; and Cheyenne Jackson and Finn Wittrock exchanging looks over Lady Gaga's carpet of hair. And there are so, so many creepy kids. Creepy pale blond kids as far as the eye can see.
American Horror Story: Hotel takes place in Los Angeles' Hotel Cortez about five years after the events of Season 1. While each season features a new plot, cast, and characters, we'll see some crossover this season, like an appearance by Murder House realtor Marcy (Christine Estabrook).
Key plotlines include a love triangle between the Countess (Gaga), her longtime lover Donovan (Bomer), and model Tristan (Wittrock); an LAPD detective's (Bentley) search for a serial killer; and the Cortez's 1930s beginnings under a murderous owner (Peters).
American Horror Story: Hotel opens its doors on October 7. Also checking into the hotel this season will be Naomi Campbell, Max Greenfield, Denis O'Hare, Emma Roberts, Lily Rabe, and Darren Criss.