How To Hide Potential Television Spoilers From IMDB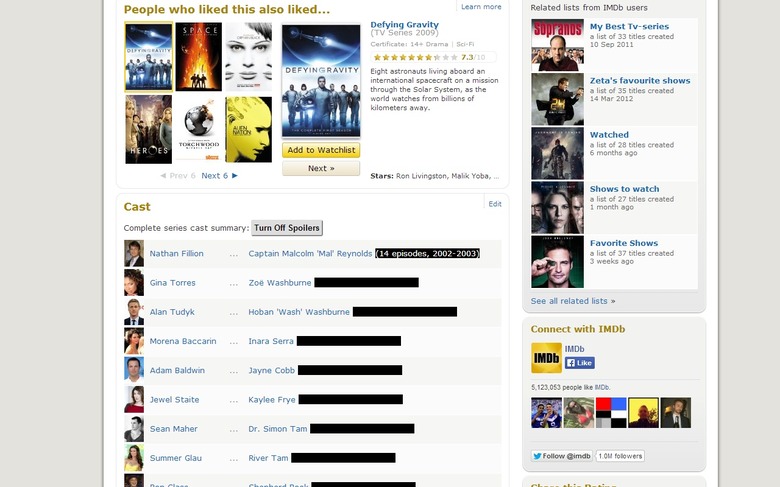 We all know how it is, sometimes while browsing the Internet Movie Database you can hit an unseen landline — a spoiler in the form of an actor or character in an episode's credits. You had no idea that character was going to die in that popular Netflix series until you saw how many episodes the character was listed to appear in on IMDb.
What is the spoiler-phobic person to do? Not use IMDB to look up episode information? Of course not, thats ridiculous. (yes, this is sarcasm) Thankfully someone has created an extension for your web browser that will hide potential imdb spoilers from the television show listings. Find out how to get it, after the jump.
Created by a Reddit user (and found via LaughingSquid), the IMDb Hide Episode Spoilers is a Chrome browser extension that hides potential spoilers from a television show's Internet Movie Database listing by blacking out the number of episodes in which all of the listed actors appear. This effectively prevents a user from accidentally finding out that a character is not around for the entire run of a series. Here is the official description for the Chrome browser extension:
Ever want to look up who the actor is for your new favorite TV show on IMDb? But uh-oh! You just noticed that the show has 40 episodes and the character(although he's been in every episode so far) is only in 28. Thanks for the spoiler alert IMDb! This extension will hide those pesky spoilers out of view unless you hover over it. And a simple button allows you to turn off all the spoiler tags if you're not worried about that show. Easy and simple.
Of course, the plugin won't change the order of the cast listing, and the actors who are in more episodes of the series appear higher up in the IMDB list, so you could just be spoiled by seeing the placement of an actor's name on a television page.