'Frozen' Stage Production To Replace 'Aladdin' At Disney California Adventure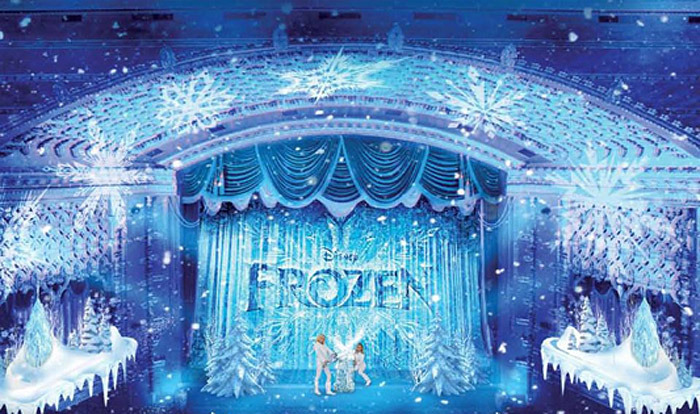 Good and bad news for Disneyland fans:
We'll start off with the good news — a new stage production based on the hit Walt Disney Animation Studios film Frozen will be coming to Disney California Adventure in Disneyland Resort. Fans of Frozen have proven they can't get enough of Anna, Elsa and the whole gang, so Disney is giving fans something bigger and better than the other Frozen park offerings.
The bad news is that it will be replacing the wonderful Disney's Aladdin – A Musical Spectacular stage show which has been playing in the Hyperion Theater at Disney California Adventure park since 2003.
Find out more details about the Disneyland Frozen musical after the jump.
The new Frozen stage show will debut in summer 2016 at the Hyperion Theater at Disney California Adventure park.
This new show will immerse you in the world of "Frozen" as never before, with elaborate costumes and sets, stunning special effects and surprising scenic transformations.
Walt Disney Imagineering Portfolio Creative Entertainment Executive Dana Harrel promises that the new stage production of Frozen will "stay true to the heart and soul of the film" and that "Anna and Elsa will carry the audience on an emotional journey that includes show-stopping production numbers and a few unique theatrical twists."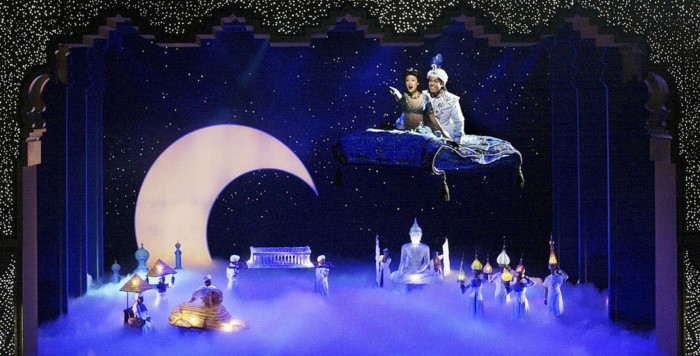 And the Frozen theatrical experience has a lot to live up to as it will be replacing Disney's Aladdin – A Musical Spectacular, which will take its final curtain call on January 10th 2016 after nearly 14,000 shows and millions of guests. I've seen the show a handful of times over the last decade and it was amazing. Every friend I brought to it was amazed at the level of quality in the performances and the elaborate stage production and sets, which far exceed what people would expect from the theme park show.   So this Frozen show better be good if its replacing that.
"Thanks to our amazing cast and the many, many fans, 'Disney's Aladdin – A Musical Spectacular' has enjoyed a longer run at Disney California Adventure park than we could have ever imagined," said Kris Theiler, Vice President of Operations for Disney California Adventure park. "Today, we are excited to share more exciting news about another story that will soon come to life for guests at the Hyperion Theater. With larger-than-life musical numbers, wondrous scenery and lovable characters, 'Frozen' will begin entertaining guests in 2016."
In December 2014, Disneyland invested in a number of temporary Frozen attractions to try to appease hungry fans, including an indoor frozen playground called Oalf's Snow Fest, an Elsa and Anna meet and greet, and a short sing-along screening called For The First Time In Forever: A Musical Sing-Along, which has taken over Muppetvision 3D to some guests dismay.
And just like Aladdin which got its own Broadway show adaptation, Disney Theatrical is also working on a Frozen musical. The production, which could hit the stage in 2017 or 2018, is being worked on by EGOT-winning Broadway veteran Robert Lopez and the Oscar and Grammy winning Kristen Anderson-Lopez, who wrote the songs for the film, as well as Oscar winner Jennifer Lee, co-director and screenwriter of the film.
Rumors of Aladdin's departure from Disneyland Resort have been circulating for a few years now, likely due to the big Broadway production that launched. The Musical Spectacular also is performed on some of the Disney Cruise Line ships. The two rumors that consistently popped up was that Aladdin would be replaced by a Tangled or Frozen stage production. The Tangled stage production rumors  ended up being a Disney Cruise Line production which will debut later this year.
Disney's Aladdin – A Musical Spectacular will still be performed several times daily through its closing on January 10th, 2016 when the Genie will finally be let free.  Here is a video of the show in case you can't catch it in person before it closes: