Sequel Bits: Spectre, Bridget Jones 3, Neighbors 2, Mallrats 2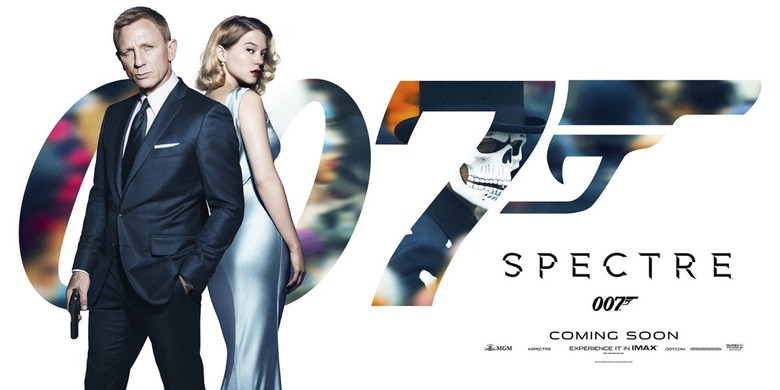 There's a new poster for the James Bond film Spectre, and a couple new banners as well. Check those out below, along with these other stories:
Selena Gomez joins Neighbors 2,
and Patrick Dempsey joins Bridget Jones's Baby,
Kevin Smith has found his new mall for Mallrats 2,
Titles for Ash vs Evil Dead episodes are revealed,
Rumor says the Pacific Rim 2 shoot is delayed,
Now that Terminator: Genisys is a global success, what about the sequel? JK Simmons doesn't give anyone hope.
Here are the Spectre images:
Directed Sam Mendes, SPECTRE is written by John Logan and Neal Purvis & Robert Wade. The film hits theaters and IMAX on November 6, 2015.
In the film, a cryptic message from the past sends James Bond (Daniel Craig) on a rogue mission to Mexico City and eventually Rome, where he meets Lucia Sciarra (Monica Bellucci), the beautiful and forbidden widow of an infamous criminal. Bond infiltrates a secret meeting and uncovers the existence of the sinister organisation known as SPECTRE.
Meanwhile back in London, Max Denbigh (Andrew Scott), the new head of the Centre for National Security, questions Bond's actions and challenges the relevance of MI6, led by M (Ralph Fiennes). Bond covertly enlists Moneypenny (Naomie Harris) and Q (Ben Whishaw) to help him seek out Madeleine Swann (Léa Seydoux), the daughter of his old nemesis Mr White (Jesper Christensen), who may hold the clue to untangling the web of SPECTRE. As the daughter of an assassin, she understands Bond in a way most others cannot.
***
Variety reports that Selena Gomez is confirmed to move from Spring Breakers to Neighbors 2. She joins returning characters played by Seth Rogen, Rose Byrne, and Zac Efron, and joins Chloe Moretz, who is also coming on board. Nicholas Stoller returns as director.
***
Titles for the first nine Ash vs Evil Dead episodes have been released, along with a brief synopsis for each episode. Here are the first three, none of which seem to give away anything. You can read the rest, which could have more spoiler info, at Screenrant.
Ep 101 – El Jefe Ash is baaack! 30 years after his last Deadite fight, badass blowhard Ash Williams unleashes the Evil in an act of stoned stupidity, bringing Deadite mayhem into his life again.
Ep 102 – Bait Special Agent Fisher is tracking Ash. Pablo gets his first taste of blood in a manic battle, and a revelation changes Kelly's life forever.
Ep 103 – Books From Beyond A mysterious woman finds the destruction at Kelly's parents' farm. Meanwhile, Ash, Pablo and Kelly reach Books from Beyond with the Necronomicon and Fisher finds herself in another terrifying, inexplicable situation.
***
We know that Kevin Smith wants to make Mallrats 2 early next year, and he has revealed the location for the sequel. It is — drum roll, please — a mall!
We found our MALL, y'all! This January, @ExtonSquareMall in Exton, PA will star #Mallrats 2! Thanks, StarStream! #MR2 pic.twitter.com/5zD4cAo9YR

— KevinSmith (@ThatKevinSmith) September 10, 2015
***
After years of wondering when the sequel might arrive, the third Bridget Jones film, Bridget Jones's Baby, is set to begin shooting in October. Renee Zellweger, whose last film role was released in 2010, will again star as the hapless British publishing exec. Colin Firth will return as Mark Darcy, and now Patrick Dempsey is signing on in a role that has not yet been made public.
The film is reportedly based on columns written by Helen Fielding, rather than her most recent Bridget Jones novel; the script is by Fielding and David Nicholls (One Day). Sharon Maguire, who also directed the original 2001 movie, returns to direct. [Deadline]
***
The last we heard, Pacific Rim 2 (or perhaps Pacific Rim: Maelstrom) was going to shoot in Toronto in November. But a rumor has cropped up saying that it has been delayed to 2016. What's the reason? There is no reason, at least not one that has been specified. Latino Review reports the rumor, but take it with a big grain of salt right now.
Currently, the Pacific Rim sequel is set for release on August 4, 2017.
***
Finally, what's new on the Terminator front? Before Terminator: Genisys launched we heard that the idea was for that film to be the first of a new trilogy, but then the movie only did $89.6m in the US. But the international take for the film was well over $300m, with a great showing in China. So maybe the sequels are a bit more likely?
Screenrant asked JK Simmons, who played one of the film's best characters, about what he knows on the sequel front. It isn't much:
Nothing yet, we are hopeful that we're going to make a couple more, but the trigger has not been officially pulled.