Zack Snyder Responds To Steven Spielberg's Superhero Comments: "I Feel Like He's Right"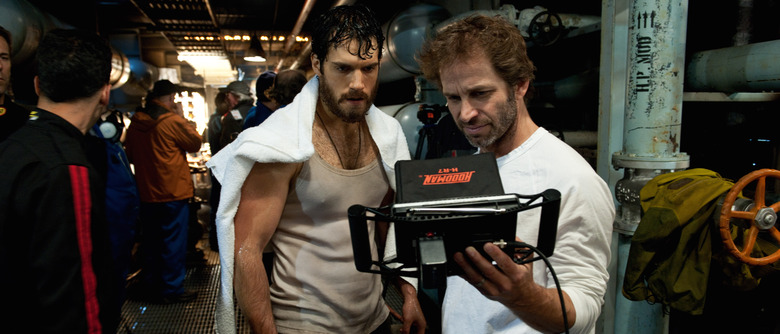 We're in a boom time for superhero movies, with something like 20 more planned for the next five years. Nevertheless, Steven Spielberg predicted last week that it wouldn't last, saying the genre would "go the way of the Western." And surprisingly, Batman v Superman: Dawn of Justice director Zack Snyder doesn't necessarily disagree.
"I feel like he's right," Snyder admitted. Still, he thinks Batman and Superman will stand the test of time — unlike, say, "flavor of the week Ant-Man." Read the Zack Snyder Steven Spielberg superhero comments after the jump. 
Snyder first addressed Spielberg's predictions in an interview with Yahoo.
He might not be wrong. I think it puts more pressure on us, the filmmakers, to not just crank out superhero movies for the sake of it. To me, the one thing I love working in the DC universe is that Superman and Batman and Wonder Woman are American mythology. It's not about making a superhero, it's a mythological universe that we live in. That I hope stands the test of time. They stood the test of time. That's hopefully the sort of magic bullet. But who knows what audiences will want in the future.
To me it's about the drama, the humanity of it. Those are like Shakespearean characters, Bruce Wayne and Clark Kent, they have inherent drama built into their makeup.
Snyder then followed up his comments in a separate conversation with The Daily Beast, taking the opportunity to get in a dig at the competition.
I feel like he's right. But I feel like Batman and Superman are transcendent of superhero movies in a way, because they're Batman and Superman. They're not just, like, the flavor of the week Ant-Man—not to be mean, but whatever it is. What is the next Blank-Man?
Moreover, he pointed out, the Western genre hasn't completely tanked. "Didn't he say it was kind of like the Westerns? But there are still great Westerns. I think it's whenever anything becomes a 'genre,' you have to sort of look at it and try to understand it."
As the director of Man of Steel, Batman v Superman: Dawn of Justice, and the two Justice League movies, Snyder is really setting the tone for the DC Extended Universe, and he envisions it as epic.
It's a tricky process, setting up the DC universe, or Justice League. The credit goes to [Batman Begins director] Chris Nolan because he set the die for the DC Universe in a great way that I tried to emulate. I look at it as more being mythological than, say, bubblegum. And I think that that's appropriate for Batman and Superman because they're the most mythological of our superheroes.
It's already pretty clear that the DCEU is darker, heavier, and grittier than the MCU, which is neither good nor bad — just different. And as much as the two franchises like to throw friendly jabs at each other, it's probably best for the superhero genre that they're so unlike each other. Nothing would sink the superhero genre faster than a flood of carbon-copy releases.
Snyder's massively mythological, totally non-bubblegum Batman v Superman: Dawn of Justice opens March 25, 2016.