'Keith Richards: Under The Influence' Trailer: The Guitarist Never Grows Up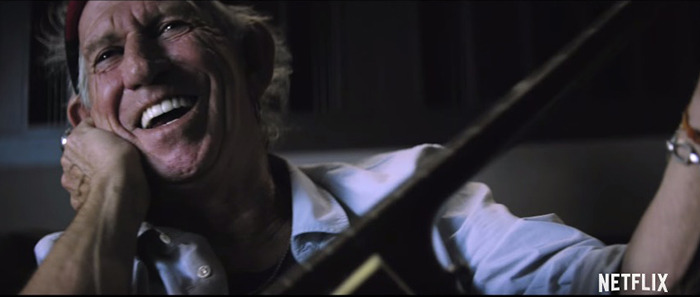 Guitarist Keith Richards has been chronicled many times in documentaries about The Rolling Stones during the band's five decades of existence. (One of those docs, the very rarely seen C***sucker Blues, just played for the lucky attendees of Telluride, for which I'm quite jealous.)
But as the title of the documentary Keith Richards: Under the Influence suggests, this new film is "just" a Keith Richards documentary, giving the artist a solo spolight. Directed by Oscar-winning director Morgan Neville, whose recent films are 20 Feet From Stardom and Best Of Enemies, the film profiles Richards as he crafts his new solo record Crosseyed Heart, which draws its own influence from early American folk and blues artists. Check out the trailer below.
That's some pretty easy-going footage, and it leads me to wonder if this might be a gentle stroll with the guitarist rather than a deep dive into the guy's life. But we know that Richards is quite outspoken, especially of late, as he's taken to speaking his mind about any topic that comes up. Just recently he slagged off The Beatles' 'Sgt. Pepper's Lonely Hearts Club Band' in an interview with Esquire, saying,
But there's not a lot of roots in that music. I think they got carried away. Why not? If you're the Beatles in the '60s, you just get carried away—you forget what it is you wanted to do. You're starting to do Sgt. Pepper. Some people think it's a genius album, but I think it's a mishmash of rubbish, kind of like Satanic Majesties—'Oh, if you can make a load of s***, so can we.'
And since his current concern seems to be roots in music — see this film and the new album's interest in folk and blues — that's not even a seriously crazy sentiment, especially since he has the presence of mind to lump his own band's record in there as a messy effort. I hope there's more of that sort of opinionated talk in this film; I don't need to see two hours of Richards being nice.
Trailer via Netflix, which premieres the doc on September 18, after it has its public bow at the Toronto International Film Festival just before that.
New Netflix original documentary Keith Richards: Under the Influence gives fans unparalleled access to one of the world's greatest rock stars and the people and sounds that inspired rock 'n' roll legend Keith Richards.