Seth Rogen Shares 'Preacher' Poster As AMC Orders The Show To Series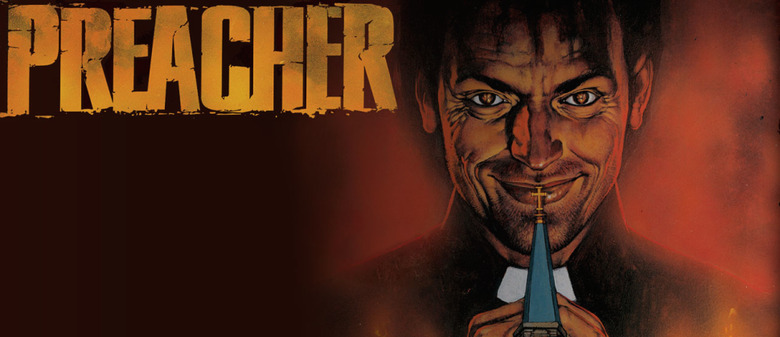 Seth Rogen, Evan Goldberg and Sam Catlin have been shooting the pilot for their TV series adaptation of the Garth Ennis and Steve Dillon comic book series Preacher, and the show hits AMC in May... or, well, sometime in 2016.
Which means that, yes, AMC has seemingly formally ordered Preacher to series. To celebrate that distant arrival, Rogen shared the first Preacher poster, which echoes the art above, and you can see it after the fold below.
Rogen tweeted a lead-in to the poster reveal containing the Willie Nelson song 'Time of the Preacher,' and you should set that to play as a soundtrack to the rest of this post.
The next dispatch from actor/writer/producer/director was this poster (on the left, click to enlarge), which as you can see is fairly reminiscent of the cover to the comic's first issue, which hit stands back in 1995. That cover, by the way, was done by Glenn Fabry.
The tweet with the poster says "Preacher is coming to AMC," which is being read as an announcement of a series order from AMC. Reportedly it will be a ten-episode order, though AMC has yet to confirm anything. Rogen's first version of that tweet named May as the premiere window, but he deleted that one before reissuing with no specific date.
As to the possible May premiere date, well, maybe that's not so set in stone.
Preacher features Dominic Cooper as the title character Jesse Custer, a small-town Texas preacher who is imbued with godlike powers thanks to an encounter with Genesis, the spawn of an angel and a demon. (That's how it goes in the comics, anyway. The TV series may be a bit different.)
Joseph Gilgun plays Jesse's degenerate but mostly faithful Irish vampire friend Cassidy, and Ruth Negga plays Tulip, Jesse's gun-toting ex-girlfriend.
The cast also features Ian Colletti as the physically disfigured Arseface; W. Earl Brown as that kid's hard-ass father Sheriff Hugo Root; Lucy Griffiths as a character new to the the TV series named Emily Woodrow, who may also be a love interest for Jesse; and Elizabeth Perkins as Vyla Quinncannon, the owner of the local slaughterhouse.
The original comics by Ennis and Dillon had a few hallmarks: well-realized characters and a set of great stories, which a TV series should easily be able to tackle. It's far better that we get Preacher as a series than a movie. The comics also reveled in boundary-pushing stories that deployed a wide range of "adult" concepts, from extreme violence to scatalogical plot twists and humor, with those elements sometimes acting as a distraction from serious takes on topics such as addiction, honesty, and sexual relationships.
Those elements are all things that a TV series can do, and which we've seen in various capacities in other projects from Rogen and Goldberg. Preacher is still a challenging adaptation, and we're so curious to see what this team comes up with, and how they make the material their own. This poster, if we wanted to go probably deeper than intended, could be read as a statement of purpose, announcing the show as something that will have familiar elements while also upending expectations. Alternately, it's just an eye-catching image.