Ronda Rousey To Lead 'Road House' Reboot At MGM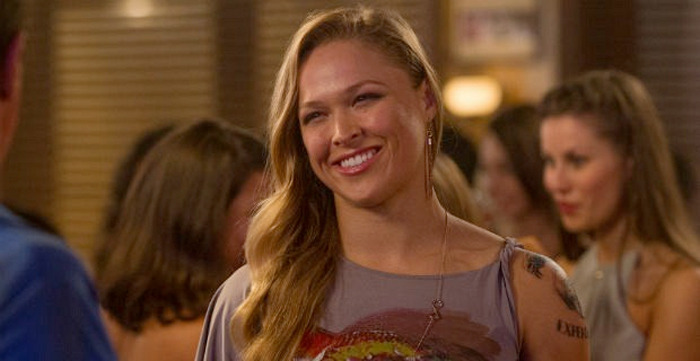 The work of the late Patrick Swayze has already resulted in a couple of reboots and remakes with Red Dawn in 2012 and Point Break coming this Christmas. And now one more is on the way, but the role originated by the late actor will undergo a major change.
MGM is working on a remake of the 1980s action flick Road House, but rather than getting a young actor from today's line-up of desired hunks, the studio has picked UFC fighter turned actress Ronda Rousey to take the lead role.
Variety reports the Ronda Rousey Road House reboot is early in development with MGM just now going out to writers to script the new take on the 80s favorite, and there's reportedly a lot of competition for the job. That likely means xXx director Rob Cohen is no longer involved with the project after being linked to the reboot back in 2013.
For those unfamiliar with Road House, the film followed Patrick Swayze as a bouncer working at The Double Deuce, one of the wildest, loudest bars in Missouri. But he wasn't just some dumb muscle-head throwing drunks out of a bar as he also had a degree in philosophy, a soft side for the ladies, and ended up taking it upon himself to save his small town from a corrupt businessman. It's unclear how the story will be updated in the reboot, but production is set to begin in 2016, even though there's no script just yet.
The casting of Rousey is certainly an intriguing choice. The idea of putting a woman in the lead role of an action flick like this is great news, however, I'm not sure Rousey has the chops too pull it off. She's yet to prove that she has pure talent on the big screen, always feeling too artificial in her roles, even when playing herself in Entourage. She's got the ass-kicking locked down, which will serve her well in the role, but I hope she's working to improve her acting skills a bit.
At the very least, Rousey knows that she's taking on an iconic film and role as she reached out to Patrick Swayze's widow, Lisa Niemi, to get her blessing before taking the role.
This news comes after hearing that Rousey is also going to star in a biopic about herself, where she will play herself, in a story based on her autobiography about her life and career. Between that project and this Road House remake, it's clear that Rousey has her eye on a successful acting career, but it remains to be seen if she can really make it work.
Do you like the idea of a Ronda Rousy Road House reboot?