'Carol' Trailers: Cate Blanchett And Rooney Mara Fall In Love In '50s New York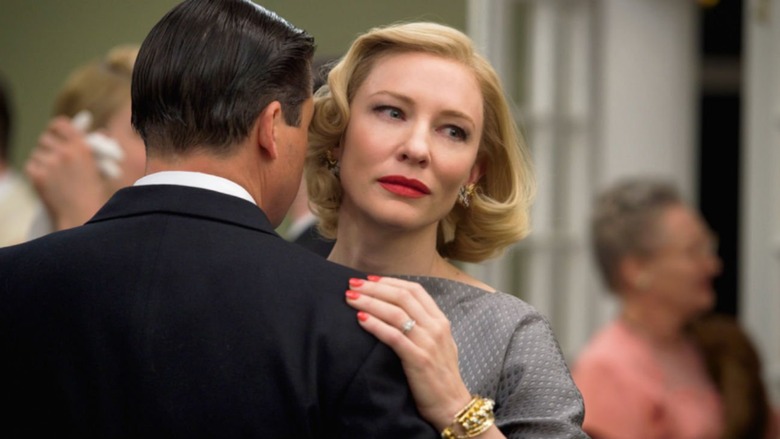 One of our most anticipated films for the fall, and almost certainly of of the most gorgeous, is Carol, from Todd Haynes (Far From Heaven, I'm Not There, Mildred Pierce) with stars Cate Blanchett and Rooney Mara, who won the Best Actress prize at Cannes for her work here. The film is an adaptation of The Price Of Salt by Patricia Highsmith, and follows the characters played by Blanchett and Mara as they fall in love in '50s New York. Have a look at the new US Carol trailer below.
At this point I'm looking at trailers for this film with the sound off, the better to appreciate the images that Haynes and his crew, led by cinematographer Edward Lachman, have come up with while avoiding any details of plot or character.
That's working well for this film so far, even though this appears to be much more a character piece than a film dependent upon story twists. Highsmith is best known for writing thrillers like Strangers on a Train and The Talented Mr. Ripley, but the novel on which this film is based was originally published under a pseudonym,  and this marks a different sort of effort for her, one which broke with conventions of pulp lesbian fiction at the time.
There's also this UK trailer:
"Everything comes full circle". New trailer for Todd Haynes' #CAROL with Cate Blanchett & Rooney Mara. Out Nov 27https://t.co/qism3ycWVL

— StudiocanalUK (@StudiocanalUK) September 9, 2015
Trailer via The Weinstein Company. Carol, which also stars Kyle Chandler, Jake Lacy and Sarah Paulson, opens in some theaters on November 20, but will play the New York Film Festival first.
In an adaptation of Patricia Highsmith's seminal novel The Price of Salt, CAROL follows two women from very different backgrounds who find themselves in an unexpected love affair in 1950s New York. As conventional norms of the time challenge their undeniable attraction, an honest story emerges to reveal the resilience of the heart in the face of change.
A young woman in her 20s, Therese Belivet (Rooney Mara), is a clerk working in a Manhattan department store and dreaming of a more fulfilling life when she meets Carol (Cate Blanchett), an alluring woman trapped in a loveless, convenient marriage. As an immediate connection sparks between them, the innocence of their first encounter dims and their connection deepens.
While Carol breaks free from the confines of marriage, her husband (Kyle Chandler) begins to question her competence as a mother as her involvement with Therese and close relationship with her best friend Abby (Sarah Paulson) come to light. Carol is directed by Todd Haynes and written by Phyllis Nagy with moving performances from Cate Blanchett, Rooney Mara, Sarah Paulson, Kyle Chandler, Jake Lacy and Cory Michael Smith.