'Goonies' Immersive Stage Show In Development; Chunk Won't Return For 'Goonies 2'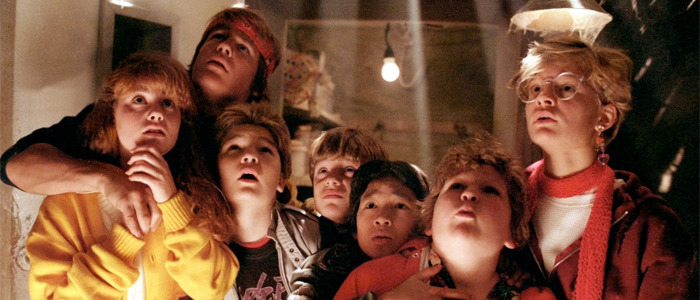 Perhaps Goonies never say die, but apparently some of them occasionally say "eh, no thanks." While Corey Feldman, Sean Astin, and Josh Brolin have all voiced their interest in returning for a sequel, Jeff Cohen, who played Chunk, admits he's not so eager.
Of course, none of that matters unless a Goonies sequel is actually happening, and at present things aren't looking too great. However, there is another Goonies project coming in "another year or so," according to director Richard Donner. It's not a movie, though — it's an immersive off-Broadway show. Read the Goonies 2 Chunk comment and learn more about the Goonies stage project after the jump. 
Cohen squashed hopes of a Goonies 2 Chunk appearance in a conversation with Yahoo. Unlike many of his former co-stars, Cohen quit acting not long after Goonies. Nowadays he works as an entertainment lawyer, and doesn't particularly want career change.
Look, being an actor is great, I miss being an actor. I think anyone who's been an actor, you kind of miss it even if you were just in school plays. You miss it because it was a fun experience. But I think I'm going to stick with the entertainment-law thing. That seems to be working out.
Fair enough. Cohen isn't obligated to make a movie today just because he made one 30 years ago. All the same, Chunk was an integral character in the film and will surely be missed by fans if Goonies 2 moves forward without him.
Which is still a big if. A Goonies sequel has been in the works for years with little to show for it, and Donner's latest update to Yahoo suggests there's still a ways to go. Asked about the possibility of a sequel, he said:
Maybe. Again, everything takes a long time to get it right. If you do things fast and quick and easy, that's a disservice. But if there were going to be another movie it would take us a long time to get it right, because we have a lot of history that we're involved with and a lot of integrity that we have to keep to what once was, and lives a life of its own without destroying it. Maybe the powers that be are working on something.
Plans for the Goonies theater sound a little more concrete, judging by Donner's comments.
We're going to do an off-Broadway, do you know what immersion theatre is? Where there's no seats, the venue is you go into a warehouse and there's something happening in that warehouse and that's the play you've come to see, only you become part of it and you travel through with actors. It's very popular now. We're doing one on The Goonies. It will take another year or so but it's going to be wonderful.
His description sounds a bit like Punchdrunk's hit Macbeth adaptation Sleep No More; if you don't know what that is, imagine a highbrow haunted house with actors walking around performing Shakespeare instead of trying to scare the bejesus out of you. It also sounds like a more creative way to capitalize on Goonies nostalgia than a big-screen sequel would be.
But keep in mind a Goonies stage adaptation has been in on-again, off-again development for years as well. Back in 2007, Donner said he was trying to get a Goonies Broadway musical off the ground, but nothing came of those plans. Here's hoping the immersive Goonies stage show won't just become another abandoned adaptation attempt.