'Room' Trailer: Brie Larson And Jacob Tremblay Plot An Escape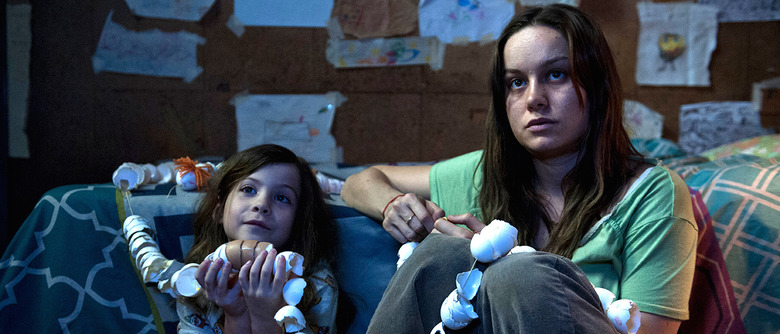 The first big hits are starting to emerge from this fall's festivals, and one early favorite is Room. Directed by Lenny Abrahamson and based on the book by Emma Donoghue, the drama stars Brie Larson as a young woman who's been kept captive in a single room for years. In there with her is her 5-year-old son Jack (Jacob Tremblay), who's never seen the outside world. Watch the Room trailer after the jump.
A24 released the Room trailer on YouTube.
Reviews for Room out of Telluride have been good to great — or perhaps more accurately, good for the movie itself, and great for the actors. Larson may have finally found the high-profile starring role that'll kick her career up to the next level, and allow her to leave behind thankless supporting roles in films like 21 Jump Street and The Gambler. Her young co-star Tremblay is drawing, if anything, even bigger raves. By one reviewer's account, he gives "the finest performance by a young actor since Quvenzhané Wallis in Beasts of the Southern Wild.
Room opens October 16. Joan Allen, William H. Macy, and Sean Bridgers also star.
ROOM tells the extraordinary story of Jack (Jacob Tremblay in a breakout performance), a spirited 5-year-old who is looked after by his loving and devoted Ma (Brie Larson, Short Term 12, Trainwreck). Like any good mother, Ma dedicates herself to keeping Jack happy and safe, nurturing him with warmth and love and doing typical things like playing games and telling stories. Their life, however, is anything but typical — they are trapped — confined to a windowless, 10-by-10-foot space, which Ma has euphemistically named "Room." Ma has created a whole universe for Jack within Room, and she will stop at nothing to ensure that, even in this treacherous environment, Jack is able to live a complete and fulfilling life. But as Jack's curiosity about their situation grows, and Ma's resilience reaches its breaking point, they enact a risky plan to escape, ultimately bringing them face-to-face with what may turn out to be the scariest thing yet: the real world.