Sequel Bits: Deadpool 2, The Purge 3, Pirates 5, Edge Of Tomorrow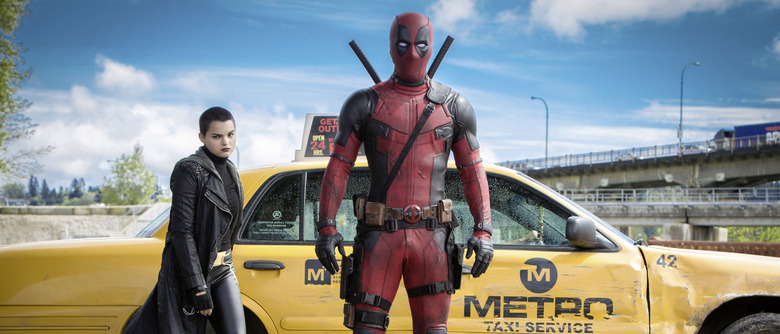 Deadpool and X-Men producer Simon Kinberg talks about the fact that the team at Fox has talked about a sequel featuring the Merc With a Mouth, even though the first film is months from release. In addition to that story, we've got info on the following developments in this edition of Sequel Bits:
There's new casting for The Purge 3,
Pirates 5 producers want to get back to the appeal of the first film,
See images of Donnie Yen and Mike Tyson in Ip Man 3,
Alex Gibney may do a sequel to his documentary Going Clear,
and Emily Blunt comments on a potential Edge of Tomorrow sequel and her work in the Snow White and the Huntsman follow-up.
Here's how it works: for just about any comic book movie that has actually been shot, there is internal talk of a sequel, especially if that movie is based on a character with years of history. And so, yes, there has been talk of a sequel to Deadpool. Producer Simon Kinberg tells Collider,
We certainly are talking about the sequel—we were talking about the sequel while we were making the movie just because when you make a film like this that's from a serialized source material, you hope that it's the first of many... But yeah [Fox is] feeling good about it, we're all feeling really proud of it, so hopefully before it comes out we will be well into the process of figuring out a sequel.
One thing about a potential sequel is that director Tim Miller has said they would pretty much have to include the character Cable, and Kinberg addresses that idea:
It's certainly come up because he's such a big character in the world. And it's a character that I've always wanted to do in one form or another, we talked about Cable actually in Days of Future Past at one point. But yeah we're in such the early stages of sequel talk it would be genuinely premature for me to say whether or not he was gonna be in it.
It'll be months before we know about a Deadpool sequel, because the first movie doesn't hit until February 2016. When that movie opens, if it does well, we might hear about a greenlit sequel very quickly.
***
Deadline reports new casting on The Purge 3, which franchise writer/director James DeMonaco is putting together for Blumhouse and Universal.
The film already features the return of Frank Grillo, and now the movie also boasts Betty Gabriel, Edwin Hodge, Kyle Secor, JJ Soria, Mykelti Williamson and Elizabeth Mitchell in various roles. We don't know precisely how they'll fit into the continuing story of a slightly future version of the United States in which all crime is legal for one night every year, the better to cull the general population.
The Purge 3 is set for release on July 1, 2016.
***
The first Pirates of the Caribbean film was an unexpected delight, but the four-film series has offered consistently diminishing returns since that first movie. But the fifth film, which opens almost two years from now, hopes to get back to the appeal of the first movie. Co-star Kaya Scodelario (The Maze Runner) told Digital Spy that producer Jerry Bruckheimer and directors Joachim Rønning and Espen Sandberg want more of that first-gem appeal:
It [does have] a lot more of the first movie, that's what they wanted to bring it back to, [the producers] want to take it back to the beginning again. They wanted it to have this epic journey, and for it to make sense, and for it to tie things up, and also lead to new storylines.
Pirates of the Caribbean: Dead Men Tell No Tales finished shooting in July of this year. Orlando Bloom returns along with Johnny Depp to square off against Captain Salazar, played by Javier Bardem, in a story that features the legendary Trident of Poseidon. The film is set for release on July 7, 2017.
***
Ip Man 3 got a lot of attention when producers announced that it would feature a CG recreation of Ip Man's most famous student, Bruce Lee. There have been legal challenges from Lee's estate, but it seems the producers believe they have all the clearance they need to go forward.
We're morbidly curious to see how that works out, but in the meantime here are a couple Ip Man 3 images, one of which features another surprising star of the film: Mike Tyson. The former boxing champion appears opposite Donnie Yen as "an American property developer," and a fight between the two will presumably be one of the film's main selling points.
Ip Man 3 opens in Hong Kong on Christmas Day; it'll probably be at least a few more months before it hits the States. Twitch has these images and a few more in the same vein:
***
Alex Gibney won three Creative Arts Emmys this past weekend, for documentary or non-fiction special, directing and writing for non-fiction programming, all for his film Going Clear: Scientology and the Prison of Belief. And Gibney says he has enough material to do another movie, and reason to take on the challenge. Variety reports that Gibney spoke about moving forward after the award ceremony,
There's a lot more material already that I've received and a lot more information to come out. And at least so far, the IRS has not revoked (the church's) tax exemption. So there's more to be done.
Will another film deal with Tom Cruise in a different manner? Gibney is certainly interested in the actor's position:
What's up with Tom Cruise?...Why won't he address these issues?...He's done nothing. The Church of Scientology itself says that he is the one reason people keep coming to the church.... A billion people know about the church because of Tom Cruise. So that being the case, why isn't he fulfilling the responsibility to at least address these issues?
***
Speaking of the actor, writer Christopher McQuarrie and producer/star Tom Cruise have talked about the idea of a sequel to their time-manipulating science fiction action film Edge of Tomorrow, and it's a concept that has us both interested and nervous. Interested because a second chance to push that concept forward might be great; nervous because the first film is great on its own and doesn't need a sequel.
We're not the only ones who are both intrigued and nervous about the idea. Co-star Emily Blunt seems to be in that camp, as she tells Uproxx,
I would [be interested in another Edge of Tomorrow movie] for sure! But the idea would have to be good; it would just have to be a great idea. I don't want to dilute how great the first one is with a second one that's not as good. I'm terrified of sequels, to be honest with you.
She also mentioned the sequel/prequel to Snow White and the Huntsman, which is finished shooting, in which she plays the Ice Queen.
...this character is a villain with a lot of tendencies... Charlize and I were ridiculous on set, it was like the crown-off that was going on. When the two queens were on set, everyone was like, "Ohhhhhh." We were trying to overact each other. She's the best, by the way.
One more thing — and this has nothing to do with Edge of Tomorrow — in that same Uproxx interview Emily Blunt talks about the appeal of working with cinematographer Roger Deakins, who lensed her film Sicario. She relates this quote from another actor in that film that is too good not to share:
The first thing Benicio Del Toro said walking on set the first day was, "I can't wait to shake the hand of Roger Deakins."