'Krampus' International Trailer: Not All Christmas Stories Are Nice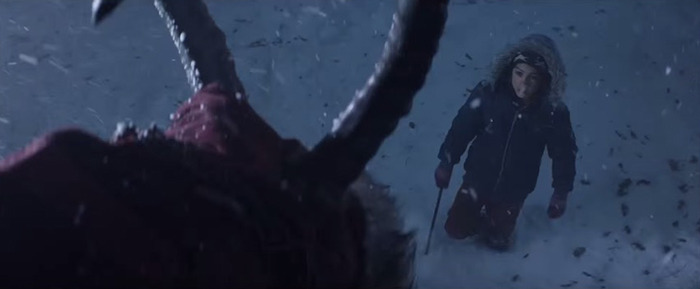 Earlier today we saw new official images from Krampus, the new film from Trick R Treat writer/director Mike Dougherty. That movie was obviously a Halloween film, while this one follows a slightly troubled family (featuring, among others, Adam Scott, Toni Collette, and Emjay Anthony) as they encounter some Christmas spirits that aren't all about laughter and jolly well-wishes.
Now here's the Krampus international trailer — it's probably the same one we'll see later this week, only dubbed in Spanish.
That trailer is a lot like the footage we saw at Comic Con, but I believe there's stuff here we didn't see in July. What is in that trailer is a hint of all the practical effects. Krampus makes heavy use of puppets from WETA, among other effects. Richard Taylor of WETA told me at Comic Con,
And we've just done another Legendary movie, called Krampus, that director, Michael Dougherty, he came down and embraced physical effects to an extreme level. Maybe 80% of that movie has been produced through puppetry. I can't talk about that, but we've done lots of puppet work, it was a wonderful experience.
So most of what we see in this trailer, and in fact what we'll see int he final movie, is created practically. There's some CG embellishment — you can see some at the end of the trailer here, as the clown's mouth almost certainly has some CG, but knowing there were real objects on set to freak out Adam Scott and the rest of the cast is a good thing.
Dougherty took inspiration from old illustrations showing the demon Krampus, but this isn't just a big evil monster. "He's more complex and nuanced than that," says the director, and that, combined with the puppet effects, have us looking forward to this holiday horror.
Krampus opens on December 4. Trailer via Universal Spain. David Koechner and Allison Tolman also star.
Legendary Pictures' Krampus, a darkly festive tale of a yuletide ghoul, reveals an irreverently twisted side to the holiday. When his dysfunctional family clashes over the holidays, young Max (Emjay Anthony) is disillusioned and turns his back on Christmas. Little does he know, this lack of festive spirit has unleashed the wrath of Krampus: a demonic force of ancient evil intent on punishing non-believers. All hell breaks loose as beloved holiday icons take on a monstrous life of their own, laying siege to the fractured family's home and forcing them to fight for each other if they hope to survive.