Richard E. Grant Joins 'Game Of Thrones'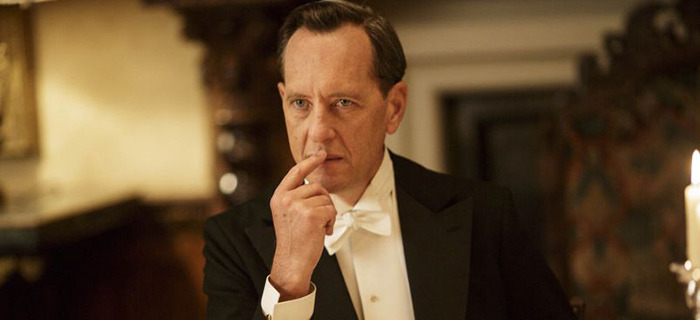 Game of Thrones has picked up the baton from the Harry Potter film series and is continuing an effort to give a role to every major actor in the British Isles. Somehow, the great Richard E. Grant never ended up in a Harry Potter movie, but now he has a role in the sixth season of Game of Thrones. That gig was possibly meant to be a surprise, but now that the info is out there, let's speculate on what brings Grant to Westeros.
The news came first from the eagle-eyed folks at Watchers on the Wall, as someone noticed that Grant's online CV listed Game of Thrones as a project. That GoT entry on the agency-maintained CV has now been deleted, but the cat's out of the bag, and Variety has confirmed that Grant is part of the show's sixth season.
What remains unknown is Grant's role. There are quite a few big options that are already the talk of various fan circles. Randyll Tarly, Aeron Greyjoy aka Damphair, Septon Meribald, Lord Karstark, and Smalljon Umber are all characters floated as possible options.
Given Grant's ability to go absolutely mental in a role, I've seen some people excited about the idea of Grant playing Damphair. But since that character is the younger brother of Euron Greyjoy, who is to be played by the 33 year-old Pilou Asbæk, we're not sure how the 58 year-old Grant could play his younger brother. Then again, there are plenty of changes from the novels to the TV screen, so we'll wait and see.
Whoever Grant plays, he'll be a welcome addition, especially if he gets a chance to really spit fire. He's among several great new additions to the sixth season, which also features Ian McShane and Max von Sydow.
Grant is one of those actors who makes an impression on audiences in just about any role he plays. You can generally date someone's birth of film fandom by the first role in which they saw Grant, whether it's his defining feature debut in Withnail & I or How to Get Ahead in Advertising, one of his memorable early '90s roles in Hudson Hawk, LA Story, The Player, or Henry & June, something more fluffy along the lines of Spice World, or his later TV work on Doctor Who, Girls, Dig, or Downton Abbey.
We can bet that Grant's gig on Game of Thrones will turn a whole new set of viewers on to his skills, and for that alone we're excited about his addition.