Edgar Wright's 'Baby Driver' Picks Up Jamie Foxx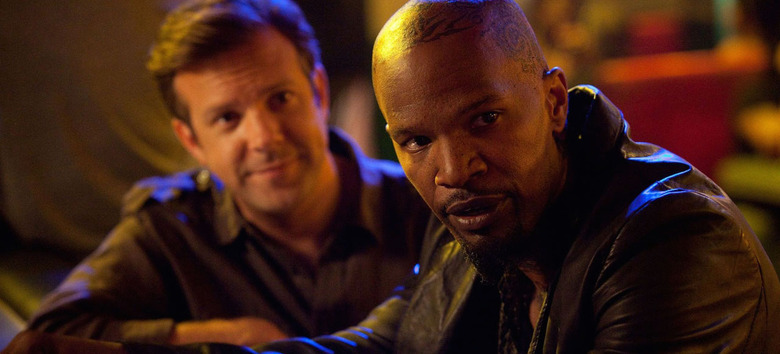 Baby Driver has just picked up an Oscar winner. Jamie Foxx is in talks to board the Edgar Wright project, described as "the ultimate rock-and-roll car chase film." He joins Ansel Elgort (The Fault in Our Stars) and Lily James (Cinderella). Get all the details on the Jamie Foxx Baby Driver casting after the jump. Deadline broke the Jamie Foxx Baby Driver news. While Elgort and James are both young stars on their way up, Foxx adds a bit of A-list sparkle to the project. He'll play the crime boss who coerces a talented driver into working for him.
Elgort plays said driver, a young mute man who suffers from a condition that leaves a constant ringing in his ears. In order to drown out the noise so he can perform at his best, he relies on his personal soundtrack.
The real trouble for Elgort's character starts when he serves as the getaway driver for a group of bank robbers. After the heist goes sour, he's forced to go on the run. James plays Elgort's love interest, a waitress at a diner.
Wright wrote the Baby Driver script and is directing. While the cast so far comes from outside Wright's usual coterie of performers, Baby Driver's behind-the-scenes team reunites him with several frequent collaborators, including producers Nira Park, Tim Bevan, Eric Fellner, and Leo Thompson.
Foxx had four movies out last year (Rio 2, The Amazing Spider-Man 2, Horrible Bosses 2, and Annie) but has spent this year offscreen, lining up future projects. He is currently shooting Sleepless Night, a remake of the 2011 French film about a cop with criminal underworld connections who digs into a nightclub looking for his kidnapped son.
His other upcoming roles include Blink, a Black List bank robber drama directed by Noam Murro, and a Mike Tyson biopic that may or may not be directed by Martin Scorsese.
Baby Driver opens March 17, 2017.