Sam Smith To Sing James Bond 'Spectre' Theme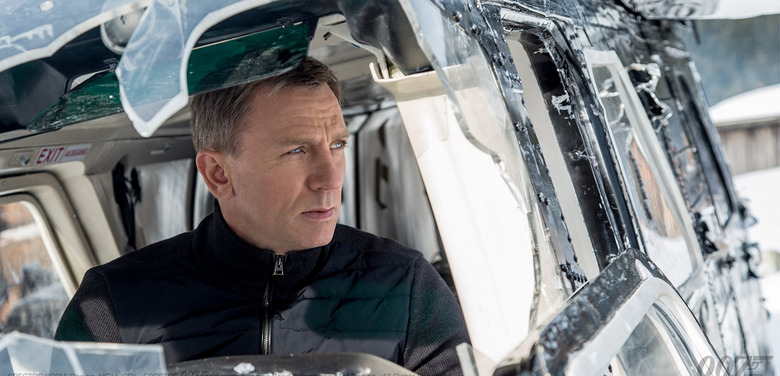 Along with beautiful women, colorful villains, and vodka martinis, a kick-ass theme song is a trademark of any Bond movie, and now Spectre finally has one. Sony has officially announced Sam Smith as the singer of the next Bond theme, titled "Writing's on the Wall." Get all the details on the new Spectre theme after the jump. 
The Spectre theme song was officially announced this morning on the James Bond Twitter feed.
The title track for #SPECTRE, 'Writing's On The Wall', has been recorded by @samsmithworld pic.twitter.com/VlDyc7frSA

— James Bond (@007) September 8, 2015
Smith, who had dropped a big hint yesterday, followed up today with release details on his own Twitter account.
— SAM SMITH (@samsmith) September 7, 2015
You can pre-order 'Writing's On The Wall' on CD or vinyl here http://t.co/7RpiBDtuUH, or on iTunes from midnight. pic.twitter.com/c9vphqANqW

— SAM SMITH (@samsmith) September 8, 2015
Smith has been the subject of Spectre theme speculation for over a year, though he has denied any involvement in the movie. (Other artists rumored at various points included Ellie Goulding, Radiohead, and Lana Del Rey.) In retrospect, he seems like an obvious pick, as a hugely popular British singer with a killer voice. Hey, that formula worked out pretty well for them with Adele's "Skyfall."
Spectre arrives October 26 in the U.K. and November 6 in the U.S. The Spectre theme, "Writing's on the Wall," will debut September 25.
A cryptic message from the past sends James Bond (Daniel Craig) on a rogue mission to Mexico City and eventually Rome, where he meets Lucia Sciarra (Monica Bellucci), the beautiful and forbidden widow of an infamous criminal. Bond infiltrates a secret meeting and uncovers the existence of the sinister organisation known as SPECTRE.
Meanwhile back in London, Max Denbigh (Andrew Scott), the new head of the Centre for National Security, questions Bond's actions and challenges the relevance of MI6, led by M (Ralph Fiennes). Bond covertly enlists Moneypenny (Naomie Harris) and Q (Ben Whishaw) to help him seek out Madeleine Swann (Lea Seydoux), the daughter of his old nemesis Mr White (Jesper Christensen), who may hold the clue to untangling the web of SPECTRE. As the daughter of an assassin, she understands Bond in a way most others cannot.
As Bond ventures towards the heart of SPECTRE, he learns of a chilling connection between himself and the enemy he seeks, played by Christoph Waltz.